The possibility that exercisers could generate enough electricity to power a club has beguiled fitness enthusiasts and facility owners for years.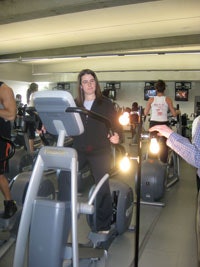 In the same way that people have long dreamed of human flight, the possibility that exercisers could generate the electricity needed to power a club's cardiovascular equipment, lights and televisions has beguiled a number of fitness enthusiasts and club owners over the years. An early incarnation of this idea, the eight- to 10-person prison treadmill, was invented in England in 1817 by Sir William Cubit, who observed idle prisoners and put himself to the task of (as The Treadmill in America, an 1887 pamphlet, put it) "reforming offenders by teaching them habits of industry." Forty-four prisons in England adopted it as a form of hard labor that could also grind grain, and between 1822 and 1824, the punitive treadmill was implemented in America at Bellevue penitentiary outside New York. James Hardie, a Bellevue gatekeeper and author of the 1824 book, The History of the Treadmill, wrote that the treadmill's "monotonous steadiness, not its severity, breaks down the obstinate criminal spirit," but the device was soon discontinued as too cruel a punishment.
A. Laurie Palmer, an artist and professor of sculpture at the School of the Art Institute of Chicago, in 2005 devised "Notions of Expenditure," in which she requested "speculative proposals to redesign exercise equipment to generate and store energy; and/or to retrofit gyms to function as local power sources linked to the grid," and showed the results in SAIC's gallery between August 2005 and June 2006. Since that time, a number of different equipment prototypes have been introduced, including The Human Dynamo from Henry Works in El Paso, Texas; MotorGym from Motorwave in Hong Kong; The Pedal-A-Watt Stationary Bike Power Generator from Covergence Technologies Inc. in Pleasantville, N.Y.; and generically named equipment from The Green Revolution Inc. in Ridgefield, Conn. Clubs such as California Fitness in Hong Kong, Green Microgym in Portland, Ore., Gainesville (Fla.) Health & Fitness Center and Ridgefield (Conn.) Fitness Club have served as test sites for the technology, and the results have been encouraging if not earth-shattering. Bellevue prisoners 186 years ago generated 100 watts apiece, according to the literature, which is in line with biologist Steven Vogel's estimate that an average healthy male body can sustain production of about 100 watts over an eight-hour day of treadmill labor.
At Oregon State University's Dixon Recreation Center, 22 elliptical machines retrofitted by Clearwater, Fla.-based ReRev.com LLC are being counted on to produce 3,500 kilowatt-hours of electricity per year. Exercisers at Gainesville Health & Fitness Center were producing between 1 and 5 kilowatts per day, according to newspaper reports. Green Revolution says a typical group-cycling class with 20 bikes will create about 3 kilowatts per session; MotorGym's inventor says that one exerciser riding for one hour can keep a 15-watt compact bulb burning for nearly three hours.
Assuming 10 hours a day of use for each of California Fitness' 13 rigged-up pieces of equipment, the club would generate roughly $183 worth of electricity annually, allowing it to recapture its $15,000 investment in about 82 years. But then, maybe money isn't the point of such an exercise. In her description of "Notions of Expenditure," Palmer noted, "The upstairs cardio gallery at the university gym pulses with the inaudible vibrations of competing headset tunes and the frenetic energies of 40 bodies pumping up and down on machines. We are working, in a way that used to signify labor, but generating nothing for all that work. Each of us may be healthier, but collectively our work contributes nothing beyond increasing isolation (one person, one machine) and narcissism (better butts)." Her art installation, she concluded, was "intended to stimulate thinking about everyday activities in relation to larger systems and public policies, as well as to generate collective solutions."