From bodybuilding to express workouts, fitness centers have evolved to cater to their changing markets.
---


250+ Exhibitors & 190 Educational Sessions | abshow.com.
---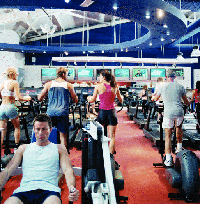 The pages of Fitness Management magazine from the last 20 years reflect what was going on in the industry. What began as a showcase for men to show off their muscles became a safe and friendly place for men, women and children to maintain a healthy lifestyle. The industry continues to evolve, and we wanted to look back on the changes that have made us what we are today.
1 1930s: The beginning of fitness
The first fitness facility as we know it was Muscle Beach, a place where the connection between body and mind began. It started as a place where fitness and fun thrived, with men mostly performing acrobatics, and then transformed into a bodybuilding mecca. It was a place where famous actors like Clark Gable and Roy Rogers hung out, and famous actresses met their boyfriends and husbands. But it's best known as the spot where Jack LaLanne, John Grimek, Vic Tanny and Joe Gold made fitness popular, and where bodybuilding legends Steve Reeves, Charles Atlas and Arnold Schwarzenegger were made famous.
2 1950s: Ray Wilson's first fitness chain
Ray Wilson, inventor of the Lifecycle and a key player in the health and fitness industry, opened his first chain, American Health Sillhouette Clubs, in the 1950s. A pioneer of the industry, Wilson set the stage for what would become a revolution in fitness center development.
3 1960s: Bodybuilding mecca
Known as the place where "the champions train," the first Gold's Gym opened on Pacific Avenue in Venice, Calif., in 1965. Free weights and bodybuilding continued to reign, and tourist "weekend warriors" were known to come to the gym to work out alongside Mr. and Ms. Olympias. Other fitness centers, also catering to the bodybuilding population, began to crop up across the U.S. in the 1960s.
4 1960s: A model of disaster
Ray Wilson's next venture, his second chain of fitness centers called European Health Spas, became the first to offer a Lifetime Membership model -- a disaster that tarnished the image for the health club industry, and that would later lead to lawsuits for facilities that copied this membership model.
5 1968: The aerobics revolution
In 1968, fitness as it was then known took a radical turn when Dr. Kenneth H. Cooper coined the term "aerobics." Founder of the world-renowned Cooper Aerobic Center in Dallas, Texas, Cooper is widely recognized as "The Father of the Modern Fitness Movement," and is credited with encouraging more people to exercise than any other individual in history. His philosophy was one of prevention, rather than treatment, and he stressed the need for epidemiological data to support the benefits of regular exercise. In fact, it is the data that Cooper collected that led to the foundation for his aerobic concepts.
6 1970s: YMCAs and "aerobic dancing"
YMCAs are credited with inventing sports like basketball and volleyball, and they were not left behind during this time. In 1970, Jackie Sorenson introduced her "dance exercise" classes at the Towson, Md., YMCA, leading to the boom in "aerobic dancing" in the U.S. Then, in 1971, the YMCA of the USA developed its Y's Way to Physical Fitness program, which established a national fitness testing standard for its instructors. And, in 1976, the YMCA launched a nationwide cardiovascular health program, and entrenched itself firmly as a family center where the community could come to get in shape.
7 1970s: Chains and names
With the popularity of fitness firmly entrenched, as well as the development of exercise equipment, came the explosion of neighborhood fitness centers that consisted of a strength-training room, cardio room and aerobics room. Arthur Jones developed his first machines that used cams with spokes, and in 1970, he established the Nautilus Sports/Medical Industries. For the next decade-and-a-half, the Nautilus name was adopted by hundreds of owners of Nautilus Fitness Centers (each of which had to have at least 12 Nautilus machines to use the name). Other chains were also popping up to include, in 1978, Ray Wilson's first Family Fitness Center for the purpose of Lifecycle testing.
8 1980s: Corporations seek to get fit
With rising healthcare costs and employee absenteeism becoming major issues for corporations, many started to seek ways to reduce sick time, enhance productivity and motivate their employees. Yet, while some corporations, such as Levi Strauss and Pepsico, maintained comprehensive, in-house fitness programs for their employees, they tended to be the exceptions. So, both fitness center operators and corporate managers started looking into alliances. Operators of commercial fitness chains began to realize the potential of offering corporate fitness memberships at reduced package rates. And, many smaller corporations, as well as public companies whose employees are compensated with taxpayer dollars, began to look to local fitness centers and YMCAs to design turnkey fitness packages.
9 1980s: Fitness centers diversify, succeed, fail
As the popularity of fitness continued to grow, so did the types of fitness facilities. Fitness centers now ranged from the mom and pop gyms, to personal trainer studios, racquet clubs and large multi-purpose facilities -- complete with indoor/outdoor running tracks, swimming pools and more. With growth came both success and failure. The number of fitness center chains was on the rise, but the breaking news in 1987 was the $96.3 million loss by the 300-club Living Well chain.
10 1980s: Children and strength training
At the International Dance-Exercise Association's (now known as IDEA Health and Fitness Association) 1987 education conference, it was revealed that only 37 percent of public schools in the U.S. still offered daily physical education classes. With this number continuing to decline, and the number of overweight kids on the rise, fitness centers began to ponder the opportunity in children's fitness. The debate was on about whether strength training was safe for children. For years, it was argued by many that strength training would interfere with children's natural growth patterns. But in 1987, data finally became available that justified, and even made recommendations for, a strength and conditioning program for prepubescent children. Armed with this new data, youth fitness started to become a significant market, and equipment manufacturers began designing special lines of equipment to fit children's smaller frames, children's fitness centers began to appear, and many once adult-only fitness centers that had the space and the financial means began to offer more for children than just childcare.
11 1980s: Many go one-on-one
The concept of one-on-one fitness training took hold among busy, moneyed, type-A personalities who preferred to get and stay in shape under the guidance of a personal trainer in sparsely populated facilities or in the privacy of their own homes. With the increasing "time-famine" among the ever-busy population, personalized training establishments were springing up in affluent communities, and a number of the large spas were climbing on the bandwagon by offering one-on-one training as an alternative to the mega-club, do-it-yourself concept.
12 1980s: 'Lifestyle disease' and medical wellness
Despite many believing we were in a fitness boom, by the late 1980s, only one in four Americans exercised regularly, and only one in six exercised routinely enough to meet the minimum standards for cardiovascular fitness. Physicians were recommending to their patients that they improve their nutrition, take up regular exercise, quit smoking and manage stress. But, the fitness industry was still failing to reach this population coined by the National Institute of Health as having a "lifestyle disease." As a consequence, many fitness center operators began aligning themselves with local hospitals and physicians to gain exercise referrals. Yet, many hospitals felt that fitness centers weren't equipped to deal with this population, and opted to build their own wellness centers to offer fitness programs and sports medicine services.
13 1990s: ACSM standards conflict
The April 1992 publication of the first edition of ACSM's Health/Fitness Facility Standards and Guidelines, the first published voluntary standards and guidelines for the fitness industry, caused quite a rift between the American College of Sports Medicine and IRSA (the industry's association, now known as IHRSA), with many veteran club operators upset that the publication would open them up to increased legal liability. IRSA Executive Director John McCarthy argued that an estimated 99 percent of clubs fall short of the standards, many of which go beyond health and safety issues to include legal, regulatory, architectural, aesthetic and managerial standards -- "areas in which ACSM has neither the experience nor the qualifications to hold itself as an authority to an entire industry." Because of the backlash, it was agreed to go back to the drawing board with a second revision, with ACSM, IRSA, the YMCA, YWCA and JCC all taking part. The second edition, published in 1997, places greater emphasis on the views of industry trade organizations and a wide variety of fitness associations, and is still the only "standard" for the industry.
14 1990s: Older adults on the move
In 1990, it was announced at the Surgeon General's Workshop on Health Promotion and Aging that only 7 to 8 percent of people 65 and older regularly engage in exercise capable of maintaining cardiorespiratory fitness, and two-thirds of the older adult population are either sedentary or exercise irregularly. So then-Surgeon General Everett Koop released a set of four recommendations to healthcare providers and government agencies to help to increase the number of active older adults. More studies were conducted about the benefits of physical activity for this population, as well as the ways in which older adults should train to keep them injury-free. As a result, between 1998 and 2004, the number of frequent fitness participants aged 55-plus increased by 33 percent, compared with a growth rate of 13 percent for Baby Boomers aged 35 to 54, and zero growth for the "traditional" fitness participant aged 18 to 34. Today, 25 percent of the U.S.'s 41.3 million fitness center members are now older than 55.
15 1990s: The non-profit vs. for-profit fight
IHRSA, the industry association that lobbies for legislative action to protect health club businesses, began a battle against non-profit fitness centers' tax-exempt status when they began building state-of-the-art fitness facilities. At the end of 1990, IHRSA (then known as IRSA) hired Robinson Marketing of Biddeford, Maine, to develop and implement a national public relations strategy to start "PR brush fires," or local campaigns that it hoped would document support for a nationwide movement for fair competition in the adult recreation industry. In the mid-1990s, it was an issue of YMCAs and JCCs offering adult recreational programs, facilities and amenities that differed little from those found in a private health club, while also operating at a distinct tax advantage. In the late 1990s, IHRSA published a brochure titled Hospital Wellness Centers; Preserve the Mission: The Case for Going For-Profit, intended to persuade hospital CEOs and CFOs that opening a tax-exempt fitness center is a mistake. Today, that issue remains, but it's also an issue of Ys and JCCs building fitness facilities in affluent areas versus communities that are in need of public assistance, therefore competing for the same customers. A number of lawsuits have been and continue to be filed, with outcomes favoring both sides.
16 1990s: Fitness goes public
In the early '90s, Bally Health and Tennis (now Bally Total Fitness) announced its club profits were expected to drop 24 percent, while its debt was expected to climb 150 percent. Then, in 1997, in an effort to strengthen its position in the club industry, Bally began franchising its clubs. When that didn't help, it went public in 2001. Today, industry consultant Rick Caro, owner of Management Vision Inc., New York, N.Y., says the two main U.S. public companies (Bally Total Fitness and Sports Club Company) are in flux. Expectations in 2005 are that at least one of these companies will go private, and the other will reorganize itself. Bally executives recently announced that they will make a decision regarding which, if any, assets the company will sell by the summer of 2005. According to CEO Paul Toback, Bally is working to turn around from projected losses in recent quarters, and "to the extent that we can realize better value for shareholders," any of the company's clubs or brands are on the table for a potential sale. Bally has about $741 million in debt outstanding. Most recently, according to Caro, LifeTime Fitness went public and has performed well, and it has helped to educate Wall Street about the norms for this industry. (See Industry Perspectives inFM's June 2005 issue, p.30.)
17 1990s-2000s: Mergers and acquisitions
The 1990s and early 2000s saw an avalanche of acquisitions. Some of the major ones to remember: In 1993, Club Sports International purchased Athletic Club Inverness, Englewood, Colo., and Athletic Club Monaco in Denver for a combined amount of $18.5 million. In 1997, it purchased the Northwest Racquet, Swim & Health Clubs in Twin Cities, Colo., the Flagship Athletic Club in Eden Prairie, Minn., and the Harbour Island Athletic Club in Tampa, Fla. Then, in 1998, it purchased New Mexico Sport & Wellness, the state's largest fitness club chain, and in 1999, it purchased the Wellbridge Company, Boston, Mass., which operates six clubs.
24 Hour Fitness, Pleasanton, Calif., has also been a big player in the acquisitions arena. It acquired 12 Gold's Gym facilities in Texas and four Sports Club Connection facilities in Southern California, all of which then operated under the name 24 Hour Fitness Sport. It also acquired Advantage Fitness in San Francisco's marina district (the company's seventh club in San Francisco and 141st overall). And, in a turn of the tables, in May of this year, 24 Hour Fitness Worldwide was acquired for approximately $1.6 billion by Forstmann Little & Co., a New York City-based private investment firm.
Acquisitions continued to happen, albeit not as many as in the '90s, including (but not limited to) Town Sports International's (TSI) acquisition of Health Development Corp. and its greater Boston Fitness Advantage Clubs, bringing TSI's number of east coast clubs to more than 100; Club One's acquisition of eight San Diego, Calif.-area health clubs; The Sport and Health Company's, McLean, Va., buyout of four fitness centers in 1998 in the Washington, D.C., metropolitan area; Brentwood Association's, Los Angeles, Calif., purchase of the 10 Spectrum Clubs in Southern California from the Sports Club Company for $49 million; and Bally Total Fitness' purchase of 13 fitness centers in Portland, Ore., which operated under the Gold's Gym brand.
18 1990s-2000s: Vertical markets abound
As the numbers of members in commercial fitness facilities continued to climb, other types of businesses began to see the value in providing fitness to their customers. For instance, private country and golf clubs were (and still are) frequently queried by their members about why they must pay another set of dues for fitness when they're already a member of a "club." Hotels and resorts were (and still are) being asked about whether their amenities include fitness centers. Developers of multi-housing projects were (and still are) finding that individuals and families were more likely to choose their developments if a fitness center was part of its amenities. So, these types of businesses began adding the fitness component at an accelerated rate. And, in June 2002, Fitness Management magazine began a spin-off magazine,Fitness OnSite, for delivering information about the unique ways in which fitness is operated as a secondary business at these locations.
19 2000s: Women opt to go it alone
While the women's-only facility was hardly new as we entered the 21st century, the growth of these types of facilities has been unprecedented in the past few years. Spurred by the popularity of Gary Heavin's Curves for Women fitness centers, with more than 8,000 locations as of this printing, the women's-only market includes other big-name franchises like Liberty Fitness, Lady of America, Shapes Total Fitness and Total Woman Gym & Day Spa. And, it's not the 30-minute workout that is growing this market segment. Most of the women-only facilities are full-service fitness centers. Their appeal? No men and a non-intimidating atmosphere.
20 2000s: Workouts go express
Although 30-minute workouts may have been popularized by Curves for Women, they have shown operators of all facility types that this quick, circuit-based workout appeals to their members, too. Many full-service fitness centers, such as 24 Hour Fitness and Town Sports International, now offer a 30-minute, circuit-based workout solution. What's more, many of the women-only fitness centers are opening coed locations, and more men-only clubs, such as Cuts Fitness for Men, Physiques for Men and Scrimage Fitness 4 Men, which offer the same time-saving workout, are sprouting up across the U.S.