A health club's top-of-the-line fitness equipment, complete with interactive workout monitoring and web access, can be a draw for new members.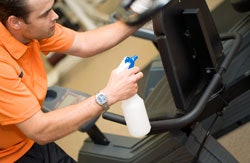 But no one wants to use any machine that has lost its luster and smells of day-old sweat. As Thomas Dolan, director of sales for gym wipes manufacturer 2XL Corp. in Broadview, Ill., says, "One of the biggest consequences of dirty equipment is unhappy members."
The consequences of dirty equipment go well beyond aesthetics, of course. The spread of germs and viruses through contact with equipment is a serious health concern. Oil and dirt left behind by users also can interfere with sensors that track heart rate and other stats as well as cause deterioration of equipment padding. But these aren't the consequences members see or are typically concerned about when they pick up a wipe or a spray bottle to clean off equipment.
Most fitness facilities don't have the staff required to clean each piece of equipment after every use. Instead, they rely on users to wipe down their machines when finished by offering either spray cleaners or wipes. What type of cleaning product a facility offers matters less than how it's used; both spray cleaners and wipes can only be effective if used correctly, and damaging to equipment and end-users if not. The key is to have a good understanding of each product's capabilities.
Many sprays and wipes on the market today are made with a solution containing quaternary ammonium compounds. "This is the agent inside the cleaner that is specifically for killing germs," explains Terry Schneider, president of Norwood, Mass.-based cleaning product supplier Multi-Sport Products, noting that there are different types of quaternary compounds, an important consideration for facilities concerned about combating Methicillin-resistant Staphylococcus Aureus (MRSA). "If you want to use a product that is more specific to MRSA, that's usually marked on the label."

"The depth of cleaning depends on the preferences of the owner or manager," adds Dolan. "Some require that the product they offer their members be EPA-registered as antibacterial. Some want to offer a product that is intended to wipe away sweat and dirt only and not necessarily kill germs."
An antibacterial cleaner is one that is capable of disinfecting; that is, it kills most of the germs and viruses commonly found in health clubs. There are various chemicals used as disinfectants, from environmentally friendly options containing chemical agents derived from citrus oils to older alcohol- or phenol-based cleaners. The problem with the latter two, however, is that they pose a threat to equipment. "Some options that are out there can be very corrosive," says Bruce Sherman, creator and president of Gym Valet, a Beachwood, Ohio-based company that supplies spray cleaning products and accessories.
When selecting a product, facility owners have to consider not just whether it fits their budget. "It also has to be relatively human-safe, meaning with due respect and caution, it can be used safely on surfaces that exercisers come into contact with, without being caustic," Sherman says. "And the other side is that it has to be material-safe. Drying chemicals can lead to premature wear, aging and cracking of vinyl and plastics."
Quaternary ammonia compounds offer minimal risk to people and equipment, but they aren't without their own pitfalls, says Schneider. "According to the EPA, the requirement for most quats is that you have to have the surface wet for a minimum of 10 minutes for disinfection."
Newer quaternary compounds offer disinfection in as little as two minutes - still, an eternity for members who have just gotten off a machine or for those waiting to get on. "Unfortunately, because of the nature of the industry, you just don't always have that luxury of time," says Sherman, whose cleaning expectations are more realistic. "I'm careful when I use the term 'disinfect;' you have to be careful because of the way a cleaner is applied in a real-life situation."
Ultimately, owners and managers of fitness facilities need to read the labels of their cleaning products, understand the products' limitations and take responsibility for making sure equipment is cleaned and disinfected properly. Staff members should be cleaning equipment on a regular basis, and Schneider recommends disinfecting equipment daily (preferably at least twice a day) using a disinfectant-only aerosol spray. "What an aerosol does is break the disinfectant down into such a small particle that it will help penetrate the material and get below the surface," he explains. Disinfectant-only sprays can be sprayed and left to dry, without requiring someone to wipe off the residue.
Even if a facility owner can't reasonably expect members to use cleaning products correctly, that doesn't mean they should do away with them. "Users like the idea that they can wipe somebody else's perspiration off the equipment," says Schneider. For this reason, many companies make basic cleaning wipes or sprays with no disinfection capabilities that owners can offer their members. "It's just good practice to clean fitness equipment after it's been used, touched, sat on, sweat on," adds Sherman.
And if they don't have something available to wipe down the equipment, members might just improvise. "A common practice we see is using hand wipes on equipment," says Dolan. "These are generally alcohol-based wipes and are not meant for equipment."
The opposite situation is also a danger, says Schneider. "I have seen people take fitness wipes out of the dispenser and wipe their head, face, arms, etc. Wipes are not designed for that. You could break out in a very serious rash."
Offering both fitness wipes and personal sanitizing wipes - and clearly labeling both - is one way to prevent these situations, but properly educating members on how to use products is essential to protecting both members and equipment. In the case of equipment wipes, wasteful overuse is yet another concern. "A simple sign next to the dispensers letting members know that one is enough has helped fix this problem," Dolan says.
Waste can also be reduced by offering spray cleaners and reusable towels, but members must be cautioned not to overdo it. "There are major issues with overspray seeping into and ruining costly electronic panels, getting on another member nearby or creating a cloud of fumes," says Dolan. Schneider recommends avoiding these problems by instructing users to spray the cleaner onto the towel rather than equipment, but admits that it's a difficult habit to instill in members. "You can provide spray and towels," he says, "you can put signs up, you can ask, but you will have people who do not read the signs and will take the spray bottle, spray the equipment and wipe it down."
No matter what type of cleaning product or mode of delivery a facility offers, there will be members who misuse them — just like they'll ignore equipment-usage limits or dress codes. "You can't go crazy over it," says Sherman. "It's necessary to keep a gym as healthy as possible. It's up to the exerciser to take control of their workout environment and do what seems most appropriate."