We want to get this straight. If you do CrossFit, you are physically, morally, ethically and socially superior to everyone, and anyone who refuses to agree that CrossFit is the best and only form of physical conditioning is a loser who doesn't "get it."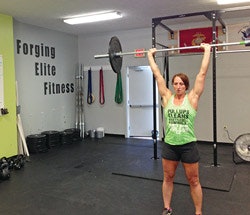 THINK INSIDE THE 'BOX' Atypical concepts such as timed Olympic lifts have created legions of CrossFit believers.
We want to get this straight. If you do CrossFit, you are physically, morally, ethically and socially superior to everyone, and anyone who refuses to agree that CrossFit is the best and only form of physical conditioning is a loser who doesn't "get it."
Or, if you do CrossFit, you have been brainwashed by a cult-like following whose workouts are led by unqualified weekend-certified zealots whose unscientific and reckless Workout of the Day, whatever that might be, will lead to inevitable injury.
Do we have that about right?
To be upfront about this, we have a financial interest in a local CrossFit gym (a box, as they're called). We are involved for several business reasons, among them that somebody was going to open a box in our market and we'd rather be partners than competitors. To also add to our credibility (we think) in discussing CrossFit, we'll mention that a) we're completing our 18th year as gym owners, b) one of us is an NSCA Certified Strength and Conditioning Specialist, and c) both of us have been certified Olympic lifting coaches (which we mention due to the importance of Olympic lifts to CrossFit).
So, with all that in mind, we'd really like everyone on both sides of this argument to take a breath and relax.
SOMETHING UNIQUE
CrossFit is fine. Sure, the workouts are largely unscientific and random: "Hey! Go run a quarter mile. Then do a few minutes of snatches. Then do some kipping pull-ups and some box jumps. Then do it all over again." It's okay that CrossFitters think there is genius in the workouts, but they're still workouts. Stringing together a bunch of existing movements is not rocket science.
On the other hand, there is something unique there, and it is the introduction of time into these movements. When we - as many of you likely do - lament that we didn't invent CrossFit, we are comforted in knowing that never in a million years would it have occurred to us to do Olympic lifts, for example, in a race against the clock. To take a fixed amount of weight and say, "Snatch that as fast as you can," would have made no sense to us.
But people love doing the snatch and everything else that CrossFit offers, even if they are terrible at it. They move fast, get their workout in and get on with their day. They see it as efficient, exhausting and exhilarating. They love the camaraderie. And while camaraderie isn't unique to CrossFit, it is different. Like CrossFit members, our gym members look forward to seeing each other, feel accountable to each other, socialize outside the club and post on social media about their experiences. But what they can't do is measure themselves against each other.
CrossFitters are "athletes" when they are at their box, and they have performance metrics to share and compare. With standardized, named workouts, they all have something in common, and there's a lot more to talk about than "How much do you bench?" Whether it's the new person measuring his or her performance improvement on Fran or the person who wants to compare performances in Chipper with world champions, they know that there is a global community of people like them. They have shared experience, and they like to talk about it.
CrossFit people are ambassadors - evangelists, even - for the movement, and this is how they are different from people who get their high working out at the health club or by participating in any other number of outstanding fitness activities. If a friend of a non-CrossFitter is complaining about his or her fitness level - "I just can't seem to lose weight" - that might be an opening - "Come to my gym with me!" or "Would you like to play tennis with me?" But CrossFitters don't need that opening. They'll just tell you, "Oh, man, I did CrossFit this morning and Fran kicked my butt. Who's Fran? Oh, that's a WOD. You don't know what a WOD is? Let me tell all about it. You'll love it." And off they go.
This exact sort of interaction was recently portrayed in the opening scene of an episode of NCIS: Los Angeles. A character starts talking about how sore she is from her previous night's workout and starts explaining CrossFit: "You are tired, you are sore, you are miserable, you are stretching muscles you didn't even know you had, you are in a pool of sweat, and yet all you can think about is doing it again as soon as possible." We couldn't help but wonder if this was a paid-for product pitch, or, more likely, the result of the cast and crew being CrossFitters who wanted to shout about their passion to a nationwide audience.
RECOMMENDED COOLDOWN
And that's where we think the CrossFit community needs to cool it. We hear you. We get it. You're in love. But the idea that you're tired, you're sore, you're miserable, yet all you can think about is doing it again is not unique to CrossFit. It's unique to activities that people enjoy. Just ask the middle-aged mom who just took BodyPump class for the first time and didn't think she would finish.
As for fitness professionals, we'd ask you to relax, too. CrossFit is exercise. Sure, people are going to get hurt, but people get hurt lifting, running, doing ballet and playing summer softball. The weekend CrossFit Level 1 certification is likely inadequate, but the same can be said of weekend certifications for yoga, Pilates and even Olympic lifting. Many of the movements are contraindicated, especially for beginners, but have you ever seen a beginning yoga participant, or even someone trying to squat for the first time in a group fitness class? Everyone has to start somewhere.
If you feel threatened and/or annoyed by CrossFit, take away the best of what it offers. If you are a personal trainer and afraid you might lose clients to the local box, ask yourself what you are doing to get your clients as excited as those CrossFitters who are luring your clients away. If you are a gym owner, ask yourself what you are doing to build community among your members.
And if you are an exercise physiology purest who is dissuading people from CrossFit, ask yourself if you are just as annoyed by other less-than-ideal forms of working out, or is CrossFit just especially bothersome because you didn't think of it first.