Syracuse University is building off its successful 2012 athletic season, literally. The school unveiled plans for a $17 million indoor practice facility on Tuesday.
The 102,250 square-foot facility will house a regulation-sized football field, as well as lines for lacrosse and soccer, officials' lockers, bathrooms and storage space. Cannon Design is the architect of record on the project.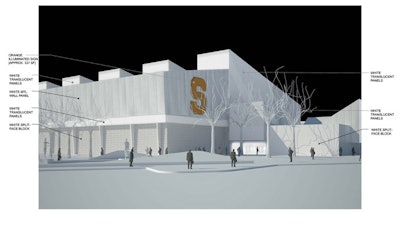 Syracuse, which receives an average yearly snowfall of about 115 inches, says the facility will help its teams practice year-round and also help with recruiting.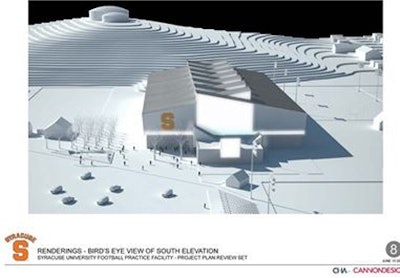 New Orange football coach Scott Shafer told Syracuse.com, "You get a new indoor facility, now all of a sudden you bring a kid up from Virginia that's looking at us and Virginia Tech and you say, 'Look, we're practicing up here and we got the best indoor facility in the ACC."
The facility will have a ceiling height of 79 feet. The exterior walls will be white translucent panels featuring a 337 square-foot illuminated "S."
While currently in the design phase, Syracuse hopes to begin construction on the facility this fall.
Syracuse is coming off a 2012 athletic season that saw its football team win a bowl game, four of its teams reach the Final Four of their respective sports, and on July 1, the school officially joined the ACC.