The Middleton, Wis., Fire District was looking for a solution to keep its 120-person volunteer force in shape. "What we do is pretty serious," says fire chief Aaron Harris. "In a moment's notice, we could be fighting a structure fire. The strains on the body, the heart — the number-one leading killer of a firefighter is heart attacks — it's something we wanted to address."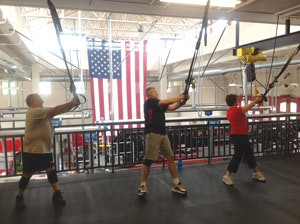 Kari Woodall was a retired swim coach looking for a new home for her TRX bootcamp business. Someone mentioned that the fire district often opened up its space for community use. Given that the fitness industry's history of finding success in unconventional locations outside the walls of a health club or studio — partnerships with schools, parks, churches — why not a fire station? "I wanted to be able to rent space, they were looking to be trained," recalls Woodall. "About five seconds into the conversation, I shifted my intent. I said, 'I want to train you.' "
Harris saw the potential right away. "Kari had a plan to incorporate fitness that could not only benefit our firefighters and in turn the community they serve, but members of the general public could benefit from, too. We knew it was the right fit." What started as a training program specific to a volunteer fire department has blossomed into a business led by Woodall and two other instructors, and the firefighters now work out alongside community members. Both Woodall and the fire district have an agreement similar to many public-private partnerships, and either can terminate it at any time, but neither sees that happening any time soon. Simply put, says Harris, "the firefighters are able to take the classes and the Middleton Fire District receives income from the general public's classes, and an allotted amount of time and space is agreed upon."
The fire station even had the perfect space for what is now known as Woodall Training — a mezzanine level overlooking the apparatus bay that, at the time, was being used for lockers and storage. Woodall was able to customize the space, specifying the location of the suspension trainers and the inclusion of a mirrored wall. "I think I have the best training facility in the country," says Woodall. "When I'm up there looking back, I see the American flag and I see these trucks below. I don't know anybody else who has that."
PHYSICAL SCIENCES
Overall improved fitness is only the starting point for the firefighters. Her in-house experience has given Woodall the insight to build workouts specific to the movements and stresses faced when fighting a fire. "They're ripping ceilings down, they're pushing ladders up on roofs," says Woodall. "It's crazy the things they do that we don't have to do in everyday life, all while wearing 70 to 80 pounds of gear that isn't breathable. You're moving and you're not agile. On top of that, you're wearing clunky boots and you've got an air pack on."
Classes are tailored to focus on core strength and balance, preparing the firefighters to move more easily despite their physical constraints. Weight vests are used to simulate gear, and sand bells are used in place of kettlebells to help firefighters improve their grip. Running up and down tower stairs is a common workout element, as is having to haul a fire hose. And of course, the suspension trainers play a central role, says Woodall. "We take the suspension trainer and simulate that rotational work when you're pulling. You might have to pull a rope if you're up on the second floor and you need to get a tool or a hose pack, almost the identical movement that you'd get on the suspension trainer."
It should come as no surprise that Woodall recently completed training to become a certified firefighter herself. "I didn't necessarily sign on to be a firefighter," she says. "But they said, 'We think you'll train us better if you go through these courses.' Obviously there's a benefit to learning the science behind what they do and actually having to move like they do. Plus I think it gives me much more credibility when I say, 'When you're chopping, these are the motions we're going to do on the TRX Rip Trainer.' "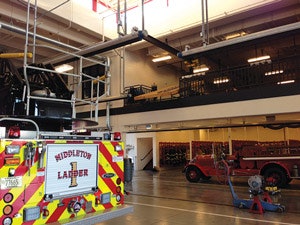 ATHLETIC EDGE
Prior to beginning her fitness career, Woodall was a swim coach, first at the University of North Carolina and later at the University of Wisconsin, mere miles from Middleton. As much as she enjoyed coaching, the travel and time away from her family became increasingly burdensome. She left coaching and started running bootcamps, eventually discovering TRX at a fitness convention.
"I took this course and I was horrible," Woodall laughs. As bad as she might have been in her first class, her perseverance left an impression on the instructors, and she was invited to TRX headquarters in San Francisco to train to become a TRX training instructor. "I was training other trainers how to use the TRX, but what I really wanted to do was work with groups of people ongoing. I like to motivate them, I like to teach them, and I like to put all the pieces together and connect the dots for them. I can say, 'This is why you're training, this is how we do it and this is how I want you to feel,' and then, 'This is how we're going to take it and translate it into what you do and make you better at your sport.' "
It's that coaching mentality that Woodall credits for her success in the initial meetings with the fire district. "I don't know if they were necessarily looking for a trainer," she says, "I think they wanted somebody who could come in, lead a group and help them progress."
"What I see over time with the implementation of the agreement with Woodall Training is more fit firefighters and personnel who are not only able to handle that initial shock of a fire, but the entire time that it takes to mitigate any emergency," affirms Harris. "Our firefighters are not only handling the structure fires, car fires, whatever it may be in the initial stages, you're not seeing that they have to be rehabbed as early and often as they once might have."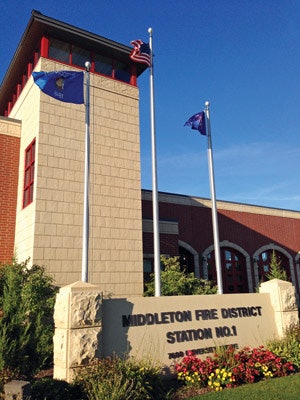 PUBLIC OUTREACH
Classes tailored to promote fitness for firefighters are now open to the public, as well. Despite the lack of traditional health club amenities (there are no public locker rooms), classes are well attended. "The public comes and gets to interact with the firefighters and see what the firefighters actually do to train," says Woodall. People not only get the chance to identify with the image of a tough, fit firefighter, they sometimes get to experience the action. Says Woodall, "When there's a call, everybody knows to freeze: don't move because there might be four firefighters in the class who need to hustle out of there. It's a unique experience for everybody."
It can also be a life-changing experience for some class participants. "You don't know what to expect, how everybody's going to benefit from it," says Harris. "We've had athletes come to Kari's classes, see that we are like-minded thinkers, positive thinkers and some of them have joined us as volunteer firefighters."
Overall, says Harris, it's been a win for everyone involved. Woodall Training has a place to call home and a strong membership base. The fire district has a more fit force and now is able to build even stronger ties with the community. "To be a championship team you need to have a championship coach and that's one thing we saw in Woodall Training," says Harris. "You're getting a professional athlete, a professional coach to drive you to levels that you might not have thought you could achieve."

Watch Fire Chief Aaron Harris' Extended Interview