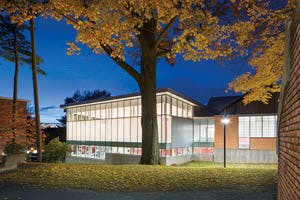 Photos by John Horner Photographye
Clark University officials sought a campus focal point when planning for a new addition to the Bickman Fitness Center.
But since the 60-by-40-foot multipurpose room would house yoga, Zumba and dance classes primarily, privacy was an important consideration, too. The solution presented by Perkins+Will architect Jordan Zimmerman, who served as job captain on the project, was a facade of glass featuring 14 frosted panes and four fritted panes — one each on opposite ends and two side by side in the middle — measuring 16 feet tall by 3 feet, 10 inches wide. The treated glass, topped by traditional vision glass, provides the space with abundant natural daylight, peace of mind for participants and the glowing nighttime centerpiece that the university desired. "We were able to create a campus beacon on the quad while giving people the feeling that they're having an intimate workout," Zimmerman says. "This is the students' favorite space."