The Armed Forces have long been seen as the epitome of fitness, trailblazing the way for new and evermore impressive exercise programs. Look no further than TRX and other suspension-training offshoots, bootcamp-style workouts and military-inspired obstacle runs, to name a few examples.
In recent years, however, the military has also received a lot of flak for the number of its troops and recruits who just don't live up to the reputation. Boasting some of the country's finest fitness facilities just wasn't enough — what was lacking were the proper tools and support systems to help military personnel understand and take ownership of their overall health. Over the past couple of years, the Department of Defense and its branches have rolled out several initiatives to improve the overall health and wellness of servicemen and women and their families. In a reversal of roles, many of the initiatives incorporate ideas that the fitness industry has recognized for years — namely, that physical fitness is just one component of a healthy lifestyle and requires resources and support outside of the gym to be successful.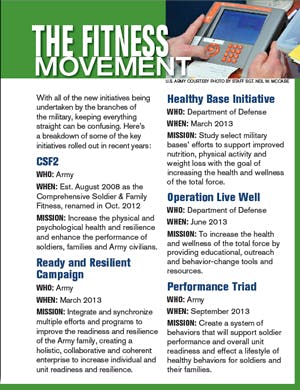 (U.S. Army courtesy photo by Staff Sgt. Neil W. McCabe)
SYSTEM SUPPORT
Last year, the Army began piloting its new Performance Triad program, a complement to initiatives such as the Army's Ready and Resilient and Comprehensive Soldier & Family Fitness campaigns and the Department of Defense's Operation Live Well — all aimed at improving the overall health and well-being of military personnel and their families.
The Performance Triad emphasizes the basics needed to sustain good health: sleep, activity and nutrition. "I believe we are going to make great changes in health care and in health," Lt. Gen. Patricia D. Horoho, the Army surgeon general said during an initial Triad workshop. "We're creating something different than anything we have in the past. We [Army medicine] do heath care better than anyone else in the world; now we are going to be the model for delivering health."
Standing as a physical embodiment of that model are the Army Wellness Centers, which are getting makeovers to conform with a new set of standards. "All of them will look the same," Maj. Zack Solomon, project manager for the Wellness Center from the Army's Public Health Command told the Killeen Daily Herald. "If you walk into the center at Fort Bragg, it will look the same as if you walk into the one at Fort Hood."
Each center will house six core programs to promote healthy lifestyles and improve overall wellbeing for soldiers and their families. One of the most popular resources the center provides, Solomon says, is metabolic assessments, in which patients' exertion while running on a treadmill is measured to determine the rate at which their bodies burn calories. "In the military, we focus on fitness, body composition and the basics that you need," explained staff Sgt. Joseph C. Hill, the officer in charge of the Aberdeen Proving Ground Army Wellness Center. "But before the AWCs, I don't think we had a legitimate program to assist soldiers to accomplishing that portion of our mission."
By the end of the year, 23 wellness centers will be in place across the country, all sharing the same goal of helping the fighting fit and their families develop and maintain healthy lifestyles. "We want to create a system for health and look more toward wellness and prevention," Solomon said. "We're being proactive instead of reactive."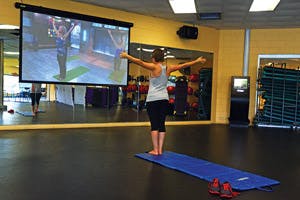 (U.S. Army courtesy photo by Airman 1st Class Jensen Stidham)
Part of that system is the implementation of virtual support resources, as well. In February, the Army launched its ArmyFit website, drawing 28,000 visitors in the first week alone. The site offers military personnel and their families tools to assess their health — namely, the Global Assessment Tool (GAT) 2.0. While the previous iteration focused on four areas of mental health, the new version includes a physical health component. Moreover, the entire site is designed to provide supporting resources. "I just felt we were failing our soldiers in terms of giving them great online feedback and training," Lt. Col. Daniel Johnston, program manager for ArmyFit, told the Fort Hood Sentinel. "It had become just another requirement to check the box, and see you next year. We needed to get our soldiers engaged and provide them with some interactive content and information they needed to improve."
The site also helps build a support system between soldiers and their families, allowing them to share their progress or engage in virtual competitions, creating a network of accountability that increases the likelihood of sticking with a workout regimen. Like its users, ArmyFit is a work in progress, and more features are expected to roll out in coming months, including the ability to upload data from wearable fitness devices and the introduction of tools to help users find experts and resources in their geographic area.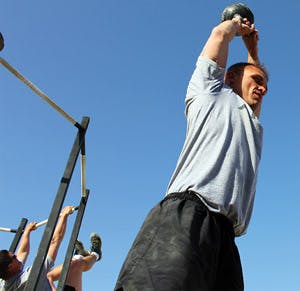 (U.S. Army courtesy photo)
RETURN TO CENTER
In its efforts to become a model for health and wellness, the Armed Forces have not overlooked improvements and updates to fitness programming. While most military fitness centers have never lacked for quality and up-to-date equipment, not all users had equal access.
Following a successful test phase, the Air Force has rolled out 24-hour programming as an option for all of its bases. Defense Department policies had previously required two employees on duty during fitness center hours, but an exemption was granted for the pilot program as part of the department's Healthy Bases Initiative launched last year to review existing practices and develop a set of best practices for healthier military members and their families. "We've gotten nothing but positive feedback from the airmen most importantly, and the test bases," Lt. Col. Richard Roberts, action officer for the 24/7 PT Initiative told the Air Force Times, noting a 21 percent increase in visits. "It's working really well, and everybody seems to be enjoying the extra access."
The extra hours don't come without a cost, however. In addition to the added utility costs, fitness centers need to be outfitted with surveillance equipment and require controlled card access, as well as proper emergency response equipment. Operational risk assessments must also be completed at each base looking to offer continuous programming.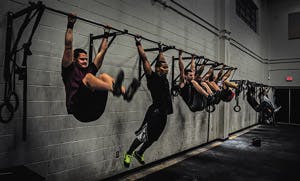 (U.S. Army courtesy photo by Senior Airman Dennis SloanSmall RSS Icon)
One of the Air Force's updates to its fitness centers is actually designed to save money while giving users a new workout resource: Wellbeats (Formerly Fitness on Request) kiosks. Installed in more than 95 Air Force bases, as well as other military bases, these virtual trainers offer preloaded workout videos, updated on a regular basis. "With many Air Force fitness facilities losing all or part of their local group exercise instructor contract funding, this program will help supplement or replace the group exercise programming," explained fitness program specialist Anthony Alcala. "We want to provide customers an alternative at bases that lost these funds to ensure fitness and sports centers continue to provide a variety of programs."
Though a large emphasis has been placed on overall wellness, the Armed Forces have not lost sight of the need to be fit for combat. Individual bases are mixing up their existing programming, from updates to the classic obstacle course design to adding MMA (Mixed Martial Arts), CrossFit and functional training — workouts that can offer a new challenge while preparing servicemen and women to be combat ready. "The units on Fort Hood are high-performing organizations and deserve the very best we can offer in preparing them for the stress of combat," senior post commander Maj. Gen. Anthony Ierardi told the Fort Hood Herald in November, as construction began on new obstacle courses around the base. At the same time, three new functional fitness centers were opening.
With so many changes in the way the branches of the military are approaching fitness, it may only be a matter of time before the physical fitness standards and tests themselves fall in the crosshairs, ditching the iconic pushup and situp for tasks a little more telling of physical ability.