Over the past five years, we've seen an arms race between Division I universities seeking to amass the best athletic training resources available. Investment in a new training facility or renovations to an existing one is largely seen as a necessity for premier football programs. It's not just about keeping players in top performance condition or furthering a program's success, but training facilities have another major benefit — attracting top recruits.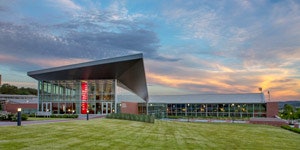 The approach to the design of collegiate athletics facilities — particularly practice facilities — has honed in on these goals to create an ideal day-to-day experience for student-athletes, integrating technology that can enhance performance and amenities to make the practice facility a home away from home.
Such was the result when the University of Arkansas opened its new football training facility — the Fred W. Smith Football Center — in the fall of 2013. The sheer functionality of the new facility, coupled with impressive amenities, has created a more-efficient environment for the team and illustrated the importance of selling student-athletes on the overall experience they will have, as well as the critical role training facilities play in their day-to-day lives.
"The Fred W. Smith Football Center has been a difference-maker for our program," says Arkansas head football coach Bret Bielema. "Like everything we do, this facility was built with the student-athletes in mind first. From the large training room to the locker room and meeting room, our state-of-the-art facility has made developing players extremely efficient."
A recent survey conducted by Galain Solutions identified the most important factors to football recruits when selecting a university to attend. While academic reputation was top priority, the study also found campus facilities crucial to recruits' decisions. Their opinion of a team's playing facilities ranked as the fourth-most important of 15 factors, while campus housing and team facilities ranked sixth and eighth, respectively.
It should come as no surprise then that the increasing number of renovations and new builds of college football stadiums is staggering. Between 2009 and 2014, 51 of the 120 FBS schools (or 43 percent) undertook football stadium projects. According to Street & Smith's Sports Business Journal, universities spent $495 million on new or renovated football venues in 2012 alone.
As the study also shows, there are real benefits in the recruiting race for schools that invest in their athletic facilities. Each institution has its own strategy shaping its decisions, and venue designs should reflect that strategy. These new or renovated facilities provide an opportunity for college football programs to tell their histories and develop clear identities that can drive recruits — and fans — to their campuses. Recruits are drawn to the idea of a state-of-the-art student-athlete experience, from the stadium in which they will play to the space in which they will train. Says Doug Beichley, principal at Kansas City, Mo.-based Populous, "For many universities, these buildings are their first opportunity to wow recruits."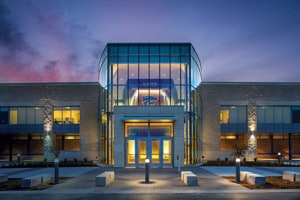 A LASTING IMPRESSION
The stadium is critical to the equation because it's key to the experience recruits will have as a student-athlete, but the training facility is their home. "We think of recruits walking through a training complex at a school they are considering for the first time much the way a realtor may think of bringing a potential buyer through a new home," Beichley says. "You have one opportunity to make a first impression and you have to consider how to design to showcase your program's success, history and traditions."
It's a complex process, and getting inside the mind of a recruit while still creating a highly functional facility isn't easy, but it has led to an increased sophistication in the design of training complexes over the past decade. The amenities of practice facilities today read more like amenities you would come to expect from a hotel than a training complex for college athletes. These may include barber shops, imported furniture, spas and full-service dining.
But the wow factor doesn't come from amenities alone or squeezing every amenity you can think of into the final design. Good design comes from a foundational understanding of what makes a good experience for all the different user groups of a building — the staff, the players, the recruits — and understanding how to create a transformable environment.
"The facilities we design today include technology — from video boards to lighting — that allow us to transform a building and the entire experience for those using it. We can easily transform the imagery, lighting and graphics for gameday versus daily training versus recruiting," adds Beichley. "A beautiful building is inspiring and serves as the foundation for a great experience for student-athletes. But that building also needs to last — and flexibility through the use of technology is key."
 
DESIGN PROCESS
In order to create a beautiful building, architects spend extensive time with each stakeholder — including coaches, administrators, support staff and players — to better understand how they use their current facility and the needs and wants of each group. This process, commonly called "consensus building," allows us to build a shared vision for the design. With training facilities, we start the conversation with staff early on and map out the exact path a recruit will take through the building, and then design with that consideration in mind. From there, we consider the following attributes:
Functionality
Training facilities are constantly in use and must be designed to be as functional as possible. Before the facility is even open, players' traffic patterns and how they will use a space must be understood and reflected in the layout. Kansas State University's basketball training facility has been lauded for its layout, which has two adjoined courts with a wall between the two that allows them to be separated for men's and women's practices or opened to allow more space for one team at a time, ensuring ideal space for all user groups.
Connectivity
Connectivity to the campus and accessibility for both students and fans whenever possible is an emerging trend. At the University of Colorado, renovations to its facility have focused on integrating the student-body and campus, allowing non-athletes to experience and interact with the training facility nearby. Academic classrooms and staff offices have been added, in addition to high-impact athletic amenities such as impressive sports medicine facilities and hydrotherapy.
"It was important to us that the facility serve more than just our student-athletes or one sports program," says CU athletic director Rick George. "We're creating a completely interconnected environment, combining athletics, academics and staff offices, to provide a shared home — and a shared sense of pride in our community."
History and Tradition
The tradition of a football or basketball program also plays a critical role in design. Each university has a unique story, and a good design finds creative ways to display this history — going beyond a traditional hall of fame so the entire facility elevates and communicates the university's brand. Interactive touch-screen displays, bold graphics and prominent displays of trophies and uniforms allow recruits and players to revisit the program's history.
Technology
Technology plays many roles in a training facility, namely by providing greater convenience for players and staff, spanning everything from players' lounging and relaxation to training and communication.
Technology can also be the mark of a cutting-edge training facility. Texas A&M's recently unveiled renovations to the Bright Football Complex feature mirrors with integrated televisions, an adidas exhibit that allows users to virtually try on various Aggie football uniforms, and dual LED displays in each locker to show player information, messages and details about upcoming games.
 
WHAT'S NEXT
Training facilities will continue to be multifunctional to accommodate the evolving needs of student-athletes and to help athletic programs remain competitive, but integrating aspects of gameday is steadily becoming more important to the way athletes are trained. We aren't far from seeing technology that recreates the experience of being on the field at a stadium or on the court at a team's arena implemented in practice facilities. Through video boards and responsive technology, it's plausible that the athletes of tomorrow will practice with the recreated sights and sounds of screaming fans and views of their stadium to better prepare them for performance.
In addition, revenue-generating attributes are sure to sneak their way into training facility design, whether through retail that is accessible on gameday or more sophisticated hall-of-fames that function as a museum experience. Health and wellness will continue to be critical, as well — player data tracking through embedded uniform technology, more varied nutrition offerings and the ability to monitor stats in real time will all have important implications for design and help create a more sophisticated approach to collegiate athlete training.
Finally, it is inevitable that we continue to tell a school's story through the design. Virtual-reality technology and immersive environments will in the future allow coaches and staff to invite recruits in to experience what it's really like to walk on the field during a sold-out game, or to run through the tunnel onto the court. These concepts will allow for high-performance training and preparation for gameday, coupled with the ability to sell all of the university's offerings in one place.
While technologies continue to advance and the priorities of athletes continue to evolve, one thing is certain — the way universities respond to staff and student-athlete needs through training facility design is critical to the long-term viability and success of their programs.
---
Jeremy Krug is a project designer and associate at Kansas City, Mo.-based Populous, specializing in the design of collegiate athletic facilities. He has designed sports facilities on more than a dozen college campuses. This article originally appeared in the September 2014 issue of Athletic Business with the headline, "The Everyday Experience."