Corporate America is increasingly prioritizing health and wellness for its employees. From vending machines stocked with healthy snack options to 10-minute fun fitness breaks, employers are taking steps of varying degree to foster healthier work environments while, hopefully, inspiring increased worker productivity. It's not surprising that the leader in this area is a business behemoth with deep resources: Google.
Googleplex in Mountain View, Calif., not only features onsite physicians and nurses, but also provides more than 1,000 community bikes around the company's extensive campus. Most notably, Googleplex features not one, but seven fitness centers — and while the quantity may be unique, the concept is not. Corporations nationwide are creating fitness and wellness centers on their respective campuses.
Last year, office supplies provider Staples Inc. opened its new 9,500-square-foot health and fitness center at its global headquarters in Framingham, Mass., a move that was driven by its own employees.
"We were inspired by the story of one particular associate who started a workout group at lunch so that he and his wife, who also works at Staples, would have the motivation and time to get physically fit, as they had young children at home and had fallen out of a regular workout routine," says John Burke, chief culture officer at Staples. "Their story and the group's enthusiasm inspired us to create a space worthy of all the great work they were doing."
Today, new and renewed exercise enthusiasts are popping up, thanks in part to the corporate fitness model. Those who may have sacrificed their own health and wellness are finding their way back to the gym — a trend that can benefit corporate and community fitness centers alike.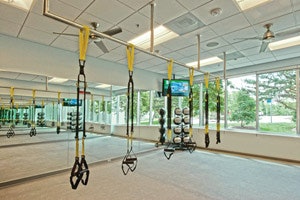 A GOOD FIT
Verizon Wireless has an operations campus in Basking Ridge, N.J., that features a 114,000-square-foot fitness facility with full-time trainers, diverse classes, an extensive array of exercise equipment, as well as a massage room.
Veronica Bush, a human resources specialist for Verizon, explained to the Newark Star-Ledger why she's become a big supporter of the corporate fitness movement. "It's convenient, I get in an hour of exercise and I'm right here at the office," she says. "It's a lot easier to make an excuse if you have to stop somewhere else on the way home."
Anne Anspach, manager for Cisco's LifeConnections fitness center in Research Triangle Park, N.C., notes that more Cisco employees are enjoying the convenience of stepping away from their desks to work off some stress and then return to the office.
"People come in here telling us they just need to get away for a few minutes from their desk, so they knock out some weights or jump on a treadmill and then go back to work," Anspach says. "They feel so much better when they leave here, which makes them happier when they go back to work or get home. It's not only convenient, it's a really pleasant and vibrant atmosphere that can be invigorating for our members."
On average, LifeConnections at Research Triangle Park has 300 visitors a day. In the previous Cisco fitness center, that number was closer to 220, depending on the season. Overall membership numbers have also seen a nice boost since the new fitness center opened, and nearly half of the now 1,600 LifeConnections members are new.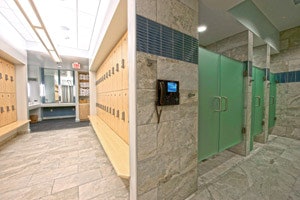 Staples has seen similar success, with more than 900 members already and growing as associates take advantage of the facility throughout the day. Says Burke, "Some associates have started having working meetings while running next to each other on treadmills or riding on stationary bikes, whiles others have formed fitness groups to work out with colleagues and friends."
While convenience may be a factor, the facility must deliver an experience that either meets or surpasses what employees could get at a nearby community health club. Cisco has had an onsite fitness center for two decades, but nothing that delivered the "wow" factor like its new facility.
"For example, our locker rooms now have free towel service, shower products, changing rooms and vanity areas. It's these amenities that people appreciate," says Anspach. A significant feature has been the installation of high-tech fitness equipment, including Technogym's Artis suite of cardio, strength and functional products with the MyWellness platform, which manages a user's wellness lifestyle and workout routines.
The upgraded amenities, while appealing to members, posed multiple challenges to the facility and its staff, according to Anspach. "There was a lot of change happening at one time," she says. "We were introducing a new check-in platform, so the staff had to learn everything. There was the Technogym equipment that was new to us, and we not only had to make sure the equipment was delivered on time but that IT set everything up properly to accommodate the equipment's full functionality."

MONEY TRAIN
Price point is another factor in employees supporting corporate fitness centers. Previously, LifeConnections membership was free, but members were charged a fee for classes. For the new fitness center, employees pay $10/month and contractors pay $20/month, but all classes are included in that membership fee. Now, LifeConnections is offering 50 group-exercise classes each week compared to 18 when it was charging for individual classes at the old facility. Other corporate centers have similar pricing options. Employees enrolled in a Staples medical plan receive free membership with a $300 annual fitness reimbursement benefit. But for many, it's not necessarily about the money they are bringing in, it's about the money they are saving.
Health care premiums continue to rise, which has been a driving factor in corporations making focused commitments to health and wellness. More insurance premiums are now being tied into an employee's health, with periodic screenings determining insurance premium levels. Efrem Dlugacz, vice president of global benefits and health resources at Johnson & Johnson, told the Newark Star-Ledger that J&J has achieved returns of between $2 and $4 for every dollar spent since launching its wellness program some 40 years ago. "You have to make a commitment on all levels," he says. "This is an investment. If anyone is looking for an immediate payback, you're not going to see it."
Many corporations offer various incentives to encourage their employees to invest in their own health and wellness. Cisco offers a direct tie in to insurance through fitness center participation by having the employees track their activity minutes on their health management portal for a financial incentive. In the future, Cisco would like to connect the member's MyWellness to the health portal. Says Anspach, "Down the road, I think that's one of those things we will certainly try to get hooked up together, perhaps exploring how the MyWellness data can be transferred to their health management vendor.
In the end, getting your employees to make a commitment to health and wellness means making that same commitment to your employees. Staples needed to find the space in a building that was already at capacity. Ultimately, a 50,000-square-foot wing was renovated in order to free up the necessary space for the fitness center. Says Burke, "The health and well-being of Staples associates is paramount to the company's success, so we invested in our greatest asset, our associates."

6 Corporate Fitness Center Considerations
Corporations can experience myriad benefits by opening a fitness center. Drawing on her corporate fitness center expertise, Anne Anspach, manager at Cisco in Research Triangle Park, N.C., shares six tips that will help ensure a successful corporate fitness center opening:
1. Know your audience. "What are the demographics? If you have a young group of folks that you're going to have this fitness center for, what are the things they are looking for? It's going to be different than, say, the baby boomers. Knowing what is driving their workouts, the work culture, the diversity in the workplace. Really take those into consideration. I've seen a lot of fitness centers being built because someone has an interest in fitness, and this is what they like to do. It could be a male with no regard to females, and vice versa."
2. Work with construction. "Because this was basically a gutted area, working with the construction team from day one was important, making sure the needs of the center are met — whether it's space requirements, audio-visual, HVAC."
3. Don't assume architects are the experts. "Architects can be creative with the design but we need to make sure that everything functions the way it needs to for the fitness center to operate smoothly."
4. Build in some time for delays and finishes. "Don't rush if you have that opportunity. We were a little rushed at the end. It worked out for us, but we probably could've used a few more weeks to really get ourselves ready."
5. Plan for future growth. "We may outgrow this space in another three years, but we had to get what we could and we're working with it. If you can, create a space that allows future growth."
6. Think of your employees. "What do you want to convey with your center? Is it a place for them to come and work out? Is it a place to escape? Is it a place for everybody?"
---
This article originally appeared in the June 2015 issue of Athletic Business with the title "HEALTHY ECONOMICS"