Mohawk College in Hamilton, Ont., sought to connect the David Braley Athletic and Recreation Centre to an existing student association building next door, but needed to preserve vehicular circulation between the two structures.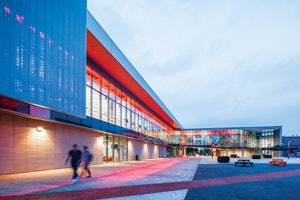 Designers from the Toronto office of Perkins+Will agreed with school officials that a glass-enclosed bridge could do more than allow for above-grade foot traffic; it could showcase the fitness offerings of the new facility. The bridge, which negotiates an elevation change, is divided by glass into separate seven-foot-wide lanes — a sloped lane for pedestrians, and a tiered lane for exercisers. Each 30-foot-long tier holds enough cardio equipment to engage passersby with what lies ahead in the Braley Centre. LED accent lighting adds pizazz to special events held on the exterior plaza below, and a folded-metal wall on the new building can serve as a projection screen. "It's an interesting opportunity for other universities and colleges, because opportunities for linkages are always there," says Perkins+Will principal Phil Fenech. "Expanding the program to include fitness as part of the link didn't add much cost and certainly markets the facility right away."
---
This article originally appeared in the July/August 2015 issue of Athletic Business with the title "Design Details"