Please allow us to paint a picture for you:
It's a beautiful Saturday afternoon in September. Not a cloud in the sky. We're celebrating our 20th anniversary in business with outdoor classes, a bounce house for the kids, lots of other activities, and free lunch for everyone. We've got an industrial-size propane grill, cooking up the world's best hot dogs and hamburgers that were custom made for us.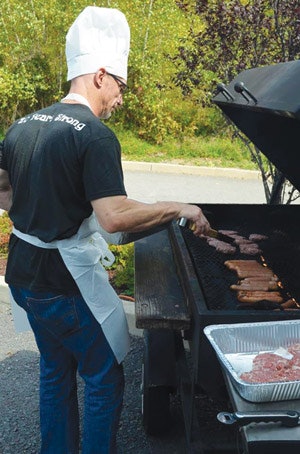 Except the grill keeps flaming out. The fire disappears every five minutes. It then takes about five minutes to restart. The vendor who rented it to us sends a guy, but he's no help. So, for four hours, we're cooking for five minutes, and then struggling with the grill for five minutes.
You know who's working the grill? Your intrepid co-author of this column, Rob. He's in his chef hat and apron, but he's spending most of his time on one knee, fiddling with the grill to restart it. At the same time, he's enduring the seemingly endless supply of help from every attendee with a Y chromosome: "What's going on there?" "Must be the regulator." "You got enough propane?" "The pressure must be low." To top it off, he's force-fed "funny" comments such as "Should we all just go to McDonald's?"
When the grill is working, the ever-more-hungry attendees, eager to be first in line to get their hamburger or hot dog, hover behind Rob's back. Many are sweaty from their classes or workouts. They creep closer and closer to both Rob and the grill, some taking matters into their own hands to grab a utensil to flip a burger or roll a hot dog.
Finally, after four hours, we've fed in excess of 100 people, and the grill can be turned off for good. Rob's right arm is as hairless as the top of his head, because when the grill was working, and the crowd was pushed into him, he was hovering over several hundred degrees. It was quite a day.
Happy Anniversary!

EVENT SUCCESS
Truth be told, the event was a terrific success. While we have done big outdoor events many times over the years, this one became extra special when we offhandedly told our managers that this was our 20th anniversary. Suddenly, they went into party mode. Old photos were pulled out for display, specialty T-shirts were a must and our typical "event" became a "celebration." That made it fun, but our goals remained the same.
Events both big and small are a key part of our efforts to keep members engaged while introducing ourselves to new members. If we are doing our jobs right — and we admit that we slip — we should have something small happening every month with at least two big events every year. With multiple clubs, that makes everything harder and requires constant forward thinking and calendar management. In fact, five days after our anniversary celebration, we did an all-day "Back to School Bash" at our other club location.
An event can be anything, although food is usually a requirement. We might offer a new class, do free boot camp sessions, open up the pool, or, as we did in September, have elaborate and expensive all-day affairs.
The benefits begin well before the events. In a world dominated by social media, events are the perfect reason to showcase your facility in a social, non-promotional, manner. We always welcome everyone, including prospects, so events are a very effective way of selling without selling. And, on the day of the event, your club will be a much more exciting place than it would be on a regular day.
Members seem to show a certain pride when their gym holds an event. People leave early from work, or set their day aside, or bring their family members with them. They want to show off their gym. They seem to enjoy saying that they "have to" get to their gym: "There's a big event!"
We find that even members who can't attend appreciate our efforts. We'll be told and receive messages that people were sorry they could not attend. It matters to them to know that we're doing special things.
There certainly are those in the industry who would take the selling aspect of an event much further than we do. One could be very aggressive with the distribution of free guest passes or offering a "One Day Only" special. Our events are much more about our existing members than driving new business.

THE AFTERMATH
The days that follow an event are also fun. Again, social media is a big part of that, as people post photos and videos and others "like" and comment. This can go on, and on, and on, and is probably one of the few good things about how nothing ever dies on the Internet. In the case of our anniversary celebration, we even arranged for TV footage that we can use in upcoming ads, giving us even more visibility and making the event live on for months.
Certainly, the work that goes into even the smallest event should not be overlooked or taken for granted. You need plans B and C for just about everything. What if it rains on your outdoor event? What if more people want to take your free boot camp than you can easily accommodate? What if you run out of food? What happens when a key staff member calls in to say that her dog is sick, so she can't make it?
And, what happens if the grill won't work? We must admit, we did not have a plan B for that, but ordering pizza was starting to look reasonable.
We look at that grill-out as a metaphor of the past 20 years. We made a lot of people happy and had a great day. But our celebration reinforced what we have often written about in this column. It was hard! There's always something that's going to break or go wrong, and there's always a sweaty member standing inches away who wants something. Our job is to restart the grill, and not let them see our hair burning.
---
5 Event Tips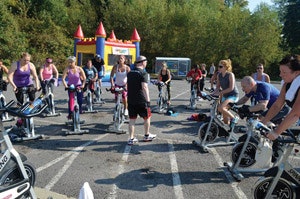 1. Plan ahead.
For a major event, plan at least two months, but ideally three, in advance. Choose your date, pick a theme, and start lining up everything you'll need. Call rental companies to reserve everything, which in our case has included a tent; grill, chairs, tables and stations for popcorn, snow cones and cotton candy; and, of course, a bounce house.
2. How many people?
We're not party planners, but you have to decide how many tables and chairs to rent. We assume that maybe 5 percent of our members will be present at any one time, and 10 percent will attend throughout the day. You'll also have staff, friends and other guests, so estimate accordingly.
3. What's your budget?
We typically spend between $3,000 and $4,000 for a major event, and food and beverages will be a big part. We did an 8-foot sub for our "Back to School Bash" ($80), but for our anniversary celebration we went with the grill (a $300 rental) and served hot dogs and hamburgers, which leads to buns, condiments, cheese, serving implements, cooking utensils, plates, forks, knives and napkins. The food and drinks easily added up to more than $500, and higher-end food will be more costly. Are you going to offer freebies? At one event, we gave away commemorative T-shirts, which became the most expensive item by far ($1,200).
4. Test everything in advance.
Our grill problem this year could have been prevented if we had run the grill the night before the event. Our mistake was that we only turned it on. We should have let it run for a while. At prior events, we have rented elaborate outdoor speaker and microphone systems that were much more complicated to operate than we anticipated, and sorting that out the morning of the event was quite stressful.
5. Put someone in charge and keep detailed notes.
Assign one person to be your party planner so that everything is coordinated and documented. We've learned over the years that we can't have enough pickles (go figure) and we keep trying to get the balance right between trays of fruits and veggies. Last year we did two of each, but this year we did three fruit and one veggie, and we still could have used more fruit.
---
This article originally appeared in the November | December 2015 issue of Athletic Business with the title "Special Event Lessons"