The tour — the story — starts in a decades-old gymnasium. It was while assessing this modest space in 2006-07, with its original bleachers and hardwood court badly in need of refinishing, that administrators at Hamilton High School began to think big. Enrollment had doubled since the school was built in Sussex, Wis., in 1963. Athletics participation had increased by 33 percent, six sports programs had been added, and interior training space was at a premium. Track athletes were running hurdles down terrazzo hallways. Cheerleaders were doing stunts over library carpeting. Field sports participants in this evolving era of year-round specialization had no place to practice off-season, as Wisconsin's winters rendered the outdoors off limits.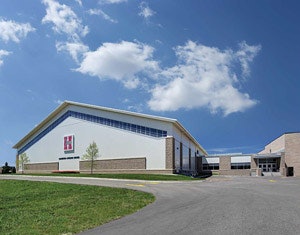 The type of facility traditionally referred to by northern high schools as a field house — a misnomer given that hard courts are the predominant surface of choice — was estimated in 2008 to cost Hamilton and, more important, Sussex taxpayers $15 million, with its multiple basketball courts and surrounding track oval still not providing the full functionality the school and a community Facility Advisory Committee sought. So, Hamilton began to "peck away," as buildings and grounds manager Jeff Grove calls it. Instead of putting the field house proposal to a referendum that survey data indicated had virtually no chance of passing, the school spent $700,000 sprucing up the original gym. A refinished floor, a new ceiling, capped bleachers and walls tiled in school colors had the space looking like new. Still, it was no bigger than before. And other facility shortcomings — such as the weight room's location on the second floor with no ADA access and dropped free weights beginning to take their structural toll — still existed. In fact, the school hadn't expanded its athletics infrastructure since the addition of an auxiliary gym in 1970.
Grove started to research Hamilton's options. Doming the campus tennis courts with an air-supported bubble would have cost $2 million or more, been expensive to heat, required annual setup and removal, and lasted 15 to 20 years, according to Grove, whose search shifted to turf-surfaced indoor practice facilities.
At the time, Wisconsin was home to exactly two such structures — the Packers' Don Hutson Center in Green Bay and the University of Wisconsin's Dave McClain Athletic Facility in Madison. Grove had to look out of state and farther south to find any high schools that had one, and in the process found one Arkansas community with two. This was clearly a southern-states phenomenon years in the making, but Grove couldn't help but think, "Why couldn't we do that here?"


THE PERFECT ANSWER
In September 2013, Hamilton turned to Plunkett Raysich Architects, which boasts K-12 and big-box steel structure portfolios, but the two had never overlapped in a high school sports facility. The firm did its own online research of what the South had to offer, and then considered what Hamilton had in terms of functionality desires and site constraints. A 60-foot-high ceiling would suffice (no punting), but the original plan for a 40-yard field was given the boot. Says Grove, "We literally walked out to the football field and looked at it, just stood there and said, 'You know what?' This is just not going to be long enough."
The final iteration resulted in a 50-yard field, plus an end zone and run-out space — "right in that comfort zone where it's perfectly usable," Grove says. "I don't know that I'd have built it any bigger for what we need it for."
Siting the resulting 42,500-square-foot facility — essentially an "airplane hangar," as Grove describes it — and making it fit visually on a rapidly modernizing campus (a fine arts facility was built in 2004 and additional classrooms are under construction as of this writing) presented a challenge. "There were very limited places where we could physically put a building of that size," says Plunkett Raysich partner Scott Kramer. "We knew that they wanted it to be toward the athletic fields, off of locker rooms, one of the current gyms and weight facilities. So we figured there was just enough room to shoehorn it in and still allow for the bus traffic to flow around the back of the building."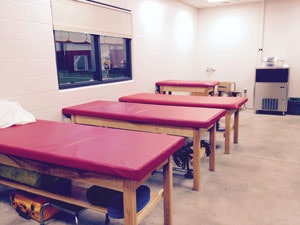 The building utilizes block-wall construction along the side that abuts the existing school, creating space for expanded ground-floor weight room and athletic training facilities, while the three remaining walls are constructed of well-insulated steel. "This thing has been surprisingly cheap to heat," says Grove, adding that two corner-mounted exhaust fans specified in lieu of air conditioning sufficed to keep the building comfortable during this summer's 90-degree days, as did multiple ground-level garage doors.
Clerestories just below the A-frame roofline on opposite ends supplement interior lighting — with special glass on the southern exposure reflecting light upward to reduce heat gain and field-level glare — while accenting the exterior aesthetic. "We did go back and forth a bit about the orientation of the building on the site, and then we had quite a few iterations of the actual design of the building itself — how it would look," Kramer says. "Even though it's a metal building, they wanted to do something to help tie it to the architecture and materials of the existing buildings. That's the reason we put the masonry wainscot around the building, and piers that rise up a little higher, to tie it to the rest of the high school and also reduce the perceived height and size of the building."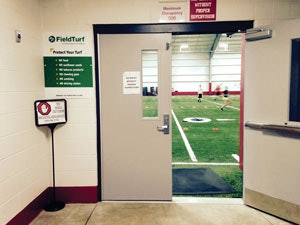 Further accented by the school's Chargers logo, the Hamilton Athletic Center wouldn't appear out of place on a college campus or at a pro team's training complex — its final cost of $4.8 million covered entirely by Hamilton's own facility maintenance budget. But school officials are quick to emphasize that it's not a football facility. Since opening in December 2014 — nine months after construction began — the facility is used by nearly 40 Hamilton groups and sports teams (its batting cage accommodates both baseball and golf players, the latter hitting off portable mats so as to protect the permanent infill turf), as well as cheerleaders, marching band members and physical education students. "Part of the myth out there in the community is that we built a football facility, because of what it looks like," says Denise Lindberg, Hamilton's public information coordinator, as she stands on the plush green turf with inlayed white yard lines. "Yes, football uses it, but so does track and golf and band and the color guard. We built this because we needed athletic space."
Kids are using the facility during and after school and on Saturdays (it has been open every Saturday but the one falling on Christmas break), and coaches with access clearance can enter the building during off hours with a computerized key fob. "This is the one facility in the district, besides the lunch room, that every kid will use," Grove says. "Every one."
And once they're using it, it can be hard to get them to stop. "Because I'm interested, I'll talk to the coaches once in awhile: 'How do the kids like it?' And what they'll say is, 'You know, I literally will have to grab them by the back of the shirt to get them out of here on a weekend, because I want to go home,' " says Grove, who has been at Hamilton for 16 years. "You can imagine. I was in high school once, and I couldn't have dreamed of having something like this. I think the students know what they have, and I think they're making the best of it."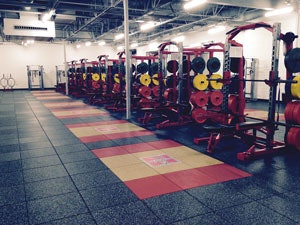 A NORTHERN TREND?
According to Grove, another Wisconsin high school, located 90 miles due north of Sussex, sent an entourage of 20 to see the Hamilton Athletic Center when it was only half completed. "We have talked to a number of our other school district clients who are interested," adds Kramer. "I don't think anybody has actually pulled the trigger on it as of yet, but I know there has been a lot of discussion at a lot of school districts once they've heard how successful this facility is."
"Field houses are great," Grove says, recalling the early thought process at Hamilton. "The question you have to answer is, 'Where's the use, really?' Hard-surface stuff — basketball, volleyball, indoor track. Everything has morphed. Everything is year-round. So, you look at all those other sports and activities — cheerleading, band, football, soccer, baseball — that really wouldn't utilize the field house. Where are they? Right here. This just fit our needs a heck of a lot better than anything else we could have built and at just a fraction of the cost."
---
This article originally appeared in the November | December 2015 issue of Athletic Business with the title "Putting the Field in Field House"