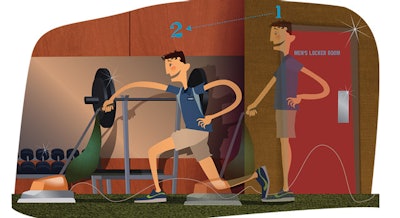 This article appeared in the September issue of Athletic Business. Athletic Business is a free magazine for professionals in the athletic, fitness and recreation industry. Click here to subscribe.
I'm not sure if there is anything less exciting to a club owner or manager — or any staff member, for that matter — than cleaning. But there are few things more important to your clients than the cleanliness of your club. So then, how do we keep our club squeaky clean? Here are five steps.

1. Put one person in charge of cleaning.
This "go to" person will design cleaning schedules (how often does the pool get vacuumed?), inspect the club regularly to make sure the cleaning schedule is being followed, monitor and order more supplies, and follow up with any staff person who is not fulfilling his or her responsibilities.

2. Make sure everyone participates in keeping the club clean.
Your closing staff may be responsible for vacuuming various parts of the club, trainers can wipe down equipment during the slower afternoon hours, and the entire staff needs to make sure the club is not messy.
There is a big difference between messy and dirty. Dirty means the floors haven't been vacuumed, the shower stalls have soap scum in them, and there is dust on the equipment frames. Messy means someone threw a paper towel on the floor, there is water all over the sink top, or dumbbells haven't been racked.
I'm not a fan of "employee only" locker rooms/bathrooms. If your staff is forced to use the regular locker room, they will notice if it's messy (and hopefully pick up that paper towel), if the soap dispensers need to be refilled and if you are out of toilet paper (members really hate that).
3. Hold staff members accountable.
If something didn't get done, we find out why. Our opening person came in one Monday morning to find that the club obviously had not been cleaned thoroughly the night before. I called our Sunday staff person to find out why. She said two people came in to sign up as members late in the day. By the time she finished with them, it was already after closing and she quickly cleaned a little but didn't want to work "overtime." I told her that I appreciated her concern for our budget and she did the right thing by focusing on the new members. But in the future, if something like this happened again, I'd be happy to pay her for her extra time.

4. Cover cleaning procedures during new-hire training.
We include instructions on what cleaning solution to use for which job, how to use the vacuum, where we keep the cleaning supplies, etc. I know you will think I'm exaggerating, but I once demonstrated vacuuming at a staff meeting because we had staff people who thought simply running the vacuum over the carpet was sufficient. I explained that the idea was to actually get the carpet clean. So, if the vacuum bag is full and it's not picking up dirt from the floor, then stop and change the vacuum bag.

5. Develop detailed checklists for each part of the club.
Get your staff members involved in this process. They may think of things you didn't, and if they have participated in the process they are more likely to buy into making this all work. If everyone works at it a little each day, your facility will be consistently clean.
Spot cleaning: Rob's recommendations
Lobby: It's a prospective member's first impression of your club. It should be vacuumed more than once a day. All surfaces should be wiped down multiple times a day. Our daytime staff cleans before they leave so the club is clean not just when we open but also for the evening members who arrive at 5 p.m.
Locker Rooms: The hardest area to keep clean — by far. Wet areas need monitoring throughout the day. Did the water aerobics class leave pools of standing water on the tiles? It needs to be mopped up. We also have a "you found it, you fix it rule" in our club. If the toilet is clogged, YOU (the owner or the general manager or the group fitness instructor) are the one responsible for cleaning it up.
Weight Room: This area has some unique challenges. Vacuuming or mopping might require moving and lifting heavy weights. If you have a staff person who cannot lift these weights, then you need to account for this in your cleaning schedule. Here's a tip: Take a few minutes to show your staff how the attachments on the vacuum work, so they can get into and around small areas. ("Oh, that's what that is for!")
Cardio Room: Sweat is a big concern. If you have hard-surface floors (wood, tile, rubber matting), then mopping with a disinfectant works well. Carpet, meanwhile, is going to absorb sweat, be susceptible to mold and odors, and likely require regular steam cleaning. And make sure you develop specific instructions on how to clean your cardio equipment to mitigate the risk of damaging components. Never spray liquid on a treadmill display, for example. Spray the cloth first and then wipe the display.
Group Fitness Room: The floor should be dry mopped after each class, or at least after the last class of the morning and the last class of the evening. It should be wet mopped, depending on your usage, at least once a week. And those yoga mats that everyone uses? Don't clean them. Throw them away and make everyone bring their own!
Daycare: You need to keep it extraordinarily clean, but don't use harsh cleaners. Carpet is more comfortable for the kids to play on, but harder to clean, while hard floors are easier to disinfect. How often should you clean the toys by soaking them in a mild solution? It might be once a day during cold and flu season and once a week during slower summer months.
Pool: The treated water, heat and humidity make this another area where cleanliness is a constant battle. A lot of the cleaning in the pool area might have to be done before or after closing. (You can't have swimmers in the pool when you're vacuuming.) Take preventive measures. The only thing that can be brought out onto our pool deck is water in a plastic bottle. Under no circumstances are glass containers allowed. Similarly, we do not allow food of any kind on the pool deck.
---
This article originally appeared in the September 2016 issue of Athletic Business with the title "Cleanliness is next to Robliness"