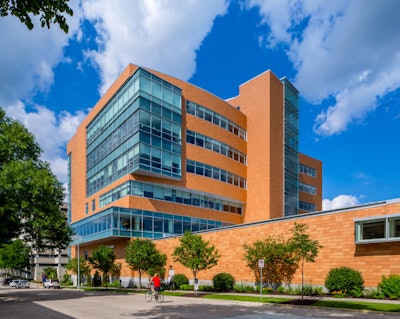 Mayo Clinic Dan Abraham Healthy Living Center Expansion | Rochester, Minn.
Presented with a tight urban site, designers had nowhere to go but up when expanding the Dan Abraham Healthy Living Center. Their success in doing so reached unprecedented heights in the eyes of judges.
The vertical expansion, encompassing five levels of new space, features the seamless continuation of terracotta brick and glass on the exterior — with a curving south facade — and subtle curves along interior walls, softening circulation patterns connecting the various programming spaces.
Concluded one judge, "The most successful architectural response to a major vertical expansion I have seen."
View the full photo gallery>>>
---
Judges' Comments:
"This project was a departure from other submittals in that it was a complex vertical expansion. Each space was thoughtfully crafted, including a stunning rooftop terrace." — Tracy Carusi
"An elegant tower constructed over an existing wellness center. A rare example of a successful second phase constructed over an existing building." — David Body
"Creative and sophisticated solutions to a complicated problem. Great materials selections and seamless connection to the existing structure." — Dave Larson
---
Associate Architect:
Dewberry | Peoria, Ill.
Architect of Record:
BWBR | St. Paul, Minn.
Cost: Withheld
Square Footage: 106,377
Funded By: Private donations
Major Facility Components: Physical assessment rooms, laboratories and examination rooms, exercise areas and studios, demonstration kitchen, meditation rooms, conference space
---

A big thank you to our seven judges: Katie Barnes, Barker Rinker Seacat Architecture; David Body, David Body Sports Planning Consultant; Tracy Carusi, Collins Cooper Carusui Architects; Greg Houston, Marmon Mok Architecture; Philip Laird, ARC/Architectural Resources Cambridge; Dave Larson, TMP Architecture.; and Jeff Penner, Stantec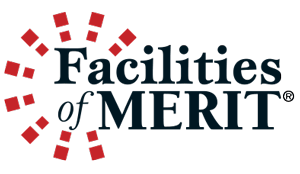 The 2016 Athletic Business® Facilities of Merit® awards were selected by a panel of sports and recreation facility architects during two days of judging in Madison, Wis. The 10 winners are being announced during these two weeks, and profiles of all 10 will appear in the October issue of Athletic Business. The awards will be presented to the facility owners and architects at the Athletic Business Show in Orlando on Friday, Nov. 18.
See more of the 2016 Facilities of Merit