This article appeared in the October issue of Athletic Business. Athletic Business is a free magazine for professionals in the athletic, fitness and recreation industry. Click here to subscribe.
"Everybody was freaking out." That's how one climbing wall manufacturer's representative describes the reaction among a large group of industry peers. It was the final day of the Outdoor Retailer Summer Market trade show in Salt Lake City when news broke Aug. 3 from Rio de Janeiro that the International Olympic Committee had added sport climbing to the 2020 Summer Olympics in Tokyo.
Sport climbing at the Olympics
• 2020 Tokyo Games, but no others yet
• Climbers expected to compete in all three disciplines (lead climbing, speed climbing, bouldering)
• Competition expected to include 20 male and 20 female climbers total
And why shouldn't people freak out? These are heady times for the climbing industry in the United States, where new private commercial climbing gyms are dotting the landscape at roughly a 40-per-year pace to the point where such gyms now total nearly 500.
Citing statistics compiled by the Physical Activity Council and PHIT America, Climbing Business Journal in June reported that 4.6 million people participated in either sport climbing, bouldering or indoor climbing last year, ranking climbing 70th on a list of the top 111 activities in America — ahead of such traditional Olympic sports as gymnastics and track and field. The same study found that from 2007 to 2014 the climbing participation level grew by only 18,732 people. But from 2014 to 2015, participation grew by 148,287.
The IOC's reasoning for adding climbing to the Olympics — along with karate, skateboarding and surfing, not to mention the return of baseball/softball — was to make the Games more accessible to youths, particularly urban youths. America is already seeing the urbanization of indoor climbing from its roots in the Pacific Northwest. Three years ago, Chicago didn't have a single climbing gym. It now has four, with a fifth in the works.
Though the Olympic push may seem out of the blue (sport climbing is not even an emerging sport in the NCAA's eyes, for example), it was a long time coming. "The announcement is a tribute to every single person who has been involved in the growth of the sport of climbing over the past 30 years," says Michael Moore, vice president of sales and marketing for Nicros Climbing Wall Systems. "I feel that it will only accelerate the popularity of an already growing industry and further climbing's exposure as a mainstream sport."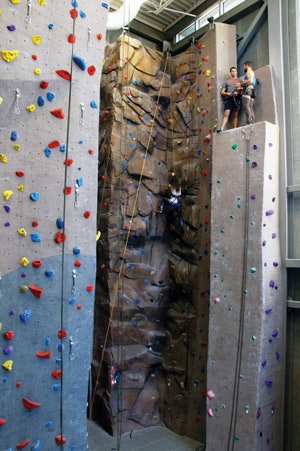 HUMBLE HISTORY
The sport encompasses three disciplines: sport (or lead) climbing, a technical approach in which participants set their own route using a rope; bouldering, a shorter, power-driven ascent without a rope; and speed climbing, in which the route and handholds are standardized and participants are timed.
Traction for the sport has come in fits and starts — beginning in the 1980s (the first indoor gym was established in Seattle in 1987 primarily as a means for outdoor enthusiasts to come in out of the rain to train) and again during the '90s in the form of an X Games flameout. "The earlier pushes, it was still kind of a niche sport," says Todd Chester, sales and marketing director at climbing wall manufacturer Entre-Prises. "Then with the X Games, it came out as more of an extreme sport, and that's kind of what we want to get away from."
Adam Koberna handled X Games wall construction and teardown. "The sport aspect was the only aspect that was allowed, and we were made fun of," says Koberna, now the president of Walltopia USA. "And the reason they killed it was because they said, 'Well, here's this guy doing the sport climbing. He's an ant on a wall way up there. Nobody can see what he's doing. Oh, and if you just turn the camera 180 degrees, there's a guy on a motorcycle doing a triple backflip. Let's watch that.' "
Olympic sponsorship likewise comes with no guarantees beyond 2020. Moreover, it's not clear how much exposure broadcast rights-holder NBC might afford the sport in Tokyo. But even bigger questions revolve around the competition structure for the sport's Games debut. Rules for Olympic climbing are expected to take shape in March, or at least be agreed upon by the end of 2017, but indications now are that individuals will have to compete in all three disciplines in their medal pursuit, a departure from the specialization that currently dominates competitive climbing.
"Generally speaking, climbers don't do all of them, at least not at the competitive level," says Christina Frain, director of marketing and sales at Eldorado Climbing Walls. "Elite climbers from around the world don't want to do all three disciplines, even if they are really strong competitive climbers, and the big issue is speed climbing. Basically, speed climbers are speed climbers. Boulderers and lead climbers may go back and forth, but in general none of them do speed climbing. Nothing against speed climbing — it's just different. As an athlete, I can run and bike, but don't ever throw me into a pool and have me try to swim competitively. That's kind of what this is."
And here's where the American youth movement has to take over if the U.S. is to be competitive against the world, including European nations where climbing is nearly akin to walking on the learning curve. "I think it's going to change the way athletes prepare for the Olympics," says Daron Pair, co-owner of Atlanta-based Stone Summit Climbing and Fitness Centers and president of the board of USA Climbing, for which individuals under the age of 19 represent the majority of overall membership. "As USA Climbing, we're going to have to adapt our competitors to the rules. I can understand why there's some controversy around it, because it deviates from the way it's being done now. But I think the majority of our youth competitors now do compete in all three disciplines, and we do have a fair number of youth competitors who are good in all three disciplines."
"Kind of like people who decide to become a triathlete to win a triathlon, kids will grow up learning and training to do all three disciplines," Frain says. Adds Koberna, "I can name 20 gyms that have programs for kids that are just killing it. They're committed to developing kids. Thousands of kids coming in."
That said, USA Climbing ultimately might not have a say regarding who, if anyone, represents America in Tokyo four years from now. It is believed that 20 males and 20 females total will be selected for the Games from the worldwide talent pool — based not on nationality but on performance in previous international competitions. "I don't know if we're going to host an Olympic trial or if they're going to pick from World Cup championships," admits Pair, who — like the rest of the climbing world — won't know for months.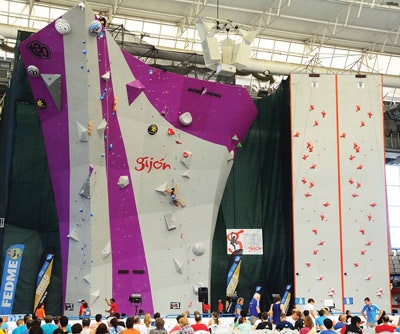 BOOM TIMES
More certain is the legitimacy that the Olympic rings have already wrapped around the sport. In the announcement's immediate wake, the International Federation of Sport Climbing, the organization that helped sway the IOC and that will assist with rules formulation moving forward, shouted from the top of its home page, "HIGHER THAN EVER — SPORT CLIMBING IN THE OLYMPICS."
"Compared to most of its history, climbing in general is booming right now, and this takes it to another level," Frain says. "This is going to bring not just national but international recognition to a sport that's still kind of considered on the fringes."
There's enough industry-wide excitement to make Frain long for younger days. "There are a lot of us who found climbing as grown-ups and wish we'd found it as kids, because it appealed to us in a way that other team sports did not. I can definitely see kids gravitating toward climbing as an alternative to other big team sports."
"I think for parents who are used to traditional sports — football, baseball, basketball, lacrosse — it may not have occurred to them, or they didn't even know about indoor climbing, that there were indoor climbing teams and competitive organizations like USA Climbing that put on local, regional and national events," says Pair, who began climbing at 38 and still climbs twice a week at 47. "I think the Olympics will just raise awareness for the whole industry."
Next-Generation Gyms
With sport climbing an Olympic sport for 2020, at least, what will the next four years look like in terms of climbing gym design?
According to Walltopia's Adam Koberna, any new climbing gym should feature a minimum 40 feet of clearance and at least 10,000 square feet of climbing surface. Koberna is quick to add that some gyms being built today feature four times that surface area.
At 30,000 square feet of climbing surface, the Kennesaw, Ga., location of Stone Summit Climbing and Fitness is believed to be the fifth largest climbing gym in the United States, and it has hosted USA Climbing's past two Sport & Speed Youth Nationals. The previous five were held at Stone Summit's original Atlanta location, which opened in 2010 on the leading edge of what co-owner Daron Pair terms "the second-generation wave" of gyms programmed to include extras such as yoga and Pilates areas, and separate café and retail spaces. Stone Summit Atlanta also included a speed wall from day one, a feature that more gyms are expected to embrace in light of the Olympic announcement in August.
"Stone Summit was one of the pioneers," says Koberna, adding, "We've seen clients who are designing new gyms add speed walls last-minute. They were reluctant, but they know the tide is turning. It is going to be standard."
"Climbing gyms are evolving, and this will help them to evolve further," says Christina Frain of Eldorado Climbing Walls. "If someone is going to build a climbing gym at this point — whether that's a commercial climbing gym or a college or university or possibly even a rec center — it's really easy to include, for example, a five-degree overhanging wall that someone is able to practice on for speed climbing competition."
Nicros Climbing Wall Systems' Michael Moore agrees. "While many facilities already include specific training areas, more attention and space will be dedicated as a result of the announcement," he says. "The sport is always evolving, and with more people training, techniques and types of training tools will also evolve."
Todd Chester of Entre-Prises likens climbing to gymnastics or aquatics in that participants explore different means to gain an edge in competition, and climbing gyms will continue to accommodate them. "There are condensed areas where you're going to have guys lining up and doing pull-ups or old-school peg boards, rope climbing," he says.
This emulation of the type of "service and professionalism," as Pair puts it, seen in the health club industry should only increase as climbing gains greater public attention nationwide. Says Chester, "Whereas it used to just be a climber with a dream opening some doors to let other climbers in, it really has become a realistic business with return on investment."
End of the college rock era?
Only a half-dozen years ago, climbing wall manufacturers thrived on building sculpted, natural-looking showpieces that ascended from the floors of campus recreation centers, often into sky-lit atriums.
However, the announcement in August of sport climbing's inclusion in the 2020 Tokyo Olympics further signals an industry shift away from solitary rock-like structures toward competitive climbing gyms with planar surfaces and removable handholds allowing for route-setting variety. One may be coming to a college town near you, if it hasn't already.
"What we've seen over the past couple years is that we're now building these competition-style fields," says Todd Chester of Entre-Prises. "It's a totally different product. It's not the natural features or anything like that. It's all based on the route-setting."
Rock-realistic walls are severely limiting in terms of route-setting, adds Eldorado Climbing Walls' Christina Frain. "You can only put so many fake holds onto the carved wall," she says. "You have holds that are built into it, but anybody who climbs it more than a couple times is never going to touch that section again. Not to say that some amount of rock-realistic isn't useful, because if part of your program is aimed toward helping get folks outside, you're able to use the rock-realistic — if it's designed properly — to teach how to place protection and move on a natural-rock surface, as opposed to using the plastic holds."
The market for rock-realistic walls isn't suddenly going to turn to dust. Eldorado still incorporates them into many designs, often alongside planar surfaces. "They are not going to go away," Frain says, "but we have been able to work more with not just the architects but also with the recreation departments so that the programming needs of the institution are really being well met."
Walltopia's Adam Koberna says he realized roughly a year ago that college recreation centers needed to start thinking in terms of offering something beyond solitary walls, as he saw students being syphoned off campus by mega climbing gyms in their area. Climbing's rise to Olympic status only helps make the argument for such an on-campus progression. At the same time, Koberna reflects fondly on the lobby wall as a significant part of the sport's foundation. "That whole rec center atrium with the tower in the middle is why people go to climbing gyms now," he says. "That was the reason there was a population that said, 'I want something better than this.' So you can't discount that era."
---
This article originally appeared in the October 2016 issue of Athletic Business with the title "Sport climbing grabs hold of the Olympic rings"