This article appeared in the November | December issue of Athletic Business. Athletic Business is a free magazine for professionals in the athletic, fitness and recreation industry. Click here to subscribe.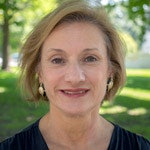 Players at the University of Kansas made headlines last fall when they moved into Marie S. McCarthy Hall, an $11.2 million modern apartment complex that boasts a list of amenities specific to elite athletes. Similar residences have been built at Kentucky, Auburn, Oklahoma and North Carolina State.
On the surface, such venues appear to be the latest weapon in the recruiting arms race among the nation's top athletics programs, but there's more to it than that.
Recruiting, retaining and helping student-athletes succeed as students, athletes and individuals is critical, especially at schools with a strong competitive tradition. The Kansas basketball program, established in 1898 by basketball founder James Naismith, is the second-winningest in the NCAA. Kansas head coach Bill Self is passionately vocal about providing for the young men who play for him the best possible environment — one that reflects the school's legacy but also feels like home.
For KU, attracting that top tier of college basketball players is part of a long-term, campuswide master plan to recruit and retain students of all types. A large part of that has been investing in housing that caters to the needs of special populations — from art majors and first-year students to athletes. For students of all backgrounds, many of whom have never shared rooms, the living experience on campus is a big factor in college selection. Providing environments where they can build a like-minded community and yet still have solitude is not simply attractive, it has been shown to enhance students' personal, social and academic success.
"This is what special-population housing and living/learning communities are about — students living together who share a common interest and experience," says Michael Treanor, principal of TreanorHL and lead architect for McCarthy Hall. "We wanted to design and build a residence where these kids can feel at home, have a quiet place to study or relax with their friends, as well as focus on playing basketball."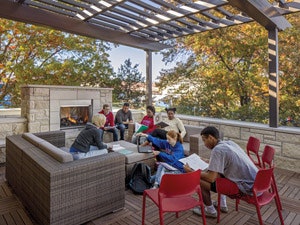 SUPPORTING THE STUDENT-ATHLETE EXPERIENCE
The university's goal is ultimately to provide a holistic campus experience for its student-athletes. And yet, the reality is that student-athletes can also have specialized needs. McCarthy Hall — located in the heart of the campus fitness area near Allen Fieldhouse, Hoglund Ballpark and Ambler Student Recreation Fitness Center — brings both of those ideals together.
The three-story building offers apartment-style living with two-bedroom/two-bath and four-bedroom/two-bath units, each with a dining room, a living room and a full kitchen. It's a small community, home to 22 non-athletes and the 16-member basketball team. It meets KU's growing demand for apartment housing, leveraging models that are already working elsewhere on campus.
It's also custom-designed to support a competitive college basketball team by including an indoor half-court basketball facility.

At University of Kansas' McCarthy Hall, community-building spaces are visibly incorporated throughout, including:
• A multifunctional room that can be used for meetings, seminars or gameday meals
• A recreation room with widescreen televisions, a pool table and a view to the basketball court
• A tiered media room that can be used for viewing game films, as an entertainment venue or space for guest lectures
• A first-floor community space and rooftop terrace, each with a gas fireplace and soft, comfortable furniture
• A study room for tutoring or quiet study
A basketball player's life differs greatly from a typical student's, says deputy athletics director Sean Lester. "The pressures and demands on players are high," Lester says. "The wellbeing of our athletes is important and what they need most is what any student needs: safety, security and community."
The building is physically scaled for the tall athlete, including showers with 8-foot-high spigots, 42-inch countertops, taller doorframes and larger bedrooms. Security features include a 24-hour service desk, biometric access and A/V controls at the front door. Amenities such as the indoor practice facility (other residences have outdoor courts), a guest apartment for recruiting and/or family visits, and a barber chair in the second-floor lounge support the athlete's lifestyle.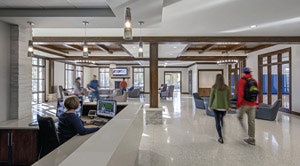 "This facility is tailored for the high-profile student-athlete," says KU housing director Diana Robertson. "The smaller community is important to them. The physical structure itself is tailored to them. These are kids who, when they're in standard rooms, hotel rooms, traveling, around campus, everywhere they go, they are ducking their heads. It's nice to be able to offer them a home that is the right size for them."
It's a powerful recruitment tool as well. Walking into a residence that is designed for student-athletes' needs — a mini campus inside a campus — immediately offers a sense of belonging and a taste of the KU experience. Recruits are looking at where they will be going to class, where and how they will compete athletically, where they will train, study and live.
"We already knew that this kind of housing works at KU, for all kinds of students," says Lester. "And, yes, Kansas basketball is right up there with the best. Recruiting at that level is hard. If we can provide an incredible place to live for our students, of course that helps recruiting."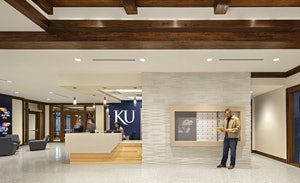 COLLABORATING ACROSS CAMPUS
Although initially spearheaded by KU athletics and Self and funded by private donors, McCarthy Hall could not have been constructed without close collaboration between KU Student Housing/Residence Life, KU athletics and the design team.
"This building is a great example of a collaboration that worked well because we respect one another's expertise," Robertson says. "When I talk about community and safety, for example, those words may mean different things to people who are operating in another department and another area of expertise. We had to have the discussions: What do we want to achieve? How does the student experience that? What does success look like? How does that benefit all of the students? Then we could talk through the different features and how we can achieve those goals."
Athletics and housing naturally have different languages and different perspectives. "Housing has created community at the core of what we're thinking about," Treanor says. "We look at the flow of a building and how it impacts those opportunities. We look at the safety and security aspects. We know what is needed, and athletics knows how they want the building to function for their students, and together we were able to create that."
NCAA rules require that residence halls for student-athletes house at least 51 percent general population students and not offer "special treatment" to athletes. Involving NCAA feedback along the way was critical. "We were working the whole time to ensure that the building's design would be compliant with NCAA rules in every way and not create any problems for the team or the university down the road," says Treanor. "Everyone on the design team was passionate about this project. Kansas' basketball tradition is an important, emotional and inspiring activity for the whole university."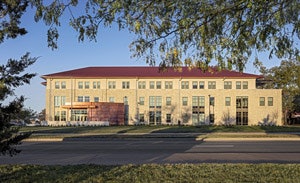 A WIDER MASTER PLAN
While McCarthy Hall provides a customized environment, it's also proving popular with non-athlete upperclassmen. The university took pains to avoid creating exclusive housing or exclusive pricing, says Robertson. Since KU Housing operates as a self-funding department from room-rate revenue, the building needed to meet the needs and the price points of the majority of residents who are not basketball athletes and be operated within the same guidelines as other resident apartments.
As KU moves forward with efforts to renovate older residences and provide more on-campus apartment housing for upperclassmen, it plans to add a wing for women's scholarship athletes and non-athlete upperclasswomen. The university's iconic Jayhawker Towers, which house 750 students — many of them athletes — in apartment-style living, is also getting a modern facelift, and the campus recently opened two new freshman residences with single and suite-style rooms for 700 students.
"What we have done at McCarthy Hall in terms of finishes and features is very much in line with what we have done in our other renovations and construction, although it does have more square footage and some unique features," Robertson says. "Our students tell us they want to continue to live on campus because of the community and the convenience. We have had students who have moved off campus tell us that they would come back to campus if the housing was available."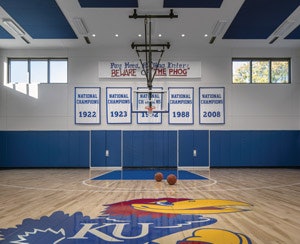 THE FUTURE OF ATHLETIC HOUSING?
Special-population housing is gaining momentum on many campuses, and it's a trend that is ideally suited to the college athlete. Research increasingly shows that the residential environment — a student's temporary home — can be a critical factor in his or her ability to emotionally adapt to life on campus and persist to graduation. While creating engaging communities where students feel they belong can be a challenge, when it's done effectively, it results in more successful students, desirable residences that students will pay for, and stronger long-term connections to the institution.
Younger students, for example, require opportunities to meet people and explore their social identity, so many of KU's residences are designed to create spaces that bring people together. As students develop — especially if they are part of a structured team or organization — their needs for privacy, control and independent living increase.
"With the men's basketball team, they are always together and they have very busy schedules, so having the additional privacy of the apartment structure is appropriate," Robertson says. "However, we also have very intentional common spaces throughout that residence as well."
What would be the ideal living environment for student-athletes? KU believes that McCarthy Hall comes close. "I would design in safety and security, an unbelievable living experience, proximity of the sports facilities to where they are living, an inclusive environment to the university and other students, modern furnishings," says Lester. "You want it to be the best college experience you can provide. That's our vision, and we achieved those things. All the amenities these students need to be successful are in that building."
---
This article originally appeared in the November | December 2016 issue of Athletic Business with the title "Residence halls: the next weapon in the college-recruiting arms race"