Fitness and wellness accommodations are more than just a popular new hospitality offering; they're becoming an expectation that needs to be met if hotels hope to compete in the modern market.
As health consciousness grows, so has the consumer's desire for more evolved fitness programming, including everything from niche fitness classes to the latest functional fitness equipment. This makes the hospitality industry's task of meeting guests' needs evermore difficult and expensive as they reach to provide full-service, indoor fitness facilities for guests who want to engage in a variety of activities on par with what they enjoy at their local gym.
This juncture of fitness and hospitality has spawned a new term — sportspitality.
EXPANDED IN-HOUSE OFFERINGS
Some hospitality venues are simply upping their fitness game by renovating existing facilities and investing in high-quality workout equipment. The problem is that creating new fitness spaces is expensive, and hotels don't always have the luxury of finding out exactly what their target audience might want, as they serve a mixed demographic that may shift drastically from week to week.
In lieu of investing in new equipment, some hotels are opting to initiate new programming, offering well-known fitness brands a temporary space to host classes. Barry's Bootcamp, for example, has partnered with hotels in California, Florida and Tennessee to offer complementary classes for guests.
"We work closely with local hotel concierges at all our locations to offer travelers our unique fitness experience," Joey Gonzalez, CEO of Barry's Bootcamp, said in an interview with the Chicago Sun-Times in October.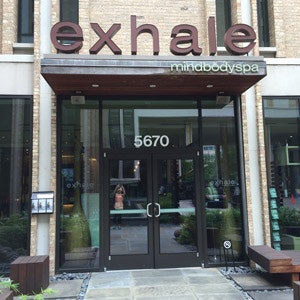 BOUTIQUE GYMS WITHIN THE HOTEL SPACE
Some forward-thinking hospitality chains are taking the fitness movement even further, enlisting the help of outside fitness clubs to bring the latest in-demand trends into the hotel environment. A couple of opportunistic gyms that are getting a foot in the door with the hospitality industry are Equinox and Exhale.
Of Exhale's 27 studios and spas, 11 are now inside hospitality venues such as the downtown Miami Epic Hotel. "The demand for fitness and high-performance living has never been greater, and we don't see it slowing down," Equinox CMO Carlos Becil said in an interview with Condé Nast Traveler last year.
Specialized indoor cycling companies such as SoulCycle and FlyWheel have also opened studios inside hotels in Miami and New York. Meanwhile, Equinox plans to launch its own hotel brand, beginning construction on its first hotel in the NYC Hudson Yards in 2018, complete with 60,000 square feet of indoor gym space.

DISCOUNTS WITH OUTSIDE GYMS
Unfortunately for some hospitality venues, inviting boutique gyms does not solve the problem of covering construction costs for more gym space, and in some facilities, regardless of cost, there is simply not room to expand. In these cases, hotels have compensated for not being able to bring an exercise experience in by sending their exercisers out.
These hotels are partnering with established fitness locations to offer guests a temporary membership that includes the use of fitness facilities as well as access to regularly scheduled classes. The ART Hotel in Denver, for example, has partnered with two local CorePower studios to offer biweekly in-house yoga classes as well as complementary transportation to either location where guests may attend classes.
Candace Duran, director of sales and marketing at The ART Hotel, told the Chicago Sun-Times, "It benefits the hotel and our guests because it allows them the ability to indulge in a healthy mind, body and soul during their travel and gives them the opportunity to be a part of our community and our Golden Triangle neighborhood."
---
This article originally appeared in the January | February 2017 issue of Athletic Business with the title "Riding the new wave of 'sportspitality'" Athletic Business is a free magazine for professionals in the athletic, fitness and recreation industry. Click here to subscribe.