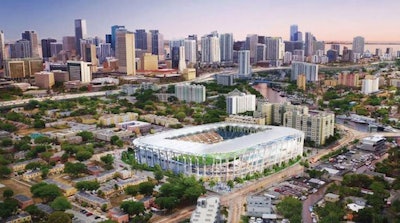 On Tuesday, David Beckham gained approval from Miami-Dade County commissioners to buy the final third of the nine acres needed for a Major League Soccer stadium planned for the Miami Overtown neighborhood.
The nine-to-four vote allowed Beckham to purchase the remaining three acres for $9 million, giving him full control over the two-city-block stadium site for the first time since he launched his public effort for a Miami pro soccer venue in the summer of 2013.
"Yes, it has taken a while to get to this point, but I think this community needs it … It is going to improve this community in so many ways," Commissioner Xavier Suarez told the Miami Herald.
Miami Beckham United paid $19 million in March 2016 for six acres of privately owned land. The group further expects to spend $220 million to develop the site and build the 25,000-seat venue, as well as an additional $25 million to construct a player training facility.
The privately-owned, privately-financed stadium asserts no claim on public subsidies and will be obligated to pay property taxes. The venue is also expected to create a minimum of 50 full-time employment opportunities in Miami.
Commissioner Sally Heyman, who has voted against the use of county taxes to aid in the construction of sports venues in the past, told the Miami Herald, "I am delighted we are getting property taxes. I look forward to a positive front-page headline."
The next step for the Beckham group will be to gain zoning approval from the City of Miami to begin construction on the facility. The project will be presented to the Miami Commission in 2018, with the goal of opening the stadium in 2020.
The group also hopes to acquire MLS approval for the Miami franchise by the end of the month. In a press conference, Beckham negotiator Tim Leiweke said, "We believe Major League Soccer needs Miami just as Miami needs Major League Soccer."