Not all athletic businesses have a flashy mascot and bright color schemes to bolster their brand, but how these other businesses are perceived within the industry and their respective communities is no less important. A brand is what people think you stand for when you aren't there to tell them in person, so along with your website, advertisements and brochures, facility design plays a huge part in making any organization identifiable by allowing the building itself to represent what you and your business are all about. Indeed, the very purpose and programs housed in a facility can be used to bolster the brand.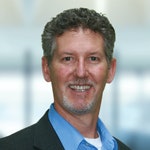 Creating connections
Mt. Carmel Health System in Columbus, Ohio, is a long-standing health system that has been serving the healthcare needs of constituents for years, with multiple in-patient hospitals, outpatient facilities and freestanding urgent care and emergency departments. Mt. Carmel's message is all about creating connections — between physicians and their patients, between the patients and their health, and between the health system and the community at large.
With the Affordable Care Act and other legislation putting greater focus on population health management, Mt. Carmel adopted a strategy that would differentiate it from the competition and solidify the health system as the standard in preventive care. Thus was born MC Fitness and Health in Lewis Center, Ohio, a project that was viewed as a way to bolster the Mt. Carmel brand in the Columbus area with the intent of having the system recognized as the market leader in managing population health. This gleaming facility is designed for preventive care and exercise that will not only get people well, but keep them well for years to come.
The programs and services that you provide within the walls of your facility make up your business. Everything else, your brand included, is there to support it. If yours is a healthcare-based business, this presents a challenge because fitness is not necessarily what your brand is known for. However, it is also an opportunity to demonstrate a commitment to the health of community members, not only when they are sick or injured, but also when they are well and thriving.
Eventually, community members will think of the health system as the entity that is looking after their overall health and wellbeing at every point along the continuum of care.
Here, then, are seven areas in which facility design can enhance a health organization's brand:

1. Site selection
Brand differentiation begins with the site. The MC Fitness and Health location was sited on a new pedestrian/bike trail and directly adjacent to a new pedestrian bridge that spans a busy highway. This not only allows patrons to access the facility by foot or bicycle, but also communicates to the community that movement is an important factor in maintaining health, so much so that the facility is located with easy and safe access via the trail. Mt. Carmel went as far as to install a free bike tuning and tire inflation station on its property next to the trail.

2. Building orientation
Building orientation is an important branding factor, as well. In addition to its proximity to the trail, the Lewis Center site is next to a busy highway, and Mt. Carmel wanted to take advantage of the visibility this adjacency provided. Using an iconic tower element on the end of the building, designers were able to provide an eye-catching feature that is easily recognizable. Designers also took advantage of an onsite pond to install fountains and a monument sign on an island — each element illuminated at night. The idea is not necessarily to compete with the Las Vegas Strip, but instead create something attractive and recognizable that even those passing at 65 miles per hour can identify.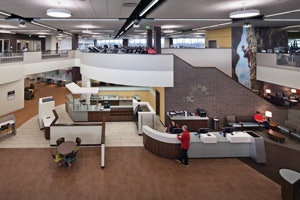 3. Signage
Signage is an important tool in the branding toolbox. In addition to the monument sign that can be installed on the site, signage on building facades has long been standard, regardless of industry. However, the locations of building-mounted signage should be skillfully identified early on in the design process. If not, there is a risk that the signage will look like something applied as an afterthought, jeopardizing the desired visibility or effect. Directional signage is needed at driveways and entries, with careful design consideration made to incorporate images, logos and colors that all fit the brand.

4. Exterior materials and forms
The building's materials and forms should also be seen as a potential branding opportunity. At MC Fitness and Health, communicating the Catholic-based health system's brand involved subtle iconography woven into the fabric of the exterior design — from the patterns of the window mullions in the aquatic center to the metal panel joint systems that comprise the iconic stair towers.

5. Interior imagery
Use of imagery on interior surfaces is a great way to convey a brand or mission. High-resolution photographs showing people participating in active, healthful activities grace the interior of MC Fitness and Health. The images were printed on large-scale decals and applied to various surfaces of the building to designate key locations: rock climbing for the main stair to the fitness floor, walking at the emergency department, biking at physical therapy. Each of these is a signal that the facility is dedicated to the continuing health and wellbeing of its patrons. Even the color schemes and materials are designed to incorporate the notion of caring.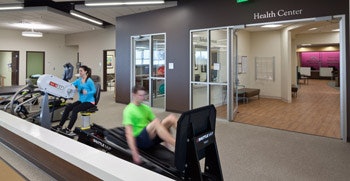 6. Integration of spaces
Fully integrating the clinical and fitness uses is key, and the building design has every opportunity to enhance the collaboration. Find opportunities to share amenities, like a short-term childcare area, a healthful food café, or community conference rooms that can be set up for meetings, classes or nutritional demonstrations.
Look for opportunities to facilitate the cross-pollination of ideas between departments, such as sharing break rooms and other staff areas. Place appropriate clinical functions — such as physical therapy and cardiac rehab — adjacent to the fitness floor. This will allow patients to become comfortable with the equipment and the location, as well as establish an early relationship with personal trainers and other patrons that will aid in capturing that individual as a member in the future.

7. Building health
A wellness or recreation center should itself be a healthful building, one that will do little harm to the environment while helping keep employees and patrons healthy and happy. These factors will combine to reduce utility and operational costs, reduce absenteeism and bring people back to the facility again and again.
The Mt. Carmel Health System also made a commitment to providing only healthful food, snacks and drinks in the facility. There is no grill or fryer in the kitchen; only steam and convection ovens are used to prepare the entrées in the Bistro. A fresh fruit and yogurt smoothie bar is available, as well as an assortment of healthful grab-n-go snacks — all emblazoned with the brand of MC Fitness and Health on the packaging.
Building a brand centered on healthful living and healthful lifestyles will build not only awareness, but also the bottom line.
---
This article originally appeared in the July | August 2017 issue of Athletic Business with the title "Seven ways facility design can boost a wellness organization's brand" Athletic Business is a free magazine for professionals in the athletic, fitness and recreation industry. Click here to subscribe.