Construction began Friday on the newest location of Vida Fitness — a Washington, D.C.-based fitness club.
The 30,000-square-foot retail space at The Yards in the Waterfront District of D.C. will also include Vida's other affiliated brands: Penthouse Pool & Lounge, Aura Spa and Bang Salon.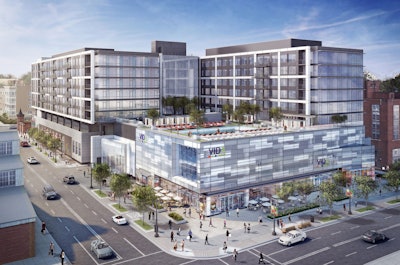 The facility — which is expected to cost $6.5 million — will open in three phases. Vida founder and owner David Von Storch expects Penthouse Pool Club to open in early July, with Bang Salon following in mid-July, Vida Fitness in August and Aura Spa rounding out the new flagship location in October.
Once completed, Vida Fitness at The Yards will become the sixth location in the Washington, D.C. area.
In addition to the standard amenities at most gyms, Vida's flagship fitness club will also include an Experiential Cycling Studio, a Hot Yoga Studio, gender-specific European saunas and a 1,000-square-foot Kids Zone.
"Whether you want to workout, chill out or simply hang out, this place has something for everyone," von Storch said in a press release. "We believe it will be a valued addition to the growing waterfront community at The Yards."
Vida Fitness plans to bring its total to eight locations in Washington, D.C. by 2017.