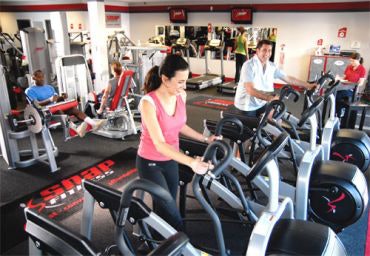 Most independent health club owners have at least two things in common: A love of the fitness industry and an unmistakable entrepreneurial drive. In an effort to grow their respective businesses, club owners may ask themselves if it is time take their brand to the masses by franchising their concept.

While it may sound like an easy way to grow, it is important to remember that it's a crowded field to crack. With more than 30 companies franchising their health club brand — everyone from old-school names such as Gold's Gym to newer entrants such as UFC and Orangetheory Fitness — it's important to remember that just because it's worked for some, doesn't mean it will work for everyone.
RELATED: Is This the Year the Mom and Pop Clubs Die?

But the success of those who have done it remains is attractive. Statistics show that a franchise has a much greater chance of surviving financially than an independent business. Many people decide to start their business as part of a franchise group, to help feed off of the strong name brand and economies of scale when it comes to purchasing and advertising. And, according to Nathan Mitchell, founder of Clutch Consulting, in Tulsa Okla. and author of the book "Growing Businesses & Empowering People," franchising is an effective way for a business to take the next steps of growth.

"Franchising is definitely a viable way for small businesses to grow their operation; however, it does pose its challenges as well as its benefits," says Mitchell. "It's a great opportunity, but just like everything else in business, it isn't for everyone. Franchising is a nice opportunity for small businesses to expand their operations without having to take out additional loans or borrow money from angel investors or venture capitalists. The money to expand and grow comes from the franchisees themselves."

While some come into the fitness business as a franchisee, others still look to convert, opening up even more potential storefronts for a brand looking to grow as a franchisor.
RELATED: Club Chains Should Level with Potential Franchisees

Many start out and convert to franchisees due to the ability to participate in an insurance programs or merchant programs, according to founder and CEO of Snap Fitness, Peter Taunton. About five percent of Snap Fitness franchisees are conversions of already existing health clubs, but very few are in the same location.

"Most of our conversions move to new spaces with help from our experts," says Taunton. "It just makes more sense to move members to a new spot than to try to put a new name and new colors at an existing one. It is really a chance for a new start."

Mitchell adds that some companies find success in the hiring department as franchisors, making it easy to get traction and facilitate growth.

"Finding good, loyal employees is also challenging for many small businesses," says Mitchell. "With this in mind, franchising gives small business owners the opportunity to access and leverage highly-skilled entrepreneurial talent. Oftentimes, those with the greatest skills and talent would rather invest in a business opportunity than they would work for a salary with a traditional employer."
RELATED: Retro Fitness CEO Talks About his Experience on Undercover Boss

While there are some benefits to starting or converting to a franchising business, there are obstacles and challenges that health club owners need to weigh when considering a switch.

"I've learned entrepreneurs love to be in control," says Mitchell. "That's one of the reasons they get into free enterprise in the first place. With franchising, there is always the potential loss of some managerial and quality control, which may be difficult for some entrepreneurs to handle."

This is why some of the best-run and successful franchisors are those that have systems and training methods in place and hold franchisees to high standards.

"If I'm thinking of opening or converting to a franchise, they need to realize there are systems and processes that have to be followed," says Taunton. "It is important to keep high standards as a franchisor and make sure everyone is participating in the playbook."

In the end, there are other ways to grow a business than becoming a franchisor. But, with the right plan and the right business model, operators can utilize this road to grow from the ranks of mom-and-pops to a worldwide brand.
John Agoglia has spent nearly two decades either working in health clubs or writing about them. He currently writes for several digital and print publications in and out of the fitness industry.