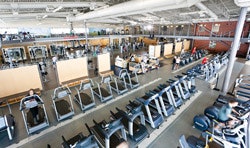 There are all sorts of exercisers, all sorts of health clubs and all sorts of countries. So forgive the many generalizations that follow.
American health clubs began as racquet clubs, weight rooms, swim clubs, circuit-training storefronts and aerobics studios — and endure in at least that many forms. Some are spa-like, and some resemble the basement of your local high school. But one aspect of the American health club experience has proved amazingly adaptable, appearing in most types of clubs: The enormous fitness center. Lined-up treadmills and ellipticals, three rows deep, in front of television screens, sitting across a narrow aisle from row after row of single-station selectorized equipment — it's the picture most people in the United States have of both the traditional and the modern fitness center, whether in a municipal or college recreation setting or in for-profit or nonprofit health clubs.
But a number of different forces are at work suggesting a fresh vision is coming of how a club ought to look. Economic pressures are leading independent club owners toward boutique-style up-selling of higher-end services and a renewed focus on customer care. Group exercise and functional training appear to be enduring trends that (along with the mainstream acceptance of and enthusiasm for yoga and its many Westernized variants) are altering the balance of many clubs' program offerings. And surveys of club members increasingly show that the social aspects of membership are as important to them as the promise of washboard abs.
People still join for fitness, and there's a market out there that can easily justify a roomful of equipment so large that every member can be accommodated at any time on his or her favorite piece of equipment. There's group rethink going on, though, and just as fitness center owners finally — finally — stopped giving valuable space to six unused racquetball courts, many are beginning to question their own marriage to the equipment warehouse aesthetic.
"I think it's leftover genetics," says Rudy Fabiano of Montclair, N.J.-based Fabiano Design. "A client of mine whose family was in the industry from the beginning owns four or five big clubs. He was showing me his new marketing stuff, and he said, 'You know, anytime anybody joined, even though we have swimming, tennis, group exercise, functional training and squash, we would give them a free one-hour introduction to the equipment.' Very typical, right? Well, he surveyed his members, and he found out that only 40 percent had any kind of interest in the equipment. So what they do now is, they offer new members free introductions to any two of their seven specialty offerings — a swim lesson, a group ex class, a squash lesson, a personal training session."
It won't be a very large step from his client's realization to a change in the built environment of clubs on the higher end — and it has the potential to filter into all facilities devoted to fitness. Many pieces of fitness equipment will still be in the mix, but maybe not quite as many, and placed in such a way that they're less central to the club experience. What's less clear: If equipment is no longer a club's centerpiece attraction, what will be?
No country in Europe approaches the United States' obesity rate of 30.6 percent (number one in the world). European obesity is, you might say, all over the map — it has three of the world's five worst rates of obesity (the UK, Slovakia and Greece, all at higher than 20 percent), but it also has France, Italy and Switzerland, all at less than 10 percent.
Interestingly, what the healthier, Western European countries in particular have in common is a predominance of clubs whose forebears were social, not fitness, centers. The vast majority are located in urban areas and inhabit older buildings. It makes for an interesting counterpoint to American clubs, which are fitness (and now wellness) focused, and predominantly suburban. A sociologist would be quick to point out that it is the fact of the country's suburban-ness that is most at fault (along with diet) for the U.S. obesity rate. For a health club owner in an industry that markets itself as being a key to good health, all the while admitting it touches only as much as 15 percent of the population, this counts as waving a white flag. Better to — as a few designers and owners of American clubs are doing — spend a moment to ask whether there's anything about the way their clubs are configured that is keeping potential members away.
Architect Doni Visani of Denver-based Ohlson Lavoie Collaborative is wary of generalizing about a foreign market that includes both Italy and Hungary — and Japan besides. But he senses the difference, both in the way facility design influences behavior and vice versa.
"The typical thing we've seen abroad is a lot of segregation of different activities," Visani says. "Everything is compartmentalized, because of smaller footprints, heavy columns, fire separations, code issues. We fought with a lot of facility owners over in Japan, trying to open the facilities up and make them more contiguous, to give them that sense of energy between spaces. We try to blend everything so it's one big space — everything's visible; you can see what everybody else is doing. But what they do in Japan and Europe is not the way we design things in America. Public bathing is big in Europe, but the fitness and recreation spaces have a sense of claustrophobia."
Like Visani, Fabiano tabs the buildings that architects abroad have to work with as a primary culprit. "Our first tennis clubs were pre-engineered long-span buildings, whereas Europe is ancient, as you know, and either very densely populated or farmland," he says. "More of their buildings are arched, not post and beam, and so there are not a lot of buildings that would accommodate American-style health clubs."
The resulting "pods" and the heavy structural members that surround them might limit visibility, but they do help foster a sense of — well, clubbiness, something that should seem familiar to anyone who has visited a spa where customers are lavished with one-on-one attention. Or, for that matter, an upscale health club that funnels members from the check-in desk directly into well-appointed locker rooms, intimate yoga studios, meditation rooms and massage rooms, and toward tanning beds and other spa/skin-care services.
But there's another reason the clubs seem different — a markedly different design sensibility.
"Ours is one of function first," Visani says. "We deal with functional issues and then try to overlay it with some kind of statement. That's the way it seems to me, anyway. You can see a lot of cool-looking buildings here, but the approach in Italy, France, Germany — everywhere you go in Europe, really — is to make a big, grand gesture, and then fit the program to fit that grand gesture. And it comes from the customers, too. In a place like Italy, I belong to a club and it had better be grand looking, because it's as grand as I am — it looks as good as my Ferrari or my watch. It's an extension of my designer clothing. Over there, a warehouse gym would probably be outside the realm of acceptance."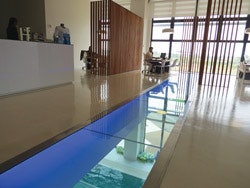 A large, central space packed with fitness equipment is apparently a new enough concept to elicit gasps from first-time visitors to Prime, a nearly two-year-old upscale club in a mall development outside Castel Maggiore, Italy (an older Prime is in the center of nearby Bologna). Prime has its grand gesture — members enter on the third level to a wide swath of glass inset into the resin lobby floor, which crosses in front of the welcome desk and intersects one of the sales offices, giving a view directly into the second-level pool — but it is also marked by the kinds of smaller details that make it clear how much attention has been paid, not to mention euros, to give the spaces a real sense of style.
It's not just designers and club members who demand it — the club owners who put up the money are obviously sold on making an aesthetic statement. "There's a cultural difference," Fabiano says. "Craftsmanship is important in a place like Italy; they take a lot of pride in it. It's not, 'Hey man, we can make some quick money.' I don't want to generalize, but they want to build it right."
Working alongside the artisanal angle, however, is a new economic reality, Fabiano says, noting that (to cite a stateside example) Planet Fitness' business model puts all its equipment in one gigantic space because that space is the cheapest to build. And that's a global phenomenon these days — he's seen American-style clubs popping up all over, in Western Europe, in Finland, in Turkey. And yet, he can also cite examples of American-style clubs that failed abroad because their owners inexplicably failed to take into account their own countries' cultural differences, particularly their clubs' traditionally dominant social aspect.
"Much more than here, there's a social basis for joining, and the health initiative is 10, 15 years behind us," says Fabiano, noting the number of club members abroad who smoke. "You join a club more for social status, and so the social spaces and locker rooms are that much more elaborate, from what I can see. But it's slowly changing." Fabiano was recently doing consulting work in Istanbul, and he worked with an ownership group of several high-end clubs who misfired badly by deciding it was time to "deliver mainstream fitness" to the population. Starting with a well-earned reputation for building upscale social clubs (featuring "cafés, sleeping areas within some locker rooms, enough fitness equipment but not overdone," Fabiano says), the group presold upwards of 2,000 memberships to something planned to be more like a lower-brand American club. "Their sales were off the charts," Fabiano recalls. "Then they opened the club, and half the people wanted their money back and no one else joined for two months. Everybody was thinking they were getting that social country club for just $45."
Using the current shorthand to identify the health club industry's reach: Who are the 15%? Are they longtime exercisers, Baby Boomers who were the first Tennis and Fitness Boomers, who are now in their 60s and 70s? Are they other older people who are being sent to work out for the first time by their doctors and physical therapists? Are they middle-aged moms discovering yoga and Zumba? Middle-aged guys getting fit for whichever weekend activities consume them? Younger people who were schooled on fitness in their sumptuous college recreation centers, but had the bad luck to graduate?
Most health club owners would say all of the above, and probably more. However they answer, they probably don't have an answer to the next question: Does their facility's design help them attract or retain each of these specific types of members? Is their club's environment helping or hindering their business?
A fitness veteran who has recently left the industry (he prefers to remain nameless) believes that American club owners have given too little thought to the question.
"There's a lot that club owners could learn from the relational and social aspects of what they do differently in much of Europe," he says. "There is so much lip service being paid to the notion of wellness as a discipline, but meanwhile the industry is still driven to a large extent by body image, and there's such a premium on space that the pressure to optimize it overrides a lot of people's thinking about colors and environments that motivate people. Put it this way: Whatever they're doing in Europe seems to be working."
Fitness equipment manufacturer Technogym, which opened its Wellness Village in late September to great fanfare — 1,200 people attended the event, including Italy's president and ministers of health, medicine, and sports and tourism, and the concurrent Wellness Congress was keynoted by former President Bill Clinton — used the occasion to reiterate its belief that wellness is a broader concept than fitness that could double the industry's reach. Company founder Nerio Alessandri said at the event through an interpreter that clubs needed to invest in innovative technologies, design and "environment," aligning his views with those of U.S. industry veterans who have warned against price wars that can only harm the perception of health clubs' value.
Fabiano believes the U.S. industry has already absorbed this admonishment, and events such as the inaugural iClubs Conference (being held in conjunction with the Athletic Business Conference & Expo this month in New Orleans) show the seriousness with which independent club owners view the threat.
"For years, the product only needed to be as good as it needed to be in order to sell it," Fabiano says. "To a certain extent, the better health clubs have come out of being a strictly sales-driven industry."
There are several ways that this change may play out in clubs' built environment. One is to break up the club into separate spaces in the manner of European-style clubs, placing another major component such as a pool or a gymnasium in the most visible location (as many public and college recreation centers do) and tucking fitness equipment along the margins. Another would be to mimic the floor of your local department store, each department still inhabiting a large shared space but having its own distinct center.
"We're pursuing the whole rules of retail as part of our effort to redefine the weight room," Fabiano says, "but you can see it happening already, for example with suspension training breaking up those big spaces. Macy's has a big shopping floor with pods within it, and they individualize each of those experiences for shoppers to walk through. I think that's going to start happening here."