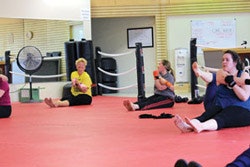 It's too easy to make fun of Perfect.
The epically bad film, set in Los Angeles at the height of the aerobics craze, was already dated when it was released in 1985, and its pointless plot (investigative journalist pulls back the curtain on health clubs, showing them to be — drum roll — the new pickup joints) was more than matched by the movie's meandering direction and combination of over- and under-acting. It was so bad that public disavowals by fitness industry professionals have long since outstripped the total number of tickets sold.
During the decade that it took John Travolta to resurrect his movie career, the health club industry changed greatly. The rise of competitors in the municipal, collegiate, nonprofit and hospital realms sent health club owners in various directions in the quest to retain market share. Some embraced the family fitness model, adding pools, children's areas and other components to their tennis courts and weight rooms. Some stripped their offerings to appeal to serious lifters likely to be put off by family fitness centers. Some targeted the self-motivated demographic with barely staffed, 24-hour clubs accessible with a personal key. And still others put their faith in circuit training as the way to get the deconditioned off the couch and into a less-intimidating environment.
All those different kinds of clubs coexisting in the marketplace warn against making any broad generalizations, but there is one large area of commonality: Health clubs for years have stressed the "health" in their name rather than "club," even though the portion of the American population currently belonging to clubs is just 16 percent (using the International, Health, Racquet & Sportsclub Association's overbroad definition of membership), and the portion of the American population considered obese has climbed to 36 percent. In such a circumstance, and with the economy in crawling-toward-respectability mode, the answer to struggling clubs' woes might be to give less stress to health promotion and throw their efforts into what made them "clubby" in the first place.
Most club owners reject such a thought outright, and you can understand why. They've spent more than a decade portraying themselves as a primary barrier against the tide of obesity, and they're loath to abandon the effort now. And yet, in conversation, most will concede that the recession, which hit many owners extremely hard, forced them to take a closer look at how they spend their money, and they've responded — in keeping with industry studies suggesting that the cost of attracting a new customer is as much as seven times higher than the cost of keeping an existing customer — by focusing more on retaining members than on signing up new ones.
The change in thinking has led to changes in the organizational structure of many clubs' sales departments. In the case of The Forum Athletic Club in Atlanta, it has meant more than that.
"For more than a year and a half now, we have had no sales staff," says Craig Hragyil, the director of operations at the club, who also serves as a trainer using his experience as a former champion mixed martial arts fighter. "Our sales have not decreased; in fact, we've increased sales, and of course I no longer have the overhead of a sales staff, nor do I have what has traditionally been a management headache, since they're not punching a clock. This approach has turned out great."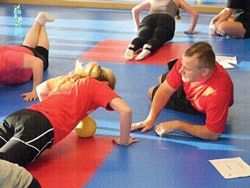 In place of salespeople, The Forum designates all of its staffers as "membership representatives" who are there to "create a relationship with people that naturally allows for significant referrals," Hragyil says, describing the club's sales approach as "anti-industry." Sales consists of "taking payments, not overcoming objections," he adds. "Even when we had a salesperson, there was no scratching and clawing, no negotiation. Ours is an environment where nobody is being sold. There are no closing tactics, nobody's being talked into anything, and therefore our customers have bought something they wanted as opposed to something they were sold. I think that plays a huge part in our retention."
At the same time, the club instituted a referral program that rewards members with one free month for each new member they bring in. "That's not something that we go over the top in communicating," Hragyil admits, "but when we're signing members up, we let them know that's an option: Bring in 12 people, pay nothing this year."
The Atlantic Club, of Manasquan and Red Bank, N.J., has developed a sterling reputation over its 35 years in business, but at the onset of the recession found itself "blindsided like the rest of the world," in the words of owner Pat Laus. Between April 2008 and August 2011, each of its clubs lost 15 percent of its membership, with Red Bank's initial decrease more steep, sudden and frightening as it coincided with massive job layoffs in the financial sector. The primary Manasquan location, a larger, suburban-model club, began a decline six months later that was, in its way, no less frightening. And then, as the recession appeared to ease, competition from lower-priced clubs saturated both markets. "It has been a very character-building couple of years," Laus says, describing the fear that comes with seeing one's business at the mercy of uncontrollable external forces — and the sudden realization that part of the problem is internal. "We realized that as much as we've been on the top 100 lists of clubs for all these years, we'd gotten sloppy. It took a lot of effort to hunker down and to do the mistake-proofing, make the cuts, not fill some job positions and expand other positions."
Like Hragyil, Laus and her chief operating officer, Kevin McHugh, found a key component of the club's response to changing times in the restructuring of The Atlantic Club's staff. In 2009, the club ditched month-to-month memberships in favor of one- or multiyear contracts at locked-in rates — "We needed to find a way to have them married to us," McHugh says — and later, in May 2011, the club eliminated its traditional sales force in favor of what it called "wellness coordinators." Don't get him wrong: McHugh estimates that wellness coordinators spend 55 percent of their time working to increase the clubs' base of new memberships. But these staffers are each given a list of up to 1,000 current members apiece, as well as detailed, customized reports of each member's club and program usage, and they're charged with finding ways to connect the member to new programs and other members to build "communities" within the club, Laus says.
This is vital, say AB columnists Rob Bishop and Barry Klein, co-owners of Elevations Health Club in Scotrun, Pa., because even within these communities of people who have chosen to make wellness a priority in their lives, boredom is always one treadmill step away.
"I think the vast majority of new members will get bored within the first 30 to 60 days, unless they have started to commit themselves to some other activity," Bishop says.
"The equipment is too solitary," adds Klein. "All our industry studies have shown that if members take group fitness classes, they stay a member longer, they show up more frequently and they're more likely to refer friends and family to the club. As a staff, if you can get members to do more than just walk on the treadmill, they will become engaged and will stay longer."
That has been borne out at The Atlantic Club, which by the time AB caught up with Laus and McHugh had experienced eight consecutive months of growth at both locations after the introduction of wellness coordinators.
"They communicate with members on their list on a bi-monthly and monthly basis to let them know what's going on," McHugh explains. "They call members up, check their usage, suggest new activities, because they're incentivized on how many members stay members, as well as how many new members they sign. One of the things we're learning is that the real benefit is in getting our members to be better-referring members, because they feel more connected to us — and now the management structure holds our wellness coordinators accountable for maintaining these relationships."
The change in structure at Gold's Gym in Whippany, N.J., has been more subtle but no less successful. Owner Joe Puleo Jr. says the gym — which unlike many Gold's franchises is more of a sports complex, with pools, indoor courts and outdoor fields that serve primarily families and couples — found itself whipsawed by those two familiar elements, declining membership and a new low-priced Planet Fitness franchise several hundred feet away. Rather than drop his prices, Puleo began adding program offeringsthat members could buy a la carte (in essence, raising the amount that his best customers spent with him) and changed the staff's overall focus.
"We added more personal trainers, more specific classes, and partnered with a CKO Kickboxing franchise about two miles away," Puleo says. "That was a big thing, creating a reciprocal membership so we could offer our members a service we didn't have. They could pretty much double their membership rate and use everything, all the extra classes, extra boxing at the studio, or they could add them piecemeal. The idea was to take the membership we had and make it more valuable — and believe it or not, if you offer more services, people see more value in their membership and they have no problem paying more money."
Many members who had just come for the weight equipment disappeared to the lower-priced option down the street, and that was fine with Puleo. "We weren't going to worry about those low-cost members anymore, the $10 or $20 people, because if we did, we'd become the second low-cost provider in the neighborhood, and we'd both be competing for the bottom — not a good thing to do," he says. "We lost about 35 percent of our member base, but were able to bring our monthly gross back to where it was without increasing our membership, by getting more out of our current members. Now, we have a membership manager who has become less of a tour guide and more of a general manager, and a micromanager with my staff, making sure that the people who signed up are happy with what they have here, asking what else they need. The business model we have laid out for this gym over the next few years basically keeps the people we have now happier."
Like most business owners during years two and three of a global recession, Bishop and Klein retrenched and, faced with a dearth of financing options, started looking around for "little things that we could do to impact membership," Bishop says. A set of medicine balls? Lower-priced equipment such as suspension training? These were "things that wouldn't break the bank," he says, but offered "high touch points for the members."
This sounds a little like courtship — the small gifts that keep the romance alive. If you'll allow the analogy to be stretched further, the post-Perfect health club market is less about pickups and one-night stands, and more about "engagement" — getting members to try a weight-loss program, as Elevations recently did, that reenergized its participants to stick with the health club for a longer period of time. Now, it's about "relationships."
"Our wellness coordinators are there to create relationships and sustain them," Laus says, referring both to relationships between members and staff and those between members. "Previously, we had members who were primarily interested in the fitness center or pool, and it was always a struggle to get them to do group exercise. What we've found is if we get members integrated within a small group, they already have their own community, which contributes to retention. In a wellness coordinator, they've got someone who spurs them to show up, sets goals with them. And the more varied their workouts are, the more relationships they have, and the more ways they're married to us — the more difficult it is for them to make the choice to leave us. Our wellness coordinators have helped us bridge that gap."
Similarly, Hragyil says his membership representatives were the answer to "a club that had been running on autopilot. There was no one truly working every day on things the club had become known for, which was having great relationships with everybody." To that end, this "big-box gym by appearance," as he describes his 30,000-square-foot club, became something altogether different in its approach to its members. "We spend a lot of energy and time communicating with our members," Hragyil says. "My business card has my personal cell phone number on it. We know all of our members as personally as they'll let us get to know them. Now, we do have members who come in, run on the treadmill, lift weights and walk out. But the majority of our members allow us to share our opinions about training and what's effective, and offer some information on nutrition, those kinds of things, and when we get that opportunity, we stop and sit, and talk. We talk!"
But will clubs' renewed focus on retention mean that these relationships, engagements and marriages will bypass the 84 percent of Americans who are out there and still available?
"Ninety-nine percent of our members have belonged to other gyms; very few are first-time gym members," Hragyil concedes. "But we know that the desire to be fit and healthy and work out is on the lips of millions and millions of Americans who are not doing it. We want our members to take the message back to their neighborhoods and offices, and say to all those potential club members, 'The Forum is different.' "