There was a day when fitness centers were filled with row after row of strength and cardio machines along with heavy iron that helped members — or at least offered the opportunity for them — to achieve the traditional fitness look of the day that were most often seen in the pages of Muscle & Fitness and Flex magazines. It was the look and the style of training made famous by Arnold Schwarzenegger and Lou Ferrigno.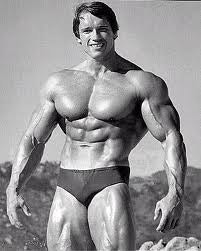 Today, for most, the fitness ideal has shifted from the cartoon-like bulges of bodybuilders to the lean and strong appearance of athletes such as gold medalist Jessica Ennis and MMA great, George St.-Pierre.

And along with that shift in goals has come a significant shift in training equipment and modalities.

While independent health club owners still fill their facilities with rows of treadmills, bikes, elliptical trainers and there are still selectorized strength machines, but over the last decade and increasingly the last few years, many clubs are opting to give more space to other, more functional equipment.

"There is more to health and fitness than our weight, body composition and our blood pressure. Functional exercises can develop adaptations such as improved posture, enhanced coordination, and a revved up metabolism," says former NASM Education Specialist Eric Beard, who is the founder of EricBeard.com, and a consultant and corrective excise specialist "Machines may deliver similar benefits, but in my experience people don't train hard enough from the seated position to do so. Do most people really care if they can move the pin one more rung down the sight stack or lift five more digitally displayed pounds? They also sit all day at work and who wants to come to the gym and just sit there too?"

While more clubs are setting aside additional space for kettlebells, battling ropes, jungle gyms and more, it is independent club owners that are at the forefront of the movement.

"There has been a slow physical transformation of spaces inside of facilities for members to train this way. The major players in the industry have begun to embrace these changes, which are usually pioneered by their training staff. I see the urban facilities and studios catching on faster, with many members and traditionalist owners holding fast to their seated machines and traditional cardio for dear life," adds Beard. "If the biggest chains are following a trend, then consumers may put more stock in that trend. I think chains and big box gyms are reacting in some ways to the success that smaller more flexible entities are experiencing."

One of the smaller independent clubs that has embraced this new way of fitness is New York City-based Clay Health Club & Spa, which was on the leading edge of functional fitness when it planned its club in around the time of the millennium.

"When we were planning the club back in 1999, we broke the 14,000 square feet of training floor into zones and created space in each zone for people to move on their own and utilize body-weight and other functional training modalities," says Terry Fister, program director at Clay Health Club & Spa. "People sit way too often and part of our training philosophy is to get people up and moving. It makes fitness more fun and more accessible. We've been very successful with it."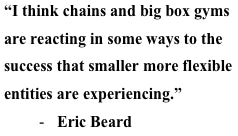 Some clubs such as Monkey Bar, FitCorp and even TSI and Lifetime Fitness have given more space to functional training and even implemented an adult playground and jungle gym approach to training. But despite the potential success, it is wise to go slowly and make sure the fitness staff has a firm grasp on this type of training.

"Adult playgrounds can be fun, but beware of deconditioned members doing too much too fast. They might remember playing on the playground as a kid, hanging, swinging, jumping and landing, but odds are that was 20 years and at least 20 pounds ago," says Beard. "If there is not buy-in from the staff and management, or if there is not a solid educational foundation for the fitness pros, then a unit like this is destined to take up space and go underutilized."

Fister agrees that it takes more than just designing a fun and functional space that makes it a success and a selling point.

"Some of the bigger chains - and other independent clubs - will build the space and build awareness of functional training and 'playspace' areas," he says, adding that 27 percent of his club's members are active in personal training. "You can't just put it up and say 'here you go.' To be successful, it comes down to having excellent fitness professionals working at the club, providing outstanding education and service to members."

While there is still room for all types of equipment to meet the needs of all types of members, with proper programming and education, functional fitness spaces may soon take more space on fitness floors.