Podcasts
Tim Rhode, Founder of Maryland Athletic Club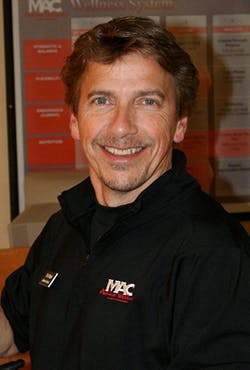 Tim and Liz Rhode are the quintessential independent entrepreneurs - adventurous, curious and in constant pursuit of bringing their vision to reality. In the episode of Gym Class: Heroes of Fitness, Tim Rhode, the founder of the Maryland Athletic Club discusses his winding road to opening his first gym, his partnership with his wife, and how to put people onto a path to healthy living and wellness that guarantees success.
Listen to Tim's episode on iTunes
"It's really been a collaboration. I would tell you that the answer on 'Who's the boss?' is, it depends. It depends on the subject. Sometimes it's her, sometimes it's me, sometimes it's us. And most of the time, we agree on which one of those three it is. But sometimes not and you have to negotiate for who's in charge."
- Tim Rhode on running a club with his wife, Liz
Chapters
Adventure seeking in Oregon leads to a job in Maryland - 3:02
Lessons learned from being a drummer in a touring band - 6:30
Background in construction helps with opening his first club - 8:23
Lessons learned at conferences leads to consulting success - 13:25
Merging the wellness and warehouse business models - 17:00
Who's the boss? Working with your wife - 21:24
Who are your mentors? - 28:38
What high volume/low cost has done to customer service - 32:10
Maryland Athletic Club's unique sales proposition - 37:23
Getting fit versus taking on obesity - 43:40
How to help people who want to live healthy but struggle - 49:10
The concern of taxing gym leads to the Coalition for a Healthy Maryland - 58:46
Deceptive business practices - then and now - 1:05:00
What's the biggest mistake you've made? - 1:08:34
Luckiest thing that's ever happened? - 1:11:08