Paul Byrne, Former Precor President and Godfather of the Elliptical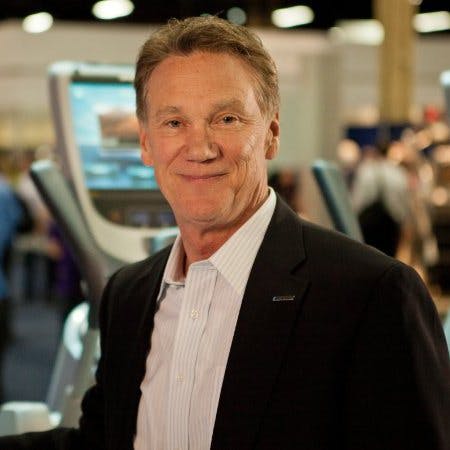 Paul Byrne is the reason nearly every gym and health club in America has an elliptical machine. In this episode of "Gym Class: Heroes of Fitness," the newly retired president of Precor joins Hossein and Leigh to talk about where the idea for the elliptical came from, the controversial sales channels he used to market it that ultimately led to its prominence in the industry, and the challenges of staying up with every trend and innovation in fitness. Rounded out by discussions of fly-fishing and bull castration, this episode is sure to be an inspiration for fitness inventors and innovators.
LISTEN to Paul Byrne's episode on iTunes
"When you're running a business, yes it's about products and it's about innovation, but it's really about the people. When you're in a senior role, you're going to do as well as your ability to surround yourself with great people and enable them."
- Paul Byrne on leadership

Chapters:
Fly fishing – 1:30
Moving from New Jersey to Oregon – 3:50
Great ideas and managing People - 6:01
Accountability, obesity and the opportunities in fitness - 7:32
Future veterinarian starts selling fitness equipment - 11:26
Meeting David Smith, founder of Precor - 15:08
First big changes at Precor – distribution channels - 18:26
The birth of the Elliptical and the 15 second rule - 20:26
Great ideas he passed up on - 25:34
How the elliptical was invented - 30:16
The controversial idea: Distributing to gyms - 32:09
Macro trends- Baby Boomers lead to Millenials & technology - 35:04
When to not follow trends - 38:21
How the flow of data will benefit fitness industry - 40:24
The one piece of unique equipment every gym should have - 43:48
One workout you could do for the rest of your life - 46:06
Next great thing after the elliptical - adding entertainment and video to cardio - 47:18
Why was there push back from the elliptical? - 50:23
Worst Decision? - 52:10
Advice for someone getting into the industry? 54:11
Mentor in the industry – 55:52
Where'd you get picked in school? 56:43
Quick response – 57:33
Learning Spanish - 1:00:14
<< Previous Episode: Chris Clawson | Next Episode: Scott Gillespie >>