Podcasts
Scott Gillespie, Owner of Saco Sport and Fitness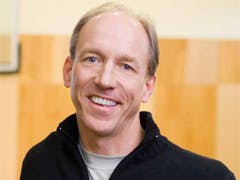 Scott Gillespie found himself as a "fixer" of operationally challenged health clubs. But when he met his ultimate test, a poorly managed, financially strapped facility in Saco, Maine, the former professional skier and professional soccer hopeful began his greatest fix ever. In this episode of "Gym Class: Heroes of Fitness," the IHRSA board director joins Leigh and Hossein to discuss the journey that defined his club's brand and the fateful story of the night his entire club burned to the ground from arson.
LISTEN to Scott Gillespie's episode on iTunes
"There comes a time you finally say, 'The only way I'm going to know is if you take the leap.' And it was a big leap, signing those personal guarantees and giving up a paycheck and rolling the dice... Ultimately that leap leads to the greatest reward which is the love of getting out of bed every morning and going to work and enjoying your job. You get to reap the benefits but you also have many sleepless nights."
- Scott Gillespie on becoming an entrepreneur

Chapters:
Idea sharing and growing in a small market - Inroduction
Great ideas that didn't work and why - 6:40
Starting in the biz - a gym membership turns into a job - 10:56
A job as a gym fixer leads to buying a failing club in Saco, Maine - 13:32
Skiing, rock climbing and professional soccer aspirations - 18:58
The pros and cons to having an entrepreneurial spirit - 22:22
Biggest changes in the health and fitness industry - 25:48
Opportunities for independent operators - discovering your "Why?" - 30:15
Communicating your differentiators to your audience - 33:16
How technology will change how people engage your businesses - 39:20
How employee treatment trickles down to the customer experience - 44:12
Word association - 46:35
The full story behind that fire that burned down his club and almost ended his dream - 49:30