Podcasts
Randy Hetrick, Founder of TRX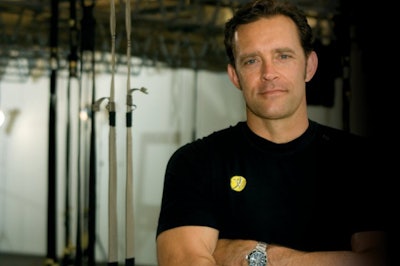 Inventing the TRX Suspension Trainer while operating in a war zone probably makes Randy Hetrick's story one of the most interesting the fitness industry has ever known. But it's what he has done afterward that is equally incredible. In this episode of "Gym Class: Heroes of Fitness," Hetrick, a former Navy SEAL, joins Hossein and Leigh to tell the start-up stories that led to one of the most innovative new products to hit the fitness industry in years.
LISTEN to Randy Hetrick's episode on iTunes
"You guys talk about innovation and entrepreneurship on this show and I really believe that creating something great, very often it's that convergence between experience, circumstance, need and luck. And they all kind of have to come together at the same moment. For me, that was truly what happened."
- Randy Hetrick on inventing the TRX Suspension Trainer while in the Navy SEALs
Chapters
2:12 — Hossein talks about his TRX experience
4:56 — Hossein says he bought the first TRX Suspension Trainer
7:25 — The story of a Navy SEAL creating a fitness powerhouse
11:13 — The convergence of factors in making something great

12:43 — A personal test of strength leads to joining the military
15:16 — Obesity and TRXs democratization of working out
21:21 — Realizing your product may be different than you thought
25:14 — Memorable stories of the early days of selling TRX
29:52 — Who is your mentor?
33:02 — When two mentors told him not to start TRX
34:09 — Breaking into the fitness industry
39:55 — Did the public understand the product right away?
46:25 — Worst decision he's made in business?
50:44 — Creating a culture where people believe in your mission
54:39 — The luck of timing with functional training's popularity
57:35 — Where were you picked in gym class dodgeball?
58:20 — Word association
1:00:32 — The TRX Suspension Trainer hanging on his wall
<< Previous Episode: Phil Wendel | Next Episode: David Von Storch>>