Since the first episode of American Ninja Warrior aired in 2009, obstacle course racers and fitness nuts alike have flocked to the new, intense mind-body challenge presented by the sport.

Inspired by American Ninja Warrior, Chris Wilczewski founded the nonprofit National Ninja League (NNL), a testimony to the growing popularity of the ninja challenge course. The goal of NNL, like that of many dedicated ninja gyms, is to make the sport accessible to athletes who might not be eligible to compete onscreen. NNL facilitates ninja training by teaching the necessary skills to complete strength, endurance and flexibility challenges posed by obstacles as seen on American Ninja Warrior. To that end, NNL aids athletics facilities and recreation spaces in organizing ninja events such as local competitions or workshops taught by pro athletes.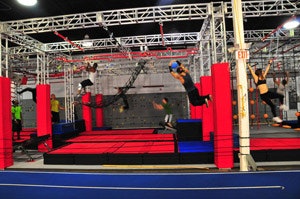 Ninja inspiration
Although eligible facilities can be either indoor or outdoor, permanent or temporary, NNL president Wilczewski says most applicants are from dedicated obstacle course racing (OCR) gyms. One such facility owner, Warrior Playground founder Sam Banola, says of the emerging sport, "It's exploding. We've got kids who are dropping out of other sports to do this full-time."
Warrior Playground is a 5,000-square-foot training facility with a permanent, 30-obstacle outdoor ninja course on the property. According to Banola, his original goal was to appeal to the OCR crowd, such as those who wanted help preparing for Spartan Races or Tough Mudder. But, as the popularity of American Ninja Warrior continues to grow, Warrior Playground has found an unexpected niche in the youth market. Says Banola, "The youths are giving us a much more consistent attendance base, and therefore membership base."
As more climbing gyms and parkour-focused recreation centers begin to expand into the new world of ninja obstacles, Banola notes the collaborative nature of the sport's proprietors. "With all of these gyms in Colorado, we are trying to turn it into a sport for these kids, where they can actually have meets," he says. "So each gym has a team, and we can have adult teams and youth teams and travel around and compete on each other's courses."
Although Warrior Playground is not affiliated with the show, Banola says he and other facility owners keep in contact, increasing awareness for the sport through a collaborative marketing approach. Many facilities even use the term Ninja Warrior in their branding and on social media. According to Banola, inspiration for new ninja obstacles has become a two-way street between American Ninja Warrior and its copycat organizations, with spin-off gyms providing the show with new ideas and vice versa.
"As far as the obstacles go, there are so many ideas out there. We have a project list three pages long of obstacles we want to create. Some of them are obstacles we've seen on the show or on social media that someone somewhere in the world is doing. Others are completely novel ideas that we've dreamed up and we just haven't had time to build them yet," Banola says. "There are so many creative minds out there, always thinking about how to tweak an obstacle to make it a whole new challenge or a little bit more difficult or possibly even a little bit easier. And the show is relying on the fan base to do that. They're even featuring that now. They had a contest last year to 'submit your idea for best obstacle,' and if they used it, I think they let you run the course."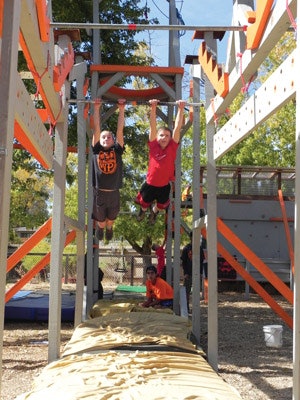 Course-setting
Not all facility owners have Banola's confidence to create new obstacles on their course. Some prefer to leave that to the experts, and that's where Adventure Solutions comes in. Launched a little more than two years ago, Adventure Solutions was the first commercial business to design obstacle courses based on the concept of American Ninja Warrior, according to CEO Scott Hornick. Now, Adventure Solutions is installing facilities all over the world, and Hornick projects the installation of close to 100 new courses in the coming year.
Adventure Solutions courses are modular, engineered to be hooked into place within the frame of a permanent installation and rearranged to adapt to different skill levels as well as keep things interesting. "We have over a hundred different activities, and we're constantly creating more, because I think that's what makes it fun — being able to interchange the activities over time," Hornick says. "I think that's going to be a big part of the staying power with it. You have all different kinds of activities and you're constantly adjusting the spacing or height, so it really just changes constantly to throw you off."
---
More from AB: Wolfpack Ninja Tour: Top Ninjas Compete at Budweiser Events Center, Loveland, Colorado
---
So far, the majority of Adventure Solutions' clientele have been privately owned gyms, while universities and municipalities — with their more formal procurement process — have been slower to catch on. However, Hornick expects to expand into that market in the near future, saying, "I suspect that there will be a craze in the next five-to-10 years with colleges putting these in for their students." The company has also begun preliminary talks with a few community recreation centers.
When pressed about the market competition aspect of the ninja business, experts from all corners of the sport say the same thing: it's hard to keep up. While certain obstacles — such as the salmon ladder or the warp wall — are staples of ninja training, other challenges are evolving so quickly that staying up-to-date with the latest and greatest is no small task. Fortunately, for the ninja athletes who love the thrill of being thrown — sometimes literally — for a loop, the variety and innovation seen within the sport have resulted in training environments that are next to impossible to replicate. As NNL president Wilczewski puts it, "Each facility is a completely unique experience."
Planning a ninja course

In the early stages of a Ninja obstacle course build-out, it's important for facility owners to give the same priority of thought to the logistics of installation as to the design. The succinct advice given by Adventure Solutions CEO Scott Hornick is, "Evaluate site conditions early on." This means taking note of factors such as each point of access to the site, as well as allowing time for course builders to come in during the early phases of a new construction, so as not to damage the building's interior finishes.
When planning a ninja course installation, Adventure Solutions advises site owners to consider the following factors:
Site access — Is the loading dock at street level, or above? What is the width of the available entry points? Are there stairs or other obstructions in the path of delivery?
Storage capabilities — Will construction materials be stored on site, and are storage areas secure?
Building information — Are there other businesses sharing space that will need to be accommodated during construction? Will the site floor accommodate drilling to anchor the installation? Will the site ceiling accommodate attaching the installation, and does it meet the minimum clearance requirement of 14 feet?
Adventure Solutions also provides potential clients with a list of equipment and services that will need to be provided on site, including:
• electrician services
• adequate lighting
• a Shop-Vac
• a two-man scissor lift
• a fork lift and extensions
• a team of semi-skilled laborers equipped with basic hand tools and able to lift 75 pounds
Train like a ninja in the off-season

In the event that you don't have a secret project budget of $75,000 to $1 million stored away for the express purpose of building a ninja obstacle course, fitness equipment supplier Power Systems has launched a new, in-gym training program for obstacle course racers. The program is designed to teach facility managers how to use equipment they are already familiar with in ways that may appeal to the ninja community. In partnership with elite athlete Yancy Culp, Power Systems has developed an approach to training that capitalizes on the community element of OCR and maximizes results by focusing on grip strength, grip endurance and muscle endurance.
"We're offering [facility owners] some new, innovative tools that they'll be able to incorporate into the training that's really going to take it to the next level," says Jon Walker, marketing director at Power Systems, which charges no program implementation fee. Equipment kits range in price from $5,500 to $20,000, depending on square footage.
Some specialized gyms have already recognized the gains that can be made in ninja obstacle completion and race times through specialized strength training. At Warrior Solutions, where low winter temperatures make the outdoor ninja course nearly impossible to execute, founder Sam Banola routinely holds a "Build a Better Ninja" class for his most dedicated competitors. There, athletes learn how to use cross-disciplinary fitness training to develop the necessary skills to complete more challenging obstacles faster. Through strength and conditioning, says Banola, his competition team continues to improve during the off-season.
Among the equipment central to Power Systems' newly developed OCR training program are products such as:
• the PowerWave
• Sandbags
• Sandbells
• Steelbells
• the 2-in-1 Flip and Plyo
• Buckets
• Ropes
• Pull-up bars and racks
• the Foam Plyo Box station
• BOSU Balls
• Premium Slam Balls
• the MostFit Core Hammer
• Medicine Balls
• Versa Loops
• Kettlebells
• Dumbbells
For ideas on how facility staff can use familiar equipment to supplement its OCR training offerings visit blog.powersystems.com.
---
This article originally appeared in the September 2017 issue of Athletic Business with the title "Training like a Ninja: Obstacle race programming for your gym" Athletic Business is a free magazine for professionals in the athletic, fitness and recreation industry. Click here to subscribe.