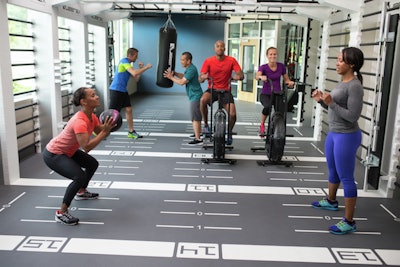 This sponsored content was provided by Precor. What is sponsored content?
Group training is on the rise, nearing the top of ACSM's annual list of the top fitness trends for 2017. This style of training features a motivating coach who leads participants of different fitness levels through thoughtfully designed classes, helping them to achieve their fitness goals.
To be successful, group training must offer participants:
A personalized experience. Is each member of the class getting the necessary attention and coaching they seek to meet their fitness goals? Are your staff members properly engaging participants?

An authentic, social experience that conveys a "cool factor." How does your group training stand apart from the other options in the neighborhood? Are you offering members a sense of strong bonding and camaraderie?

A specialized, results-driven program with an easy-to-understand value proposition. How can you show members that their investment in group training is paying off?

A convenient approach. Exercisers want transparency into training prices without feeling like it's too much hassle to enroll in or cancel a class.
Here are more key factors to keep in mind when designing group training for your facility:
Offer Adaptable Products
Products such as free weights, functional straps (such as Superfunctional that pairs with Queenax™ for suspension fitness training),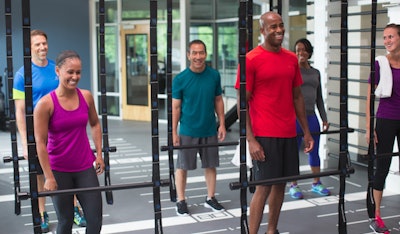 and accessories such as medicine balls, BOSU® balls and foam rollers are perfect for group training. Not only are they easy to store, they take up minimal space and can be used in a variety of ways. In addition, these products are future-proof, meaning they can be used for a long time and easily adapted to new training trends. Mix and match these products throughout your group training sessions to create unique workouts that keep participants engaged and working toward their fitness goals.
Add Programming to Increase Value
In order for your group training to be successful, participants need to feel that they are getting their money's worth with quality guidance, coaching and oversight from the trainer. One way of doing this is to incorporate programming. When your trainers are educated with the knowledge to deliver specific courses or themed workouts in the group training environment, your members will reap the rewards.
Preserve Your Open Floor Space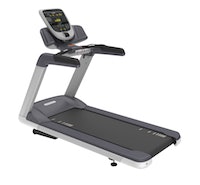 Take advantage of the open space in your facility by keeping it available for use. Many group exercise products are designed to be easily movable – even the larger cardio equipment. When not being used for a group training session, simply tuck motorless treadmills or bikes along a wall, or someplace where it's easy for other exercisers to access them. Smaller pieces of strength training equipment or recovery tools can be stored in a closet to keep floor space clear when group training isn't in session.
Get With the HIIT
High Intensity Interval Training (HIIT), another high performer in the ACSM's list of top fitness trends, pairs well with group training. HIIT can be done in a group training environment using cardio products such as the Precor TRM 731 Interval Treadmill or the Assault AirRunner or AirBike Elite.This equipment is designed for short bursts of high-intensity activity followed by a period of rest. It's intuitive, meaning that the user can hop on and get started on their workout right away by simply pressing a button or two. These cardio options also complement HIIT with strength equipment, creating the potential for a powerful training session.
Katie Dobbs is the content marketing expert at Precor, a fitness equipment manufacturer whose mission is to develop personalized health and fitness experiences that help people live the lives they desire. For more information on the fitness industry, tips for gym operators, and workout ideas, visit the Precor Resource Center.