Breaking Ground
Ohio State University recently broke ground on a $39 million multisport arena to serve as the home for the men's and women's varsity volleyball teams and as an event space for fencing, wrestling and men's and women's gymnastics. The Covelli Multi-Sport Arena provides seating for approximately 2,500 spectators and will include concessions, locker rooms, restrooms and other spectator amenities. The project, designed by Moody Nolan of Columbus, Ohio in partnership with Populous of Kansas City, Mo., is expected to be complete by fall 2018.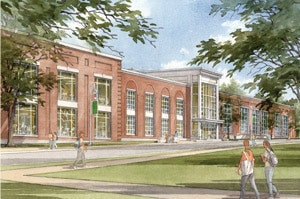 Babson College in Massachusetts broke ground last month on a campus recreation and athletics center — a multipurpose space that will double the size of the school's current facilities. The 75,000-square-foot addition, designed by Cambridge Seven Associates of Cambridge, Mass., will include a two-story fitness and recreation area with a cardio and weight room, group fitness studios, varsity locker rooms, an advanced strength and conditioning space, expanded sports medicine facilities, three open courts and a large events area. Babson hopes to complete the center in time for its Centennial Celebration in fall 2019.

The City of Fairview Heights, Ill., breaks ground this month on a 68,000-square-foot recreation center. The facility will include a 12,000-square-foot indoor aquatics center complete with a lap pool, a splash pad, water slides and a lazy river; a 6,000-square-foot fitness center with a gymnasium, an elevated running track, locker rooms, administrative offices and several multipurpose rooms; and a billiards and game room. The center is part of the $18 million Fairview Heights Recreation Complex. Master planning for the new complex was developed by EWR Architects Inc. of Fairview Heights.
---
First Pitch
Ohlson Lavoie Collaborative of Denver has been selected to design a new clubhouse and renovate existing facilities at the Palm Beach Gardens Tennis Center in Palm Beach, Fla. A redesign of the existing clubhouse will transform the facility into an athlete performance center featuring a pro shop, locker rooms, a game room, spectator seating and concessions. The new clubhouse will be centrally located with a view of all 18 courts from a wraparound porch on the second floor.
The Shenandoah School Board in Middletown, Ind., recently announced the construction timeline for a new outdoor athletics facility, as well as a renovation of the existing building. The Shenandoah Athletic Facility will be equipped with locker rooms, showers, public restrooms, a concessions area and a ticket office. The existing building will be converted into a break room and orientation space. Designs for the new construction and renovation are to be provided by Performance Services of Schaumburg, Ill.
The University of Nebraska gained approval from its board of regents in August to move forward on a $14 million gymnastics practice facility on the Lincoln campus. The 35,400-square-foot UNL Gymnastics Practice Facility will provide space for both the men's and women's gymnastics programs, with team rooms, locker rooms, equipment storage, coaches' offices, conference rooms and a lobby designed to aid in recruitment. Construction is expected to begin in August 2018 and be completed by December 2019.
---
Grand Openings

Lempka Edson Architects of Overland Park, Kan., recently completed a final walk-through of a new softball stadium at the University of Missouri, which opened spring of 2017. The $13.1 million facility is built to accommodate 2,500 spectators, with more than 700 chairback seats, bleachers and a spacious outfield berm. The full-view concourse features concessions and a team store, while the elevated press box is equipped with dedicated broadcast and radio booths, a press area, game management facilities and a club suite. The synthetic turf field is flanked by heated-bench dugouts with accessible bullpen and batting cages, and a home team suite with 32 lockers, a mud room, equipment storage and a coaches' meeting room.
St. Ambrose University opened the doors this fall on a 60,000-square-foot addition to Lee Lohman Arena that will serve as the student wellness and recreation center. The new arena by RDG Planning and Design of Des Moines, Iowa, features a central fieldhouse, four indoor courts, an indoor track, three vault pits, two sand pits and a netting system. The $21 million facility will house weight-training equipment on the first floor with cardio space on the second floor. The upper level will also provide classrooms, coaches' offices and a conference room.
Franklin & Marshall College intends to debut Shadek Stadium this month, just in time for the school's annual homecoming game. The $19.1 million multipurpose stadium will hold events for F&M football, as well as for the men's and women's lacrosse teams. The design, by HKS Architects of Washington, D.C., includes a synthetic turf field, aluminum bleachers for 2,576 spectators, a press box, a 13-by-24-foot videoboard, concessions, locker rooms, meeting areas and an entertainment suite. The facility is situated on a 27-acre plot on F&M's north campus.
---
This article originally appeared in the October 2017 issue of Athletic Business with the title "Forward Progress" Athletic Business is a free magazine for professionals in the athletic, fitness and recreation industry. Click here to subscribe.