The average year-round temperature in Ames, Iowa, is just under 50 degrees Fahrenheit, certainly nothing to prepare Iowa State University student-athletes for the cryotherapy chamber the athletic department installed in November. Wearing gloves, slippers and little else, athletes are surrounded from the neck down in air mixed with liquid nitrogen — and temperatures dropping to below minus-180.
How does it feel? "Cold," says Mark Coberley, who's been in such a chamber only once in his life.
When Coberley, Iowa State's associate athletic director for sports medicine, realized Cyclone student-athletes were seeking cryotherapy treatments elsewhere in Ames, he felt it was worth the investment to bring the anti-inflammation equipment on campus. "We're going to use it a little bit for injury management and a little bit for recovery," says Coberley, a National Athletic Trainers' Association board member who has been at Iowa State for 25 years. "Quite honestly, we're still in the process of learning the ins and outs of what this is going to do for us."
Few schools do more for their student-athletes' health and wellbeing than Iowa State, which boasts three main sports medicine centers and four satellites. The majority of ISU's advanced rehab technology is located within 6,000 square feet of the Bergstrom Football Complex — the only part of that facility accessible to all Cyclones regardless of sport. Here's a quick tour.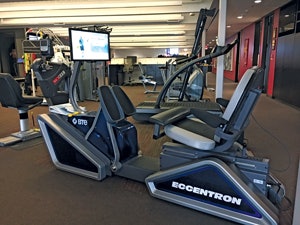 Digital diagnostics
It's within the Complex location that one can find a digital squat machine designed to measure concentric and eccentric movements in the lower body in order to address areas of weakness and chart recovery.
An isokinetic testing system performs similar functions on a variety of joints, providing computer readouts on strength imbalances and strength levels in relation to bodyweight. "As they go through a rehab, we can do knee tests or shoulder tests or ankle tests, and then get some values and strength levels that are very objective, and that gives us guidance on how we may want to tweak the program," Coberley says, "or if we're making the gains we want to, to stay on it."
The system can be used to assess athletes as a means to prevent injury, as well. "We will test athletes when they come in to get strength balances, particularly between the quadriceps and the hamstrings, and we look at that from a knee- and hamstring-injury-prevention standpoint," Coberley says.
Within the past year, Iowa State added a digital eccentric leg-training device that provides feedback on leg strength balance while enhancing proprioception, or the ability of athletes to know where their body parts are in space as they move them. The goal is to prevent injury during deceleration. "Nearly every non-contact ACL injury is a deceleration injury," Coberley says. "We actually spend a short time generating power and accelerating in sport and the rest of the time slowing that down and changing its direction. Eccentric exercise is being pushed quite a bit in both the strength and conditioning world and the sports medicine world because of its importance in injury prevention and also performance."
Another system, adopted within the past three years, performs biomechanical analysis of a given joint's range of motion. Individual movement correction programs are then designed on a computer and shared to the athlete's phone for use during daily exercise, and Coberley testifies to its benefits in both prevention and recovery. "We see that any mechanical deficiencies are really going to rear their ugly head when athletes get to the major college sports level, when they're training 12 months a year," he says. "By getting them to move correctly, we'll head off a lot of overuse injuries."
When asked what percentage of new recruits have been inadequately trained upon their arrival at ISU, Coberley laughs. "Eighty percent or more."
Bringing them up to speed means identifying deficiencies the athletes likely didn't even know they had so that strength coaches can address them in the weight room. Improvement is universal, according to Coberley. "For instance, some kids will have low back pain, but they actually don't move well at the ankle, and because of that they put an excessive amount of stress on their low back," he says. "Once we correct the ankle problem, the low back problem gets better and they'll come in and say, 'Man, I can squat a lot better. I can push a lot better. I bend deeper when I'm playing.' The athletes will tell you. They'll sense it and they'll feel it. And then when we talk to the strength coaches, they'll say, 'Yeah, they are moving quite a bit better,' and that just enhances their performance. It all goes hand in hand."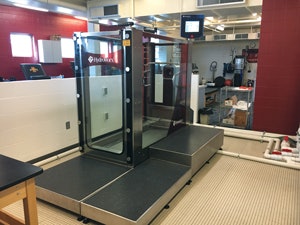 Hydrotherapy
Iowa State employs three pools from two manufacturers. All are capable of generating a current, while two of them have floors that can double as treadmills. "If we want to put you neck-deep in the water, you're only 10 percent weight-bearing," Coberley says. "If a kid's got a stress fracture, and we only want him to weigh 20 pounds instead of 200, we can put him in the water and let him run, and he'll be fine. He'll be pain-free. And we can generate a current in there for more resistance."
Beyond its forgiving effects on bodyweight, water holds the natural ability to control swelling. Says Coberley, "If you're standing in water that's five feet deep, you physically cannot swell in that water, because the hydrostatic pressure is greater than your blood pressure. Even if the water is relatively warm, we can put somebody in there and have them do movement exercise, and not only will they not swell, the swelling usually will diminish because it's being mechanically squeezed out by the pressure of the water."
Combined, both advantages make hydrotherapy irreplaceable. "We're kind of cheating rehab from the back end," Coberley says. "We're controlling all the symptoms and keeping a lot of these things to a minimum so that when the athletes do have their tissues heal up, which only Mother Nature can control, we don't have to address things such as range of motion and loss of balance, because we can work on those types of things in the pool."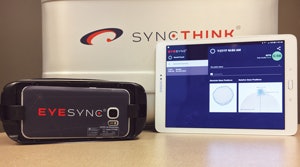 Concussion management
The issue of the day in football, as well as other sports, concussions are diagnosed and treated at Iowa State using three separate computerized programs. The latest technology found at only a handful of colleges in the country employs virtual-reality glasses containing cameras that track the wearer's pupils as they follow a moving dot.
"There's huge promise in that in terms of identifying another area where the brain has function," says Coberley. "If you have any kind of brain injury, your eye tracking will be thrown off. This allows us to gauge that. It allows us to use it for diagnosis. It also allows us to use it to track recovery. As we continue to test them and their symptoms get better, their eye tracking tends to coincide with that. And it's one of the areas in which we really haven't had a great ability to do any kind of objective measurements. You do baseline testing to see what's normal for the person, and then if it's thrown off it will be thrown off consistently, and then you know you have an issue. That's really new technology, and we're still learning about that."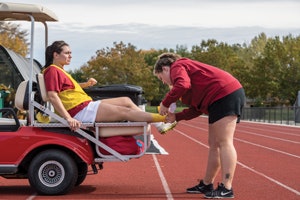 Manual manipulation
As technologically advanced as Iowa State's facilities are, Coberley points out that within the past decade the sports medicine industry at large has returned to an emphasis on manual therapy after relying heavily on such things as ultrasound and electric stimulation to expedite recovery. "Everybody does continue to use those modalities, we just don't use them in isolation as much as we used to," he says. "We've learned what those things can and can't do, and we've also learned some of the huge benefits of the manual therapies that are available and different techniques that continue to evolve."
All 13 certified athletic trainers at Iowa State are capable of performing such therapies as massage and dry needling (essentially acupuncture), "so there's equal access for all of our athletes in all of our sports," says Coberley, adding that ISU's newest facility was designed three years ago with this trend in mind. That meant specifying four hydraulic tables that move up and down, facilitating more effective therapy while minimizing physical strain on the therapist. "If I'm going to work on somebody's hamstring issues, I can lower that down so I have a really good position for my body to be effective," Coberley says. "If it's a shoulder, I can raise that table all the way up so they're right next to me, so that I'm on the same level as them."

As treatment philosophies come full circle, the tools used in rehabilitation continue to evolve. Whether it's virtual-reality-assisted concussion recovery, cryotherapy or manual massage, Coberley and his staff learn and look ahead for the most effective ways to care for the student-athletes in ISU's 16 varsity sports. "We are obviously thinking ahead to the next iteration that we're going to do," he says, referring specifically to his team's hands-on renaissance. "It's one of the things we have to plan for in terms of space and equipment to be able to afford to do that."
Prep-level paradigm shift

Dan Newman used to see two-thirds of his athletic training budget wrapped up in tape. "It's expensive," says Newman, one of three full-time certified athletic trainers at Tulsa Union High School in Oklahoma. "If you're taping 20 or 30 guys a day, that could be 60 ankles. That's a lot of tape."
It was too much for Newman, who opted to invest in other treatment modalities by cutting back on tape. "We used to tape a lot," he says. "Now, we tape during the week for practice if you have a chronic ankle injury, but you have to come in for a minimum of 10 to 15 minutes of rehab before you get taped. You just don't get taped to get taped anymore."
The training facilities at Tulsa Union house rehab amenities that rival some small colleges, though Newman wishes there was more space to accommodate even more hands-on treatment. As is, the school boasts two stainless steel whirlpools, two hydraulic treatment tables, six stationary tables and, yes, three upright-seated stations devoted to taping.
Among the most cutting-edge treatments available to Tulsa student-athletes is the type of dry-cupping soft-tissue therapy that caught widespread attention when swimmers including Michael Phelps bore its telltale bruising during the 2016 Rio Olympics. "Does it work 100 percent? No, I don't think so, but we've gotten some good results. Some kids don't get any benefit from it,"says Newman, adding that pneumatic compression is another popular recovery modality. "We just don't cookie-cutter everybody with the same treatment plan. We have a lot of tools at our disposal to help us get that athlete back."
Perhaps Tulsa's biggest asset is its people. The school is one of only a handful with multiple ATs in the state of Oklahoma, which ranks among the worst states in terms of AT coverage at the prep level, according to Newman. "It's getting better," he says. "Oklahoma was fortunate enough to be one of the four states that were involved in an NFL grant initiative last year, so we granted 33 grants to help hire an athletic trainer. That's 33 schools that never had one that now have services."
The nationwide numbers are likewise encouraging. According to a study appearing in the February Journal of Athletic Training, the scientific publication of the National Athletic Trainers' Association, 70 percent of U.S. public high schools have athletic training services, while 37 percent have full-time athletic trainers. These statistics update a 1994 study that indicated only 35 percent of public high schools used AT services, meaning overall access to athletic trainers for high school student-athletes has doubled in the interim.
Recruiting tools
On-the-spot medical care of college student-athletes came under the microscope this past September when University of Michigan quarterback Wilton Speight was knocked out of a game at Purdue with three fractured vertebrae.
It wasn't until after Speight had endured transport without a back brace from Ross-Ade Stadium in the front seat of a student-driven van that he was first X-rayed at a campus health clinic two blocks away. Even before leaving the stadium, Speight was examined on a table in the visitors' locker room that Michigan head coach Jim Harbaugh described as something "from the '20s."
Purdue officials defended their facilities as consistent with those of other Big Ten Conference schools, whose athletic directors heard Michigan's complaints at an Oct. 11 meeting. Discussion of medical care within the conference was said to be ongoing. Meanwhile, Speight would not play another down for the Wolverines, announcing in November his plans to transfer.
At the time his son was recruited out of high school, Bobby Speight never considered medical facilities as a drawing card. After his experiences last fall, the elder Speight told The Detroit News, "I would cross off a school without a high-end medical program."
---
This article originally appeared in the January|February 2018 issue of Athletic Business with the title "What's hot — and very cold — in collegiate rehab." Athletic Business is a free magazine for professionals in the athletic, fitness and recreation industry. Click here to subscribe.