A number of factors conspired to send our membership and revenue numbers into steady decline throughout 2016. These included internal financial problems, along with increased competition in our marketplace from a low-price chain — not to mention Zumba, personal training and rock climbing studios. With the help of a consultant, we started doing things differently last year, changing our marketing, service and pricing models rather dramatically.
We had always been a high-price, high-service club, but now we needed a way to attract the consumer who has been bombarded with low-price advertising from the national chains and specifically the new low-price competitor in our market. We began to offer both a low-price option and two higher-price options tiered in value depending on a new member's desired services.
In January 2017, we launched the marketing campaign for our new $19/month membership. We sold 113 new memberships compared to the 52 sold the previous January. Of those 113 memberships, only 31 represented the low-price option. Once people walked in the door and saw our club and everything we offered, they usually wanted more than just the basics and chose a higher-price membership.
We sold 744 new memberships in all of 2017, up from 437 the previous year and breaking our club-record years of 2011 and 2012. A larger membership base allowed us to market and sell additional services. We saw increased revenue from personal training, swim lessons and extras such as protein drinks and gift certificates.

Learning from mistakes
Lest you think it's all champagne and roses at Elevations Health Club, we made a few mistakes last year, too. Our biggest issue became cancellations. As our membership base grew, we also expected more cancellations. But cancellations in the second part of 2017 started to increase at an unacceptable pace.
Attrition (the number of all cancellations — including medical, move, deceased — divided by total membership) averaged 2.5 to 3.5 percent per month through the first half of the year. Through the second half, attrition averaged 4.5 to 5 percent per month. That is unsustainable for continued growth.
We analyzed our numbers and discovered something interesting — and alarming. Our higher-price memberships were cancelling at a higher rate than our lower-price memberships. A member paying a higher price was far more likely to cancel if they stopped using the club, even for a short period of time. Lower-price members were more likely to keep their membership going, even if they weren't getting to the club on a regular basis.
This might seem obvious, but we always thought that members who invested more in their membership were more likely to stay and use the club. These memberships included services like group fitness classes and small group training, and were more likely to not only help members get results but help them form social bonds with other members and our staff. These connections, we thought, would keep them committed to their workout program.
We were wrong.
Now, we had to figure out what to do about it. We combined staff ideas with advice from our consultant and formulated a plan to help keep our members accountable.
All new members would be divided into two groups based on their price point. The lower-price members would be assigned to one of our membership staff whose job it would be to make sure this person was coming to the club. Hopefully, we could match the new member to the person who sold them their membership, so there was already a relationship established. Higher-price members would be divided up among the personal trainers, whose job was to connect with these members to make sure they were getting results.
Members in the latter group were paying more for their membership, so we had to make sure we were building value into that higher price. We called and asked questions. Are they getting the results they expect? How can we better meet their needs? How about a weekly weigh-in, a one-on-one workout to go over some great ab exercises, or a small group training session?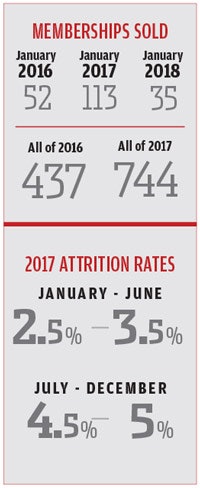 Rewarding loyalty
But we also needed a plan for existing members. We divided them into three groups: lower-price members, higher-price members who were using the club regularly and higher-price members who were not regular users.
Lower-price members were divided among the membership staff for follow-up. Higher-price members who were using the club regularly were again divided among the personal trainers for follow-up. Higher-price non-users would require some special attention.
We wanted to get them using the club again without saying, "Hey, you haven't been here in a while." What we didn't want was to cause them to cancel their membership. One of our more-experienced managers called these members and said that as a "reward" for being a long-term member, we'd like to give them three free personal training sessions. We wanted to find a way to motivate them to get back to their workouts, and what better way than to give them some extra attention?
It will be a few months until we have successfully stemmed our attrition rate.
Attrition is the dirty secret of the fitness industry. Industry "experts" often place attrition at 40 percent per year (3.5 percent per month), but I'd say attrition in our industry is closer to 50 percent or higher. We simply have not figured out how to keep people motivated to do something that most of them don't enjoy but will make them healthier nonetheless.

Challenge at hand
Getting new people to walk through our door has become harder with the arrival of Planet Fitness seven miles away. We estimate that we had lost between 10 and 20 members to Planet Fitness's $10/month sales pitch as of mid-February, but the resulting reduction in prospective-member traffic — perhaps as much as 70 percent, according to our consultant — is an even bigger issue. The same type of 10,000-piece mailer that resulted in record membership gains for us in January 2017 brought only 35 new memberships this past January.
We saw a very similar pattern when Retro Fitness opened seven miles away (in the opposite direction), but we rebounded from it last year. I think we will rebound from this new competitor when the newness wears off.
We do know that all the while we will be providing better service — more personal service — than any other club in our market. Above all, we know we will be doing something good for our members by trying to keep them committed and healthy.
---
This article originally appeared in the April 2018 issue of Athletic Business with the title "Our ongoing war on attrition." Athletic Business is a free magazine for professionals in the athletic, fitness and recreation industry. Click here to subscribe.