Check out the newest products as seen in the May 2018 issue.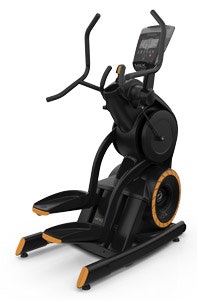 Octane Fitness
The Octane Fitness Max Trainer is designed to drive the ultimate ROI. The 14-minute Max Interval workout has exercisers pushing hard to build stamina and blast fat. All about efficiency, the Max Trainer enables exercisers to get on and get started immediately, offering 10 levels of progressive resistance via the high-velocity fan and magnetic brake. Dual hand grips engage the upper body, and intensity is controlled by the user's efforts. The machine is equipped with an intuitive console that offers multiple placement locations for mobile devices and provides feedback on time, elevation, pace and calories.
www.octanefitness.com
(800) 726-9662
---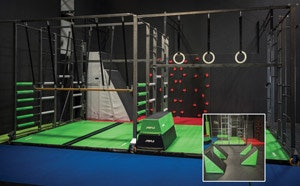 American Athletic (AAI)
American Athletic proudly introduces the G2N line, where gymnastics meets ninja. G2N products are strong enough for adults, adaptable enough for children and unique enough for ninjas. They are the right combination of equipment and curriculum to engage members without taking up permanent space or requiring a large investment. AAI's turn-key curriculum encompasses physical literacy and much more while bringing a new revenue stream to gyms. The wall unit can be used with attachments customized to create new courses. AAI caters to individual preferences to keep kids moving.
www.aaigymstore/g2n
(800) 247-3978
---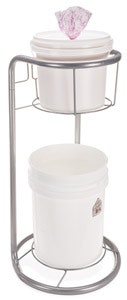 2XL
The Helix Stand by 2XL is engineered to stand up to even the most punishing environments, anywhere sanitary wipes are in use. The Helix Stand is simple and sleek yet effective, and keeps the 2XL Wipes bucket and a waste bucket organized and out of the way. The Helix Stand is ADA-compliant, works with all 2XL buckets and refills, boasts a rugged tubular design and is made with long-lasting steel. The standard color is steel gray, with color customization available. The stand is 18 inches square by 33.5 inches tall and weighs 17 pounds.
www.2xlcorp.com
(708) 344-4090
---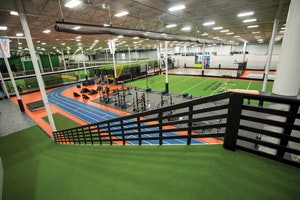 Ecore
Speed & Agility Turf is part of Ecore's growing collection of indoor athletic and fitness surfaces engineered to provide extreme durability and sound and shock absorption for enhanced safety and performance. Speed & Agility Turf features a dense, textured nylon wear layer fusion-bonded to a 5- or 12-milimeter vulcanized composition rubber backing. This consistent and tight surface is ideal for footwork and agility drills, sprints and other functional fitness activities, making it a vital piece of athletic equipment for indoor training. Speed & Agility Turf does not require infill — rolls are simply glued down, while versions available in an interlocking format require no adhesive for installation.
www.ecoreathletic.com
(866) 795-2732
---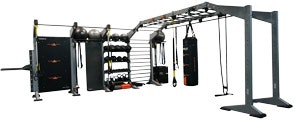 Torque Fitness
The new X-Create from Torque Fitness® was developed to equip health clubs, fitness studios and training centers to meet the high demand for functional group training. The X-Create's compact footprint, customizable layout and built-in storage make it a feasible solution for facilities of any size and shape. Four-foot base module walls come standard with one pull-up station and two suspension anchors. For free-standing systems, the base bridge ranges from 13 to 33 feet and includes monkey bars, functional bars and two base modules that each include one pull-up station and two suspension anchors. Torque also supplies a wide variety of add-on modules.
www.torquefitness.com
(877) 867-7835
---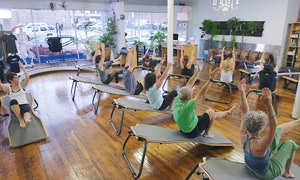 Juvo Board
The Juvo Board revolution continues to grow in popularity with both group exercise instructors and personal trainers. Juvo Board classes utilize the board's two positions — elevate and balance — to engage muscles more effectively. In the balance position, engineered instability requires a deeper core engagement, challenging the user in new ways. In the elevate position, users can work with or against gravity to reach their fitness goals. Because the Juvo Board accommodates a wide range of modalities, including Pilates, yoga, barre, stand-up paddle board and strength training, this multifaceted surface is ideal for studios aiming to maximize space.
www.juvoboard.com
(417) 861-2596
---
This article originally appeared in the May 2018 issue of Athletic Business with the title "New & Improved." Athletic Business is a free magazine for professionals in the athletic, fitness and recreation industry. Click here to subscribe.