There's an age-old question that is almost as common in a learning environment as "When are we ever going to use this?" It goes, "Can we have class outside?" At the University of Oregon, that answer is yes — at least, if the class in question is part of any one of the school's group exercise programs or its for-credit Introduction to CrossFit physical education class.
Take it outside
Campus Recreation at the University of Oregon encourages the impulse to get outside and get moving through the use of a dedicated and programmable outdoor fitness space affectionately known as The Playground, which is comprised of 6,000 square feet of open-air fitness space — half asphalt and half natural turf. The paved section serves as an extension of the university's CrossFit gym and is outfitted with functional fitness equipment, including plyometric boxes of varying heights, a pull-up structure (designed in-house) with a range of bar heights and orientations that allow users of all sizes the freedom to always face away from the sun, parallel bars for dips and row exercises, stretching bars and six oversized tires.
The Playground is strategically placed, according to UO assistant director for facilities Cody Weaver. "This area complements our CrossFit programming," he says. "It's adjacent to our CrossFit box, so that allows the opportunity for participants in class to go outside, flip the tires, take sleds out, and use the sledge hammers or the slam balls."

The turf section of The Playground is also conveniently oriented to allow fitness instructors to make last-minute changes in location. The grassy, level space is a favorite for group exercise classes that enjoy the serenity of natural scenery. Although the space was designed around the idea of hosting recreation and fitness programming, The Playground is also used by individuals or small groups who come to exercise on their own. "It's open any time our building is open for drop-in use, and it does get used," says Tiffany Lundy, associate director for facilities operations at Oregon. "Some of the classes we strategically schedule out there — like CrossFit, for example. Whenever CrossFit is scheduled they also have the outdoor space scheduled, and they can move from inside to outside. We schedule outdoor programming like yoga or tai chi, and there are a couple of other classes that have moved out there, along with the recreation programming side and also our for-credit physical education classes."
Troy Sherrard, partner and practice leader at Chicago-based design firm Moody Nolan says such designated outdoor spaces rarely make it past the planning stages. "We have a few projects from the past five years with dedicated and programmed outdoor fitness spaces. Many times we start with such spaces, but they get value-engineered out or clients decide they are too much of a challenge to securely operate. They are rarely allowed unless they are located on an upper level or other controlled area."
Luckily for the University of Oregon, it had two strong advocates for The Playground in Weaver and Lundy who were on staff and willing to speak up. "We were both here during the most recent construction," says Weaver. "The outdoor space was actually something that came up in the midst of our construction process. Prior to the expansion it was just a parking lot. As the building started to come together, we could start to visualize the space differently and just thought, 'How cool would it be to turn this into an outdoor fitness space and provide an opportunity that's just a little bit different than what we've had in the past?' It was something that just kind of came together organically."
Bringing the outdoors in has been a design priority for UO recreation from the beginning. Says Lundy, "The Fitness Yard and the Cardio Deck are indoor spaces with great lines of sight to the outdoors. We also have artificial turf and a functional training space inside on a raised deck that has a line of sight to our lobby."
The Playground was a logical next step. "Cody was involved in the planning of what equipment was going to be out there and what the layout was going to look like," Lundy adds. "One of our primary goals with our facility expansion was to bring the outdoors in — to create these lines of sight and this fluidity with the beautiful nature that's around us. Adding a fitness space outside of this entrance area that had great visibility from inside was just a win. It seemed a natural space to build out for people to use."
According to Weaver, the space turned out just the way that they had hoped. "We intentionally wanted to leave a lot of open space just for functional fitness and for people to kind of do their own thing," he says. "But, we also wanted to just start out slow to gauge the usage of the space, as well as what people were interested in. We have been slowly adding things and we hope to continue to add to the space."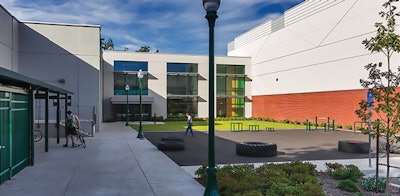 What's the risk?
In states where the weather does not permit a consistent use of outdoor spaces, designing for outdoor fitness may well seem like a futile exercise. However, according to Lundy, The Playground at Oregon is in constant use, despite the wet climate. "There are times that I'm shocked there are people out there and it's raining and they're using that outdoor space," she says. "Oregon is a very outdoor-dominant kind of place. People are active and running outside all the time. I think what we've seen is that people want more — for spaces adjacent to our track or to our fields to have more of this functional training element."
The reason the university has not yet made the move to incorporate more of these spaces largely comes down to the inherent risks of having fitness equipment in an uncontrolled space. "There's a lot of risk in having exposed outdoor equipment and assigning responsibility for it," says Lundy. "It's open all the time, so even if the building's not staffed and no one's out there, someone could come use that space." The university manages this risk through the use of heavy signage. "Obviously, signage is important here," Lundy says. "We've clearly signed the space letting users know that using the space is at your own risk, like you would imagine for equipment at a park."
---
More from AB: Kline Center Shades Multipurpose Exterior Space
---
Steps have also been taken to ensure that the equipment is as safe as possible in various weather conditions, especially since rain does not apparently dampen campus demand for the space. The school has invested some time and research into some outdoor conditioning measures, such as enhancing the texture on the plyometric boxes so they don't get too slick. Despite these measures, both Lundy and Weaver identify routine maintenance at The Playground as relatively low-key. Says Weaver, "The equipment we have out there is specifically designed to be outdoor equipment and to hold up to the elements — the rain and the UV light and everything like that. We do keep our eyes on it for any kind of issues that might arise, but for the most part up to this point it's been pretty low-maintenance. We tend to the natural turf area and keep it groomed. But other than that, it's very easy."
The natural turf area may in fact be due for an upgrade, if Lundy and Weaver get their way. "Living in a rainy state, the grass gets pretty mucky," says Lundy. Based on the demand for the space year-round and regardless of weather conditions, they would like to replace the 3,000-square-foot natural surface with a synthetic turf. "People want to be able to use the space and we want to ensure that the turf is of good quality, so it just makes sense for us to go to with a synthetic turf out there," she says. "We will really maximize that use once we do that."
Other plans for the future of the space are also in the works, including markings on the turf to complement the CrossFit programming, as well as inlaid agility ladders, lanes for sled pushes and hash marks for bounding or jumps.
 

Converting for wellness
For locations where the general population may not be so inclined to work out in a downpour — or where more severe weather swings makes year-round use unfeasible for outdoor fitness spaces — there are flexible design options that allow for conversion of an enclosed space to an open-air, patio-type programmable space when desired.
One example of this is the Andover Companies Wellness Center in Andover, Mass. The wellness and conference center, like the recreation facilities at the University of Oregon, was designed around a love of blending indoor and outdoor spaces, with large picture windows in the fitness rooms and abundant natural light. The group exercise studio at Andover takes the idea a step further in execution. While the space shares many common features with most other fitness studios — hardwood flooring, mirrors, wide-open spaces — the room also boasts a fluid indoor/outdoor designation through the incorporation of a full wall of retractable folding glass doors, enabling the space to open out onto a paved patio area. This literal breaking of the fourth wall invites the outdoors into the studio, bringing a breath of fresh air to tired routines and even offering an expanded participation space for the most popular classes.
 
As more fitness and recreation centers turn an eye toward total wellness — a blending of mind, body and spirit self-care, as well as an emphasis on sustainability and an appreciation of the surrounding world — facility design is evolving to include more mindful spaces. Outdoor fitness can be seen as a celebration of the very purpose of such facilities, pushing participants to a higher level of wellness just as sitting by an open window lessens the stress of a long workday.
---
This article originally appeared in the July|August 2018 issue of Athletic Business with the title "Not your mother's tire swing: Bringing fitness programming to the great outdoors." Athletic Business is a free magazine for professionals in the athletic, fitness and recreation industry. Click here to subscribe.