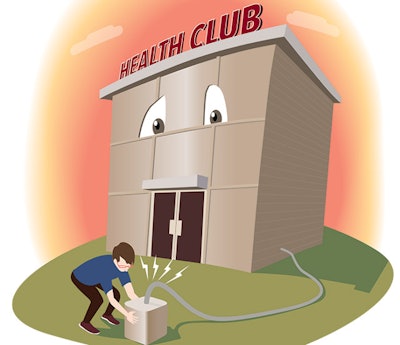 Years ago, I used to read Inc. Magazine. It was for and about small businesses. One of my favorite columns was "Obituary," which looked at small businesses that had failed. It tried to examine why they failed and how they might have survived.
In this and future columns, I will be writing the obituary for Elevations Health Club.
I am going to have to close my club, most likely by the time you are reading this. I'd like our readers to know what happened, but please understand that this is just my version of events. I'm sure others might tell it differently.

The dream
In 1995, my business partner and I purchased Elevations Health Club, located in the Pocono Mountain area of Pennsylvania. We were in our late 20s and completely unprepared to run a full-service health club. We had been friends since we were 13 years old and had dreamed about running our own gym one day — a neighborhood place where "regular people" would feel comfortable and where we'd know everyone by name. We loved the neighborhood feel of this club.
I was in charge of the day-to-day operations and my partner handled the back office. I worked full-time in the club from the start, while he kept his full-time job outside the industry. We could barely afford to pay me anything (we lived off my then-wife's income), and his job afforded him disposable income that we might need to make payroll.
We each felt the pressure of running a small business, but in very different ways. I was trying to learn to manage a large staff, set pricing, and conduct sales and marketing. He was trying to figure out payroll, taxes and how to stretch what little money we were making far enough to cover our bills.
Little by little, our club grew. By 2006, we began to talk about either expanding the existing club or adding a second, smaller location. We decided to expand the existing club, starting in early 2008. In the middle of that process, wouldn't you know we found what we thought was a great location for a second club. So, without thinking that anything could possibly go wrong, we did both.

Growing pains
In the midst of the expansion, we realized that we were going to run far over budget, and the opening of the second location was draining time and money away from the main club. My business partner had recently gotten married then chose to leave his company and join me in the business full-time. He put his life savings into the club in order to finish the construction project on our main location.
By late 2009, the expansion was nearing completion and the second club was about to open. We went from 15 employees to 35 in two months. Needless to say, there were a lot of growing pains. By then, the country was also in the midst of the second-biggest recession ever. The county in which we opened our second location was ranked number one in the nation in foreclosures.
We lowered prices — something we had never done before — at the second location in order to build our membership base. The pool, which was part of the expansion at the main club, drew more seniors and added a brand-new profit center: swim lessons. One of our longtime managers took over personal training and began to grow that profit center, as well. I thought we were back on the path to growth.
But then we started to have more financial problems. We fell behind on our property taxes. We often ran a little short at the end of the month. We began to borrow money — sometimes from family and friends, and sometimes from short-term business lenders. Paying it back increased our monthly expenses. My partner always informed me when we were running short, and what he was doing to try to make up the shortfall.

Personal burnout
In 2015, a low-priced competitor opened in the next town and things quickly got a lot worse. After we fired the construction manager for mismanaging the budget, I took over supervising the expansion project and was averaging 16 hours a day at the club. Half my time was spent being the GM, and the other half I dedicated to teaching myself Construction Management 101. I was beginning to burn out.
We also had personnel problems. We had hired too quickly and hadn't hired the right people. We didn't train our new hires with the same intensity as in the past. I had to fix this. So, when my partner came to me with financial issues, my attitude was often, "Do whatever you want. You're the financial guy." That wasn't fair to him or to the business.
My partner had problems at home, too, made worse by the financial issues we were having at the club. He began to use credit cards to pay bills. Lots of credit cards.
In late 2015, we came to the decision to stop paying the club's mortgage in order to be able to "catch up" on other bills. We figured our lender would be forced to work with us rather than foreclose. Shortly thereafter, my partner came to me and admitted that he had had enough. He was getting divorced, moving away and wanted nothing more to do with the business. We could close or I could to try to save it.

Hanging on
I couldn't let it go. I had poured more than 20 years of my life into the business. I had no retirement fund, no 401K. Just this business. Our houses — and, more importantly, my mother's house — had liens against them for the mortgage on the business. I couldn't tell my mother that she might lose her home.
We decided that on April 1, 2016, I would take over all aspects of the business. This was also the day that my now ex-partner walked into my office and said, "This is a tax bill from the IRS. I thought we had paid it, but I guess we hadn't." It was for a little over $6,000. The checking account was overdrawn by $3,000. Things were far worse than I could have imagined.
Next month: Seeking hope through bankruptcy
---
This article originally appeared in the April 2019 issue of Athletic Business with the title "Obituary Part 1: A business on the brink." Athletic Business is a free magazine for professionals in the athletic, fitness and recreation industry. Click here to subscribe.