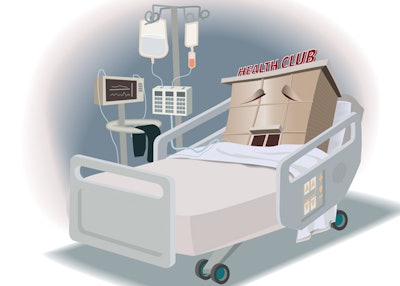 As we headed into 2018, I actually started to think that it might be possible to save the business. I had made the first few payments under the bankruptcy repayment plan that had been approved by the court. We could now be "discharged" from bankruptcy. So long as we could continue to make our monthly payments to repay the debt, we could operate just like any other business. The $30,000 in attorney fees and court costs we had paid out over the past year and a half would go back into the business.
After restructuring our membership options and with a lot of hard work on the part of my managers, we'd had a great 2017. We didn't need 2018 to be great; we just needed a good year with even modest growth.

New year, new problems
In late December 2017, we began to hear rumors that our largest corporate client, with 3,000 employees located just one mile from the club, was considering massive cutbacks in their employee benefits package. Subsidized health club memberships were one small part of that package. In early January, after repeated attempts to reach our contacts on-site, we learned that the program had, in fact, been cut. This would mean an annual loss in club revenue of $35,000 to $40,000.
Later that month, another low-priced competitor opened up five miles north of the club. We knew it was coming (after 20-plus years, we know our market), but we vastly underestimated the impact it would have on us. We had one of our slowest quarters ever as far as attracting new members. We also had an uptick in cancellations.
Everyone in the industry I talked to had the same advice, "You have to ride out the first year, and then not only will most of your former members return, but the market will stabilize and you'll be back to attracting plenty of new members again." The problem was, we had no way to "ride it out." We had no cash reserves. We didn't have a line of credit. And, in addition to our normal operating costs, we were now paying out thousands of dollars a month to repay our debts.
Without a big first quarter to start the year, revenue slowly declined as the year went on. Not dramatically, but just enough to make meeting our obligations tougher and tougher each month.
We missed a bankruptcy payment and then another. It became apparent that the business was not viable with the massive amounts of debt figured into our expenses. This was the second time in the past 24 months that I faced the prospect of losing everything. The emotional highs and lows were becoming impossible to endure.

A tough sell
After speaking at length with our operations consultant, Maria, we decided that the only thing left to do was to sell the property. She was able to put me in touch with a broker familiar with health club sales.
I spoke with Matthew Meade and Katharine Langstaff of the MWM Group. They were both inquisitive and incredibly understanding, but they were also honest. A sale of this size in the Poconos wasn't going to be easy. It would require a buyer with significant resources who wanted to move to the area to run a small business.
We set a price based on their valuation of the business. I told them that the minimum I could accept would be enough to allow me to pay off what is known as "secured debt." This is anything associated with the property — namely, the mortgage and the local property taxes. All of our other debt was "unsecured." This included hundreds of thousands of dollars we had either borrowed or owed to vendors.
If I only had enough to pay off the mortgage and taxes, I'd then have to default on the rest of the debt. Those creditors couldn't take my house or my mother's house. The business would declare bankruptcy on the unsecured debt — Chapter 13 this time, which involves liquidation of assets. We also owed payroll taxes to the IRS that would not be wiped out through Chapter 13 and would have to be paid no matter what.
I would be forced to file for personal bankruptcy. When declaring personal bankruptcy seems like your only option, you are at the bottom of a deep, dark place.
There was immediate interest from a local businessman. He owned a competing club not far away and was interested in becoming a regional chain. There is something surreal about walking a potential buyer through your own club, answering questions and hoping they like the club enough to buy it. He didn't make an offer.
After that, interest in the property stagnated. The broker wanted me to advertise the sale to our membership base. It's been their experience that a club will sometimes sell to a member, or group of members, who want to own "their club." It was risky, since word of a sale would surely tank revenue even further. But I really had no choice. We positioned the announcement as a retirement. I wanted to move on and was looking for someone to bring new ideas and new energy to the club.
There were a lot of questions and lot of rumors. "I heard you were closing." While this was a possibility, it wasn't what we were focused on. We were trying to find a buyer. When we had a serious buyer, we would disclose all the gory details. The club's underlying financial problems were my problems. A new buyer wouldn't be saddled with the debt we were carrying.
There were three members who were sincerely interested. Two were unable to secure financing, and the other loved the business but didn't want to invest in the property.

One last chance
As expected, revenue continued to trend downward. My managers knew everything that was happening as it happened. They had helped me get this far, but it was time for them to start looking out for themselves. I told them to look for other jobs. Luckily, they all found full-time jobs elsewhere, some in fitness, others in different fields.
By year's end, revenue had fallen to the point where I could no longer pay the mortgage. In early 2019, I informed the mortgage holder that while I was still hopeful I'd be able to execute a sale, it was very possible that I would have to close the doors and surrender the property.
Then, Matt and Katharine came to me with one last chance to sell the building. They had worked with an online real estate auction site previously and thought it might be a way to reach more buyers. After a great deal of due diligence on the part of the auction site (they are very careful about the properties that they list) we are now "live" online.
In the meantime, we go along day after day, week after week, just being "open."
I have no managers and a skeleton staff that opens, cleans and closes the club. We don't advertise. We don't change the class schedule. We pay our utility bills and payroll. We still greet everyone by name and with a smile. But it's not the same. I'm not working with the young staff to increase their skills or knowledge. They can't possibly be enthusiastic about what we do because we don't do anything.
Even I have a hard time caring about the problems I have to fix. Leaky sink? Member with a billing question? It seems like it really doesn't matter. But every day, I come to work. I smile and act like everything is okay. "Yes, it's still for sale, but these things take time."
The auction is set for June 10-12.

Coming in September: Rob's epilogue
---
This article originally appeared in the June 2019 issue of Athletic Business with the title "Obituary Part 3: The only remaining options — sell or close." Athletic Business is a free magazine for professionals in the athletic, fitness and recreation industry. Click here to subscribe.