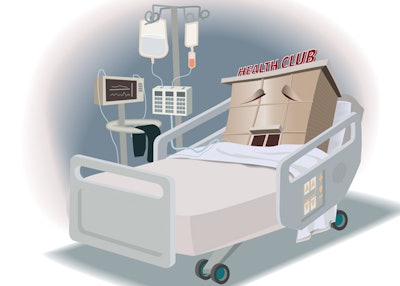 As we headed into 2018, I actually started to think that it might be possible to save the business. I had made the first few payments under the bankruptcy repayment plan that had been approved by the court. We could now be "discharged" from bankruptcy. So long as we could continue to make our monthly payments to repay the debt, we could operate just like any other business. The $30,000 in attorney fees and court costs we had paid out over the past year and a half would go back into the business.
After restructuring our membership options and with a lot of hard work on the part of my managers, we'd had a great 2017. We didn't need 2018 to be great; we just needed a good year with even modest growth.

New year, new problems
In late December 2017, we began to hear rumors that our largest corporate client, with 3,000 employees located just one mile from the club, was considering massive cutbacks in their employee benefits package. Subsidized health club memberships were one small part of that package. In early January, after repeated attempts to reach our contacts on-site, we learned that the program had, in fact, been cut. This would mean an annual loss in club revenue of $35,000 to $40,000.
Log in to view the full article