The first round of the fourth-annual American Family Championship, a part of the PGA Tour Champions, will tee off on Friday at University Ridge Golf Course, in Madison, Wis. Participating golfers will have access to a pair of Player Performance Centers, mobile fitness facilities aimed at keeping golfers in shape while on the road.
Athletic Business toured the facilities, which had just arrived in Madison fresh off the PGA Tour's last stop at the AT&T Pebble Beach Pro-Am.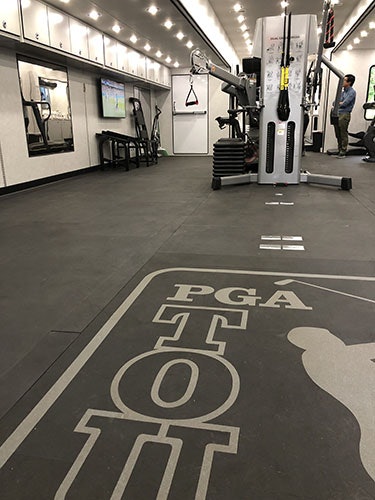 The PGA has rolled out four of the traveling fitness and wellness centers with two dedicated to performance and training and two dedicated to therapy and recovery. One of each follows the PGA Tour and the PGA Tour Champions.
Equipment manufacturer Technogym supplies the cardio equipment — stationary bikes and treadmills — for the centers, which are housed inside what are essentially semi-trailers that expand when they open for business and then contract when it's time to head out to the next stop. The Player Performance Centers are also fitted with niceties, such as air conditioning, heat and flat screen TVs, as well as plenty of room for functional training.
Kent Biggerstaff, a former head athletic trainer for the MLB's Pittsburgh Pirates and inductee to the National Athletic Trainers' Association' (NATA) Hall of Fame, facilitates at the performance centers. He said that the centers continue to see increased visits from the players on tour.
"We really continue to see more and more players using the facilities," he said, noting that the needs of the players vary between the PGA Tour and the PGA Tour Champions. The Champions hosts a number of older players who might just want to get on the treadmill at a walking pace to loosen up, while some of the PGA Tour players are looking for strength and functional training.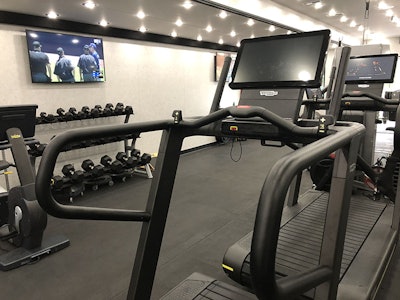 Biggerstaff says professional golfers on tour might walk eight to 10 miles a day, and they need to stay fit and loose while on the road. The Player Performance Centers are part of that effort.
When the American Family Championship wraps up on Sunday, Biggerstaff and the two Player Performance Centers over which he presides, will be off to the next stop.