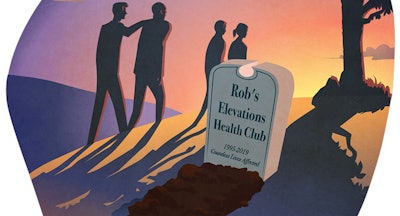 This will be my final column for Athletic Business. I'd like to thank all of you who have read and supported this column. You're the reason the column exists. I've heard from so many of you during the past few months. I can't thank you enough for taking the time to reach out to me. It's incredibly humbling and gratifying to know that so many of you have enjoyed what we have written over the years.
For the past year, I've had the club up for sale in a desperate attempt to pay off the mortgage and back taxes. My last best chance for a sale seemed to be an online real estate auction website. The club was listed for a few weeks and then in early June there was a 48-hour live auction. There were few interested parties registered, and the club did not sell. It failed to get even a single bid. I sat at my desk, sick to my stomach at the thought of losing everything, and scared to death of the future.

Making it official
I scheduled a staff meeting for the following Saturday afternoon. I wanted my employees to know before anyone else. Most of my managers had left months earlier. It was just my part-timers — group fitness instructors, personal trainers, daycare staff — and the full-time front-desk staff. I gave them some background on the financial struggles the club had gone through over the past few years and how it happened. I told them that I had done my best but that I couldn't save the club, and that I had been unable to sell it.
They had all heard the rumors, but I think it was still a shock to have me say it out loud. I know it was hard for me to put it into words. We were closing.
I told them I would announce it to members that Monday. I asked them to do just a few things. One, don't feed the rumor mill. The information I gave them about the club's finances wasn't public. Two, keep the club clean and running as normal. Three, and most important, do your jobs as best you can, be professional and maintain the same level of service that we have always had — right to the last day.
On Monday, I sent out an email to the entire membership base and hung a sign on the front door. I explained that I had been unable to find the right buyer for the club, so I was following through on my plan to retire after 24 years. I thanked all the members for being a part of the great atmosphere we had always had — a true neighborhood club where everyone was welcome. I thanked all of the current and former staff members who have done so much to help everyone who walked in the front door.
And then I wanted to leave. I didn't want to deal with the endless conversations. Some people were actually angry that we were closing. Many felt that I was just walking away and leaving them without a place to work out — that I didn't care. I know they didn't know the real story, but that really hurt. Others wanted to reminisce about how long they had been members (we had members that had been with us for more than 20 years) or to talk about "the old days." Most just wanted to tell me how sad they were. I just wanted to not be there. But I stayed and talked — and listened.
I took care of the administrative stuff: contacting our billing company to stop billing in August to adjust everyone's dues for July so no one would pay for a single day beyond July 31st, reaching out to all of our vendors to let them know we'd be terminating our contracts, helping the staff to find new jobs. It was depressing. I felt as if I were slowly dismantling everything we had built over the past 24 years.

No answers
In a few weeks, Elevations Health Club will just be an empty building. I tried not to take it home with me, but all this affected my personal life. I'm fortunate to have a great support network at home. But I just could not answer this question: "How are you doing with all of this?" How do I answer that?
Sometimes I fly into a rage at the slightest thing. Sometimes when I'm alone in the car I want to break down and cry. Sometimes I want to drive — in any direction — and never come back. Sometimes I don't want to get out of bed, and other times I lie awake at night unable to sleep. I'm angry. I'm sad. I don't know how to be happy with anything.
I met with Phil, the attorney for the business, to figure out how to surrender the property to the mortgage holder. They would attempt to sell it. After that, they'll come after the houses. I'll likely lose my house and be forced into personal bankruptcy, which some people look at as a fresh start. Right now, I don't see it that way. It just represents failure. For my mother, we are working with attorneys in her state to figure out how she can stay in her home for the foreseeable future.
Phil was concerned for me personally. We had worked closely together for nearly three years and had become close friends. He asked me what I was going to do next. "You're only 50, you have at least another 20 years of a new career ahead of you!"
I can't answer that question, either. I've run the club for 24 years. I've been in this field my entire life. I started lifting weights in my basement when I was 12 years old after receiving a 110-pound York Barbell set for Christmas. This is what I've always wanted to do. Now I can't. And I don't think I want to anymore.

More than a business
It's July 23, 2019, as I write this. The club is scheduled to close in eight days. Since the auction, two potential buyers emerged and began asking for more information on the club. I have yet to hear from the mortgage company on when they expect me to turn over the property. There is still a small chance that the club will sell. I'm trying not to get my hopes up. It's just too hard.
After we close, I'll probably take a few weeks to tie up loose ends and put all the company records into storage. Then I think I'll get a job — just a job where I go to work at 9 a.m. and leave at 5 p.m. I don't care what it pays or what it entails, so long as I'm not the one in charge. Maybe at some point I'll figure out what I want to do. I thought about opening up a roadside BBQ place, but I'm not sure what to do when it snows — HA!
Closing the club is harder than I ever imagined. Crushing. And for so many reasons. So much of my life was tied to this place.
Business people will tell you that a business should do one of two things: make you money every month or make you money when you sell it. But for those of us in the health club business, it's different. We open clubs because it's what we love. We love how good it feels to exercise, and we want to share that with everyone else. We want to help other people feel good, build self-esteem and be happy with themselves.
This place holds so many special memories. It's all here, inside this seemingly inconspicuous health club. Soon, people will just drive by and probably not even notice it. They will have no idea of the lives that were affected by this place, of all the things that took place over 24 years. Young staff who went on to bigger and better things. Kids, including mine, who literally grew up in our daycare. The people who came and went. Some met their spouse here. Some had children. Some passed away. But they were all connected by this building. So forgive me if it's not just a business to me.
---
This article originally appeared in the September 2019 issue of Athletic Business with the title "Epilogue: So much of my life WAS tied to this place" Athletic Business is a free magazine for professionals in the athletic, fitness and recreation industry. Click here to subscribe.