First Pitch


Indiana State University announced plans for a new sports district as part of its Athletics Master Plan. Renderings by HKS Architects show the vision for the Sycamore Sports District, which will include new and upgraded baseball and softball facilities, a new basketball practice facility, an 8,000-seat on-campus football stadium, and renovations to the existing Memorial Stadium.
The University of Florida released renderings of the next phase of its Facilities Master Plan. Phase 3 includes an $85 million, 140,000-square-foot which will serve as the day-to-day home of the Gator football program. The James W. "Bill" Heavener Football Training Center will feature a state-of-the-art weight room, meeting rooms, locker rooms and coaches offices. The project is expected to break ground in June and be completed in December 2021.
San Diego State University received a $15 million gift to help construct a new football stadium in Mission Valley. The City Council in November voted to move forward with a proposal that will allow the school to purchase the land needed for the new stadium, which would feature seating for 35,000 fans. Officials said that they would name the facility "Bashor Field at Aztec Stadium" after the lead donor, local philanthropist Dianne Bashor.
Jacksonville University recently announced plans for a new basketball performance center. The 26,000-square-foot facility will house both the men's and women's basketball programs, and feature such amenities as a weight room, coaches' offices, a training room, and a court and a half of playing surface. Construction is expected to begin in the spring of 2020 and be completed by the summer of 2021.
---
Breaking Ground
The University of Texas held a groundbreaking in December for its Moody Center, the new home of Longhorn men's and women's basketball. The $338 million project will replace the Frank Erwin Center and will feature 10,000 seats for basketball games, with the ability to expand to 15,000 seats for events such as concerts. The facility is expected to open in 2022.
Jeffersonville (Ind.) High School recently broke ground on a baseball stadium renovation project to be named for Papa John's Pizza founder and alumnus John Schnatter. John Schnatter Stadium will feature a turf field, a new outfield fence and renovated dugouts. The John H. Schnatter Foundation donated $500,000 to the school district to help fund the project, which is slated for completion in spring.
The University of Utah broke ground in November on the new Ken Garff Performance Zone, an expansion to Rice-Eccles Stadium. The facility will include new locker rooms, sports medicine facilities and football operations space, in addition to new seating options at the stadium. Populous. and VCBO Architecture partnered on the facility design. The project is expected to be completed prior to the 2021 football season.
The University of Central Florida broke ground on a football game-day hospitality venue called McNamara Cove. The facility will include two recreational volleyball courts, cabanas, a food and beverage pagoda, and most notably a 600-foot lazy river. McNamara Cove will debut ahead of the 2020 football season.
---
Grand Openings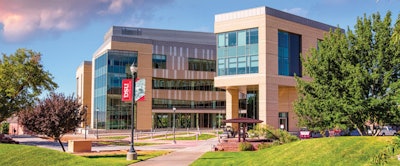 Dixie State University in St. George, Utah, recently cut the ribbon on its new Human Performance Center. The $60 million, 155,000-square-foot project is the new home of the school's recreation and intramural programs, and includes such amenities as courts for basketball and pickleball, a 65-foot climbing wall, an indoor track that connects to an open-air rooftop, an Olympic-size swimming pool with moveable bulkheads, and academic space for the Health and Human Performance Department. Dixie State worked with Layton Construction, MHTN Architects and Hastings+Chivetta for design services.
Palm Beach, Fla., recently celebrated the grand opening of the Morton and Barbara Mandel Recreation Center. The $14 million, 17,000-square-foot facility features a fitness center, multipurpose rooms, a café, an after-school programming room, a game room, a new playground space, a multipurpose field and a tennis viewing pavilion.
The University of Texas Rio Grande Valley held a ribbon cutting ceremony in December to celebrate the completion of a $1.5 million renovation to UTRGV Fieldhouse. The project features new team locker rooms for men's and women's basketball and volleyball, visitor locker rooms, an athletic training room, an equipment room, a media room and a redesigned court. New baskets, scoreboards and scorer's tables also were included.
Virginia Commonwealth University opened a new indoor Baseball Performance Center with a ceremonial first pitch in December. The $1.9 million facility includes pitching and hitting areas, a rehabilitation facility and a new state-of-the-art locker room. The facility is equipped with Rapsodo2 technologies, which will provide hitters with data such as exit velocity, direction, launch angle and spin. Pitchers can review analytics on velocity, release, strike zone and 3D trajectory.
---
This article originally appeared in the January | February 2020 issue of Athletic Business with the title "Forward Progress." Athletic Business is a free magazine for professionals in the athletic, fitness and recreation industry. Click here to subscribe.