Function can inspire form, as evidenced by sculptural tree forms gracing the yoga studio within Chicago's Midtown Athletic Club.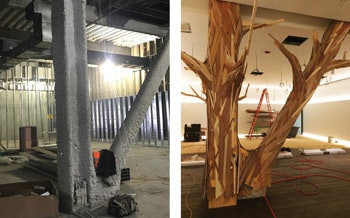 When the club's planned expansion grew from three floors to five, steel bracing was required to penetrate the studio. To mask this utilitarian element, Dwayne MacEwen, founder and principal at DMAC Architecture in suburban Evanston, envisioned two trees emerging from the floor and disappearing into the ceiling. Working with artist Alex Morales, the steel columns and bracing were clad in strips of repurposed plywood to provide layering and texture. A Bodhi or Wisdom Tree is a multilayered and complex Buddhist symbol of the self and its journey toward enlightenment. With a quiet presence, the trees are designed to settle the mind and fade into the space. "From the moment you step into the yoga room you know this is a mystical place," MacEwen says. "What was once unwanted structure was embraced and became the yoga trees, made from thousands of pieces of thin mahogany and birch plywood to create an abstract and living texture, like muscles under the skin. The trees both occupy and define this space."
---
This article originally appeared in the January | February 2020 issue of Athletic Business with the title "Mystical tree forms mask yoga studio's structural support." Athletic Business is a free magazine for professionals in the athletic, fitness and recreation industry. Click here to subscribe.