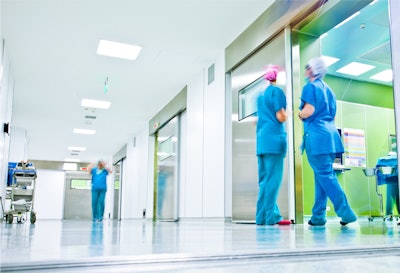 This content was provided by Kennedy Industries. What is sponsored content?
Proper disinfectant and hygiene control has never been more important
We've all known in the past how important proper pathogen control has been for the safety of our employees and customers. With the ongoing outbreak of COVID-19 we are all more aware than ever before of how important it is to maintain a clean and safe facility. Kennedy industries has offered state of the art pathogen control systems and procedures for the last 25 years. Kennedy Industries started in the wrestling market with the disinfection of large mats and the control of MRSA and didn't stop there. With innovations like the Spray and Roll system, the Monster Mop and Airx Spray N Go, Kennedy is a leader in the field of pathogen control and can easily be adapted into any athletic facility, as well as offices, schools and restaurants. Scott Kennedy, president of Kennedy Industries, has put together his top product tips to keep you and your customers safe and healthy during COVID-19:
Follow the instructions for better pathogen control
One of the things the COVID-19 crisis has shown us is that most people do not understand the proper use of a disinfected product and how important dwell time is. Dwell time is the amount of time that a disinfectant must remain wet on the surface being treated for it to be effective. When EPA approves a particular disinfectant it goes through extensive testing to show that it can actually kill the things that it says it kills on its label. Part of the testing involves how long the chemical has to remain wet to be effective. The application of a disinfectant to a surface and immediately being wiped after it is applied does not do anything to kill the germs and viruses that are on the surface. Kennedy offers two products effective against COVID-19, KenClean Plus and Airx Spray N Go. In the case of KenClean Plus, dwell time is 10 minutes. For Airx Spray N Go, which is a newer technology product but ready to use, the dwell time is only five minutes. Proper training of the staff that is going to be using the product is critical so they understand the necessary dwell or wet time for individual products.
Hand and body hygiene
The importance of proper hand-washing technique has never been more crucial than now. We won't go into details on how to wash your hands, but it also helps to have a product that has a nice smell and suds as well as rinses easily. Kennedy Sport Hair and Body is a premium cleanser designed with athletes in mind. Sport is not a "soap" which can dry the skin (increasing the risk of skin problems). Rather, it is a pH-balanced product that can be used not only on the body but also on the hair. Sport contains conditioners specifically developed for hair and body use and is quick sudsing and clean rinsing, leaving the skin and hair feeling smooth and clean. Sport Hair and Body is a great product to help combat any unwanted germs.
Proper cleaning equipment make the job easier and more effective
Something as simple as a double bucket system for mopping your floors will not only prevent you from spreading dirt and germs around, it will also make the job easier. Just like in a restaurant kitchen where there are three sinks, one for detergent, one for sanitizing and one for rinsing, a two bucket system allows you to have clear rinse water in one bucket and your cleaning or disinfecting solution in the other. This ensures you are not mixing the dirty residue you just picked up from the floor, into your clean disinfecting solution. This type of system is used in hospitals worldwide and would be highly recommended in any facility that mops.
Product Supply
Kennedy Industries is owned and operated by a chemical manufacturing company so we are fortunate to be able to control most of our supply chain. As we write this we are able to take orders for most of our pathogen products, body wash and cleaning equipment.
To learn more about Kennedy Industry products, click here.