In a university's' history, sporting events and games are what mark time. College sports touch the lives of so many people, they have a history of being a critical part of university life. While academicians rightfully see that the university as having a higher purpose, if elite athletic programs at the traditional Power Five level ceased to exist, the complexion and support of the university could be affected.
Across industries, there may be no bigger recruitment and retention arms race than collegiate football. In this digital age, streaming rights and content needs are among the business decisions that are likely to make the zone of influence even more substantial in coming years. The ability of a collegiate sports program to respond, enhancing recruitment and retention targets, will be a significant factor in its longevity. On average, universities spent $1,072,673.29 on recruiting in 2019 according to data compiled by AthleticDirectorU.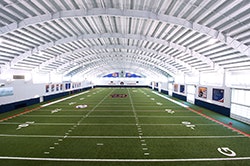 Recruitment and Retention
An active field. As universities increasingly compete to secure premium athletes, likeness and name compensation will likely become reality over the next few years. For facility design going forward, intense focus will be placed on attracting promising high-schoolers and retaining existing athletes. Amenities are particularly emphasized, even when athletes don't necessarily need them to perform well. At some universities, programming includes space for helping athletes to manage their future professional aspirations, be it in sports or other professions.
Interactive practice simulation. Memory motion is now considered to be a much better tool for training the body than films presented in a classroom setting. Football field-width, high-volume meeting rooms offer the ability to review game footage and engage with real-time walkthrough of plays. Heavy technology infrastructure is required for this kind of footage to be projected on a surround, IMAX type screen.
Support space and a strong AV system are also needed for simulation, sound, and even crowd noise. Located next to classrooms and meeting rooms, as well as near outdoor practice fields, these spaces are designed for easy access. Currently an NFL phenomenon, these spaces are attractive from both a recruiting and retention standpoint, as it is the ultimate goal of Division 1 athletes to advance their professional opportunities.
Sports Science and Data Collection
Data is key. Elite programs increasingly emphasize the athletes' physiology and how training mechanisms affect them positively or negatively — as opposed to hoping that mechanisms don't harm athletes, just because they're performing well. This physiological and mental data will be collected through sports science technology using on-body motion trackers. A constant lab – studying someone in-house for 4 years – will be valuable as a better sample of data is collected over a longer period of time.
A focus on wellness. Program excellence in injury prevention, early diagnosis intervention and rehabilitation is a competitive edge that elite athletes recognize as adding to their longevity. Using modalities for early recognition is a new means of injury prevention called "pre-hab", an emerging trend in active injury prevention programs. "Pre-hab" involves building infrastructure to capture data from wearable sensors that collect soft tissue performance data and acceleration variables. By determining baseline performance variables, this data translates into early recognition of potential issues, leading to a "pre-hab" protocol. Wearable contact sensors will capture physical acceleration at contact. These cumulative measurables will be indicators of risk to performance.
Physiological health is important, of course, but elite programs are providing more and more services for mental wellness. Psychological analysis is just the start. Specialized study environments – sound isolation rooms, saltwater sleep tanks, bod-pods, and even cryo tanks – measure the effects of sleep deprivation and other stressors, with the idea being able to cure the body and mind is key to optimal training. Designers are considering the mechanics of how these kinds of components need to be designed and supported to work efficiently while keeping spaces flexible for adaptation to developing technologies
Evolution of Training and Conditioning
Advanced equipment. Facilities need to accommodate cross training as much as pure weight lifting. Weight rooms not only have racks, but turf and soft surfaces to allow for stretching, agility and plyometric training. Weight training equipment is becoming more technologically based, with lift racks tied to data collection. Lift racks — steel, metal plates, and bars — have a great opportunity to act as interactive tools. By recording data with which to analyze an athlete's development, they can pre-program and reactively program exercises that will help them advance. This data can also help athletes to maintain at an optimum level even while rehabbing injuries.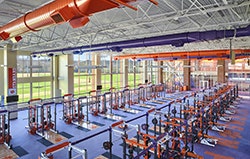 Rethinking locker rooms. Locker rooms in these facilities are trending away from a simple place to store sweaty gear and shoes, towards spa-like environments as opposed to traditional, conventional locker rooms. There, sleep chambers, cold tubs, and spa amenities offer not just physiological benefits, but also a "WOW" factor for recruitment and retention. From an efficiency flow standpoint, the locker rooms' feel will become more club-like, with actual storage of pads, helmets and shoes in a different location such as a "mud room," or other transition space.
All of the equipment that makes a locker room susceptible to odors and germs is moved out so that the locker room itself transitions to be like a lounge for athletes and further helps them maintain optimal physical condition. The functional theory is to transition the traditional locker room into a more refined space for lounging while enhancing relaxation and recovery.
Accommodating the Present, Anticipating the Future
Part of a strategic plan. A facility that meets a collegiate football program's long-term strategy requires space that is programmatically needed today in order to anticipate or be agile for future and inevitable needs and changes. Without such space, higher education leaders risk a more costly retrofit in order to stay viable
Making spaces adaptable. With these light-speed changes coming on board, athletic spaces have to be as adaptable as possible. Athletic facilities are not made up of a great number of spaces like a traditional education building. Instead, they consist of seven to eight primary components: equipment, nutrition, training, locker rooms, meeting rooms, sports performance rooms (weight rooms), and administration and support space.
Design priorities include providing good access, efficient flow, clear span areas, and higher volumes that can adapt to current and potential future needs, and brand promotion. These priorities, however, have implications for structural and AV systems and as a result, the building's initial cost.
Designing for future success. The success of these facilities is an awesome responsibility from a design standpoint because they, as much as academics, promote the university's brand and protect its recruitment investment in student athletes through retention. Football performance centers at the collegiate level represent an elite arms race for student athlete recruitment and retention – and such a performance center aims to advance the program and optimize the university's investment and brand so that it can both grow the program and the university, in support to and along with academic buildings on campus.
Yann Cowart is vice president of Sports Architecture with Goodwyn, Mills and Cawood, Inc.