Gyms have come a long way since the fall of the Greco-Roman Empires and the subsequent introduction of the first paid membership club, the Gymnase Triat. Moving from mere "fringe dingy boxes with rusty iron," the modern gym has different types of machines, competes for strategic locations and has to find creative ways to attend to the shifting needs of a picky clientele.
What's more, it also has to have a thorough maintenance plan to avoid rapid wear and tear of equipment. Failing to have a plan means bracing for unbearable maintenance costs, enduring the hot wrath of unhappy clients, increasing safety hazards, invalid equipment warrantees, a dip in profits and more lawsuits due to negligence.
Luckily, there are many simple ways that gym owners can optimize or streamline gym maintenance operations to save on costs and keep clients happy without delving into complexities. Below we look at four simple ways to simplify your gym maintenance operations: understanding equipment manuals, planning scheduled maintenance, conducting proper facility management and automating specific tasks.
Understand the manuals: equipment use = equipment wear and tear
Routine maintenance should be on every gym owner's to-do list to tackle equipment wear and tear. Ideally, this should be done for new equipment according to the manufacturer's instructions to avoid invalidating warranties and adequately attending to each equipment's unique needs.
While older equipment may no longer qualify for warrantee benefits, the guidelines within the manufacturer's instructions should still count for optimal equipment maintenance. Issues such as excess belt wear, pivot point lubrication, motor overheating or failure, cracks on welds, loose bolts, slack cables, rust, deterioration of nylon coating, and grease on the bushing and many others are essential for machine functionality, safety and service life.
Checks conducted will identify these issues and should ideally provide a clear maintenance path based on best practices.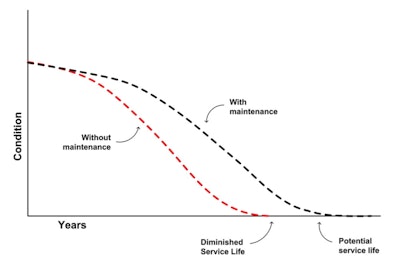 Effect of maintenance on the useful life of the equipment
Source: https://assetinsights.net/Concepts/Maintenance_Impact_on_Service_Life2.jpg
Some tasks in routine maintenance (which can be sped up by creating maintenance checklists) such as putting grease on bushings, applying silicone wax/oil on treadmills, or even checking for loose bolts are usually DIY; however, more technical requirements may require an expert. Voltage checks on machines, motor inspecting and replacing, and cable replacement are examples of more technical troubleshooting that shouldn't be taken lightly or performed by an amateur.
Technical problems involving mechanical and electrical failures should be resolved promptly and not put on the back burner even if the equipment appears to function. Gym equipment should always function optimally and never partially.
Planning ahead is key
Downtime planning avoids unnecessary disruption to gym services; if a disruption does occur, you're able to inform your clients promptly. You can easily control your downtime by using a CMMS (discussed later on) to automate maintenance and schedule the most convenient times to so.
However, a significant challenge gym owners face is knowing when and which equipment to maintain. This is no easy task as gyms operate with different equipment that requires specific maintenance routines. Equipment age also complicates the process where older equipment will require more frequent inspections and service calls than newer ones.
If you want to be efficient, planning and scheduling maintenance work has to take into account available spare parts inventory, more so if you are performing maintenance in-house. Planning allows you to set a clear strategy for spare parts by ordering when there are price advantages. You save money by not needing to pay for emergency shipping and even have enough time to negotiate a better price.
Conduct proper building maintenance
Keeping equipment in good operating condition is only one piece of the puzzle. Building maintenance ensures that common problems such as moisture (that can affect gym equipment), rusting, voltage drops, leaks on electrical wiring, issues with humidity, temperature fluctuations and possible safety hazards are avoided.
Implementing best practices for building maintenance ensures you follow a systematic approach where the building is inspected regularly, checks are performed on installations to detect repair needs and subsequent repairs are completed in a timely manner.
Gym facility maintenance usually entails work that is categorized according to specific priorities. These include:
Emergency repairs: like fixing the gym's roof that has collapsed due to heavy snow.
High-priority tasks: like installing additional cabling for extra gym equipment so that the circuit is not overloaded.
Medium-priority: like installing extra lockers for clients (usually this would be a high priority if demand is higher than current availability).
Low-priority: like installing a water fountain to enhance the gym's curb appeal.
Deferred maintenance: postponing the task of installing a new light switch at an area in the gym people rarely use.
Priority is based on the safety hazards it presents and the disruption to general service. Either way, prioritizing streamlines the maintenance process and facilitates better budget planning — especially if you are operating with a low budget. By prioritizing some tasks over others, resources are allocated where they're needed most.
Automate maintenance work with a CMMS
Keeping track of gym and facility maintenance doesn't have to be difficult and time-consuming. Tracking also doesn't need to be done on paper. With a computerized maintenance management system, you can remove most maintenance management challenges.
In short, a modern CMMS will help you streamline maintenance work by:
Helping you assign, manage, and track all maintenance work.
Tracking spare parts inventory usage and forecasting needs for incoming months.
Quickly communicate new tasks and priority changes to all team members.
Letting you use a work request portal that anyone with a link can use to submit maintenance requests.
Giving you quick access to maintenance history which speeds up the diagnosing and repair process.
Giving you deep insight into maintenance data you can use to optimize every part of your maintenance process.
Additionally, you can even use a CMMS to keep track of maintenance contractors (you will need to hire for complex maintenance repairs and installations) to have a better overview of the tasks completed during their last service call and information provided about each equipment.
At the end of the day, there is no better way to streamline a task than to use software that can automate it the right way.
In a nutshell
A preventive maintenance plan supported by a proper CMMS software is the most straightforward way for any gym to streamline their maintenance activities and ensure that both gym equipment and the fitness facility itself provide a safe and functional environment for all gymgoers.
Bryan Christiansen is the founder and CEO at Limble CMMS.