Check out the newest products as seen in the November | December 2020 issue.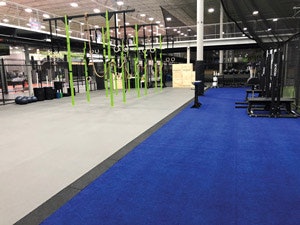 Ecore
Modzilla is the newest product in Ecore's Athletic Performance Collection. The training surface is an ultra-thick, heavy-duty 42.5-millimeter system that features a 10.5-mm vulcanized composition rubber Beast Roll field-united to floating 32-mm thick, by 24-by-48-inch interlocking Ecore Shockpad tiles. Combining the balanced Shockpad with the dense surface layer makes Modzilla ideal for extreme Olympic-style weightlifting and training applications. Modzilla balances energy restitution and force reduction as a durable, easy to maintain and slip-resistant triple durometer system ideal for facilities repurposing existing space.
www.ecoreathletic.com/Products/Performance/Modzilla
(866) 795-2732
---
Synexis
The innovative technology in the Synexis BioDefense System, founded in 2008, is a microbe-reduction solution with applications ranging from rec centers to locker rooms. Synexis is the sole developer of patented technology that transforms ambient oxygen and humidity into dry hydrogen peroxide, or DHP™. Wherever air goes in a training facility, so too will DHP to effectively and continuously reduce viruses, bacteria, mold, odors and insects from the air and surfaces. Since it's designed for occupied spaces, teams can continue training throughout the Synexis process.
www.synexis.com
(844) 352-7680
---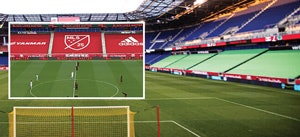 Covermaster
Sports organizations are getting creative as they find new ways to engage viewers against a backdrop of empty stadiums. During the COVID-19 pandemic, the New York Red Bulls are sharing their stadium with New York City FC, as each team plays Major League Soccer home games out of the same facility. To brand the stadium for each team, Covermaster® stadium seat covers were printed in a specific color hue for a green screen effect, not unlike the technique found in filmmaking. The main broadcast camera uses the green screen technology to display red seat covers during Red Bulls games and blue seat covers during New York City FC matches. The green screen tool not only aids in customizing the stadium to the TV viewing audience, but it also opens up branding opportunities by giving teams the ability to broadcast logos or sponsor names.
www.covermaster.com
(800) 387-5808
---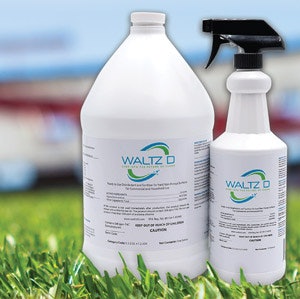 AvKARE
Waltz D is a hard-surface disinfectant tough on germs, but safe for all users. Formulated with hypochlorous acid technology, Waltz D will safely and effectively clean and disinfect hard, non-porous surfaces in 10 minutes or less. Waltz D is an antimicrobial, bactericidal disinfectant that is proven to kill Staphylococcus aureus, Pseudomonas aeruginosa, Salmonella enterica, Escherichia coli, H1N1, norovirus and coronavirus.
https://store.avkare.com/
(931) 292-6222
---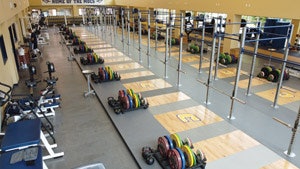 Mondo
The MondoLIFT PRO Platform System takes a prefinished hardwood insert with Microban antimicrobial technology and combines it with drop zones made from Mondo's nonporous vulcanized rubber. Dampening foam technology in the crash zone subfloor reduces sound and weight rebounds, which provides athletes with a safe, hygienic lifting option.
www.mondoworldwide.com/na/en/sport/strength-and-conditioning/
(800) 361-3747
---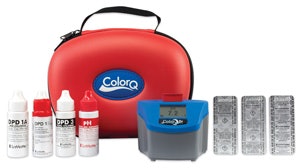 Recreonics Inc.
ColorQ 2x PRO 7 Photometer Kit — LaMotte's new waterproof, Bluetooth ColorQ 2x PRO 7 pool and spa professional photometer — directly measures free chlorine (DPD), total chlorine (DPD), bromine (DPD), pH, alkalinity, calcium hardness and cyanuric acid directly on a digital display. The ColorQ 2x eliminates the need to visually determine slight color variations using an innovative dual-optic design with wider path length. The photometer, testing reagents and instructions are packaged in a compact carrying case for on-site testing.
www.recreonics.com
(800) 428-3254
---
This article originally appeared in the November | December 2020 issue of Athletic Business with the title "New & Improved." Athletic Business is a free magazine for professionals in the athletic, fitness and recreation industry. Click here to subscribe.