The Carriage Club Tennis Pavilion slams a lot of design into a small space.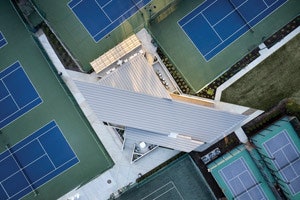 Set in the middle of racquet and paddle courts on the fringe of a sprawling Kansas City country club campus that serves 650 members, the new building replaces a residential-looking structure with an aesthetically progressive beacon wrapped in glass and elevated several feet above court level. A defining design element is the pavilion's innovative roof — sections of thinly sandwiched standing-seam metal, insulation and cross-laminated timber puzzled together onsite and arranged as three distinctly pitched planes. Functionally, these planes totaling 3,400 square feet accommodate various internal clubhouse features (retail, storage, changing rooms and laundry), enhance sightlines to the court action (while mitigating viewing impediments such as the setting sun) and uniquely frame five separate venue entrances. Aesthetically, the roof's angular lines suggest the types of shot-making trajectories visible during play on the surrounding courts. "We thought that one big gesture wasn't going to be enough, so we thought we should break down the scale and used the three-tiered roof to announce entry from different approaches. There are many front doors, and we wanted it to feel that way," Generator Studio co-founder Mike Kress says, adding of the choice to emphasize angles, "The boldness of the sport and the decisiveness of shot-making certainly gave us comfort in taking the roof in that direction."
---
This article originally appeared in the November|December 2020 issue of Athletic Business with the title "Innovative roof structure serves tennis pavilion." Athletic Business is a free magazine for professionals in the athletic, fitness and recreation industry. Click here to subscribe.