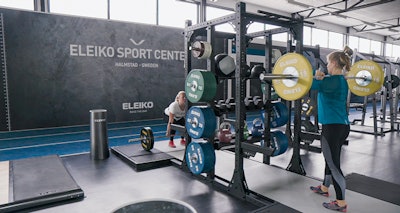 The following content is supported by one of Athletic Business's advertising partners. To learn more about sponsored content, click here.
This year has brought a whole new elephant into health and performance facilities all around the world. While there have been many events and changes taking place, perhaps the silver lining is the illumination that now, more than ever, health and resiliency are of the utmost importance.
We need to get back to business with effective and efficient solutions that provide facilities and patrons with an environment that provides safety, builds personal resiliency, and has an engagement factor to create a personalized touch. Using allocated strength stations equipped with a variety of training tools can be a safe, productive and financially viable option for facilities to offer patrons.
A strength station provides a small footprint with maximal usage and output. It can consist of a half rack or two half racks back-to-back, barbells, dumbbells, kettlebells, medicine balls, an adjustable bench, pull-up and dip bars/handles, elastic bands and much more. In addition to all the equipment, having specific programming options will be crucial to alleviate the guesswork for how to optimize the strength stations for safety, resiliency and engagement. These programming options range from one-on-one training to small groups of two to four people.

Safety
Obviously, overall facility safety is a must. Recent evidence provided by IHRSA has shown that fitness facilities that follow the recommended guidelines for spacing and hygiene have not been a source of spikes in COVID-19 cases. This has been demonstrated through surveys, contact tracing and research out of Oslo, Norway. The number of positive cases of newly infected individuals who visited a gym ranged between 0.004 and 0.3 percent.
There is an extremely important yet overlooked byproduct of these numbers that needs to be mentioned. Training facilities, which have long suffered from the stigma of uncleanliness, are now as pristine as any other social gathering place. One could even make the argument, based on the numbers, that training facilities are cleaner. This should provide sound peace of mind for many who have avoided the local health or performance facility for this very reason.
The strength station allows for adequate spacing to be achieved, whether in a one-on-one or small group training session. Furthermore, the programming directs the trainer/coach and clients/athletes to the right exercise with the right equipment in the right area of the strength station. This minimizes guesswork and maximizes efficiency and effectiveness.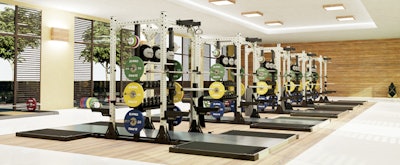 Resiliency
Beyond safety, the training performed in the strength station must provide health benefits that increase immune function and resiliency. Strength training has been scientifically validated for providing an enhanced immune system response both acutely and chronically — as long as the training follows a proper programming strategy that takes into account progression, the training load placed on the user, and "other life stressors" on a daily basis.
The equipment within the strength station allows users to train with scientifically validated methods shown to enhance many aspects of mental and physical health. For instance, the strength station accommodates a plethora of strength and power exercises.
Scientifically, both strength and power are predictors of longevity and all-cause mortality in adolescents and older adults. In adolescents, a lack of strength and power are strongly associated with premature death from any cause, independent of BMI or diastolic BP, including suicide and cardiovascular disease.
In older adults, strength and power are not just excellent for maintenance of muscle mass, mobility and balance, but for cognitive function, as well. This is crucial, as muscle mass acts as a metabolic reservoir to withstand disease and can positively influence the immune system when maintained.
One highlight of the strength station programming is a self-reported questionnaire, which is also validated by science. This simple process increases self-awareness and stress management in patrons. It also provides a personalized programming strategy that adjusts the stress load of each session to optimize training, recovery, immune response and overall results. Patrons gain both physical and mental resiliency that enhance immune function and peace of mind.

Engagement
People stick with what they enjoy. For many, motivation to train comes as much from personal interaction as the desire to improve health. According to Club Industry, a recent survey has shown that approximately 50 percent of gym goers said working out in a small group (20 or fewer people) is the most motivating workout. Another 44 percent said health concerns were most motivating.
IHRSA also points out that while in years past men and women had noticeably different preferences in a training facility, recent trends suggest otherwise. This is especially true with millennials and Generation Z, who comprise nearly 50 percent of health club members, as they tend to favor a more "functional fitness" style of training.
The strength station combines these two powerful motivators and adds proper programming strategies to provide safety, build resiliency and breed community. When people can train together with a purpose and have expert guidance, it produces a powerful cultural shift.
While much has changed over the past year, the future is still bright. Patrons should feel safer knowing that training facilities have not been shown to promote the spread of viral infection and, in fact, appear cleaner than ever.
Trends suggest free-weights are becoming more desirable, and research suggests that strength training may have added mental and physical benefits beyond aerobic exercise. Furthermore, trends suggest a shift in training styles and participation, as more and more men and women appear to enjoy group and functional fitness regimens. Putting this all together in an allocated strength station with well-designed programming strategies is a recipe for success.
To learn more, visit Eleiko.com or call 866-447-9441.
---
This article originally appeared in the November|December 2020 issue of Athletic Business with the title "Getting back to business with safety, resiliency & engagement." Athletic Business is a free magazine for professionals in the athletic, fitness and recreation industry. Click here to subscribe.