In weight rooms across the country, top-flight sports teams are generating data from student-athletes beyond just how much weight is on the bar and how many times they can lift it.
"Right now, you go to the weight room and you lift weights, the information you have access to is your sets, your reps and how much weight you moved," says Jacob Rothman, co-founder and CEO of the fitness technology platform Perch. "That's what you did, but not actually how well you did it. And that's equivalent to, let's say, running around a track four times without something as basic as a stopwatch. You know you ran a mile because you did four laps, but you don't know the time of that mile."
Platforms such as Perch, produced by Catalyft Labs in Cambridge, Mass., as well as Lincoln, Neb.-based EliteForm, are building on the consumer fitness trend of self-generated data and bringing the concept of velocity-based training to the weight room. "Instead of a wearable device tracking steps, calories, heart rate, you name it — we provide a similar experience but geared toward sets, reps, power output," says Rothman. "We're trying to provide that same type of experience that everybody gets when they go out for a run or they're running on a treadmill, but when you step into the weight room."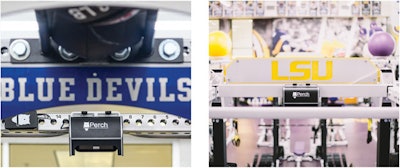 While the specifics may vary, both Perch and EliteForm use 3D cameras mounted to weight racks as part of their solutions. "It does change a little bit, but the core is there's going to be some sort of computer device that has enough power to drive the cameras — run the software properly — and that's always the starting point," says Skip Cronin, who casually refers to himself as the man who steers the ship at EliteForm. "Then we just need to make sure we can see whatever a coach needs us to."
"Basically, it gives your weight rack a set of eyes and a brain," Rothman says. "It's like a smart weight rack, essentially."
The 3D cameras measure movement in space, and can produce data reflective of an athlete's movement velocity, power output and more. Both Rothman and Cronin agree that those data can be valuable to an athletic program in a variety of ways. "A typical use-case for how somebody might use velocity would be they'll program a certain amount of weight, and they'll set a velocity that they want their athlete to hit," explains Rothman. "But if the athlete is having a bad day, and they can't hit that velocity, then they can take weight off the barbell and just lift a little lighter, and then they'll be able to hit that velocity. So it's essentially keeping them safe, it's preventing overtraining. But then let's say the athlete is having a great day, and they're exceeding that velocity, then they can actually add weight, and they can optimize for a given day."
Cronin says that velocity-based training can provide a wealth of data that can help to build a broader picture of a student-athlete, and become a piece of a data "ecosystem."
"In a lot of the programs we work with, people are trying to aggregate all that information so they get the best possible view of the athlete," Cronin says, adding that a sports team generating data from numerous sources — including from on-field GPS tracking technology — might find that an athlete who pushes himself or herself in the weight room covers the most ground on the field, gets the most sleep and exhibits the most diligent habits. "Those will get aggregated, and you'll start to get this single-source view of not just what's happening with an athlete in the weight room, but overall. It's in aggregation that you really start to see these things play out."
Strength coaches can use the data their athletes generate to formulate and tailor training for each individual. "We would never replace a strength coach, but we can help those strength coaches leverage and utilize that data to make recommendations," says Rothman.
Empowering coaches is the end goal for providers of this technology, according to Cronin. "At the end of the day, no singular product understands everything that's going on with an athlete, but coaches do. And they're smarter than us anyway," he says. "So let's give them great tools,"
Of course, just as data from wearables can motivate individuals to take the stairs instead of the elevator, velocity-based data can encourage and motivate a weight-lifter — particularly when the feedback is instantaneous. "There are things you can push to an athlete in real time," Cronin says. "They set up a velocity number, and if the athlete hits that number, the screen turns green. It's a simple thing, but any time you're basically giving real-time feedback to an athlete, there are other gains that take place beyond just the fact that they hit that number and you measured it."
"This data is super motivational," adds Rothman. "You can start collecting things like power output and velocity like we mentioned, and you can start having people compete against one another remotely."
While EliteForm and Perch are both primarily being used in sports at the moment, the potential for their products extends beyond elite athletes.
"I think anybody who lifts weights can benefit from this type of technology," Rothman says. "I think the goal is to change the way people strength train, just like Fitbit changed the way people run. I think there's a big opportunity there to affect everybody."
---
This article originally appeared in the May 2021 issue of Athletic Business with the title "How velocity-based training data can benefit an athletics program." Athletic Business is a free magazine for professionals in the athletic, fitness and recreation industry. Click here to subscribe.