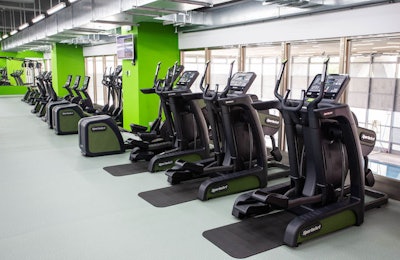 This content is supported by SportsArt. What is sponsored content?
As college and universities start to open up, it's time for campus recreation centers to think about how they can attract students back into their doors and encourage them to stay active in their physical health. Getting into the minds of students isn't always the easiest, but there is one consistently growing trend: sustainability is an important value among Generation Z and plays a role when deciding what brands, businesses and activities they support.
For campus rec, the opportunities to create a green fitness experience are growing. Many universities are offering grants or other funding options for sustainable solutions, reducing and sometimes eliminating the cost burden for the recreation department. This makes it easier than ever to update fitness centers with products like ECO-POWRTM, innovative energy-generating cardio equipment from SportsArt.
The energy savings help attract today's green-minded students to the fitness center. Traditional treadmills use about one kilowatt an hour on average, which is equivalent to a refrigerator running for five hours. An ECO-POWR™ non-motorized treadmill, like all ECO-POWRTM products, converts up to 74% of human energy into usable electricity. So that one treadmill reduces the need to buy that one kilowatt from the electric company, while generating up to an additional 200 watt-hours. That means a single student on a single ECO-POWRTM treadmill can create a net positive 1.2 kilowatts of electricity per hour.
But getting students into the fitness center is only the first step. Encouraging them to stay and return requires new methods of engagement. The SA WELL+TM software ecosystem from SportsArt is designed to help campus rec get the most out of their ECO-POWRTM equipment. By offering exciting gamification opportunities, this versatile technology can help inspire and motivate students.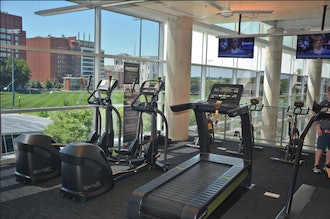 Behind the scenes, energy-generation helps reduce costs and offset carbon footprint. But SA WELL+TM can bring that information forward and put it on display to leverage sustainability efforts and show students exactly how they're helping power the planet. Options include displaying total energy generation, which shows exactly how much electricity has been generated since ECO-POWRTM equipment was installed. This number continues to grow—in real time—providing a tangible way for students and faculty to see the positive impact a facility is having. A leaderboard can also be displayed, showing who is generating the most energy in real time. This can be displayed by machine or by individual if a student has downloaded the SA WELL+TM app on their mobile device. Top generating users can also be displayed over time, creating a sense of competition and accomplishment.
SA WELL+TM and ECO-POWRTM also provide exciting promotional opportunities. Campus fitness facilities can create events based around generating a certain amount of energy. These events can even include a philanthropic element by partnering with a hosting these events for charity, and offering a donation match based on energy generated. Another way to incentivize students is by creating a program that rewards students based on the amount of energy they generate. Prizes and other incentives help keep students focused on achieving their health goals.
Finally, there are exciting competition opportunities for fitness centers in the university space. Along with creating internal competitions, campus rec can pit their facility, team or university against a rival to see who can generate the most electricity. It can be a single-day event or a competition over time. Regardless of how it's set up, only one winner gets bragging rights—but everyone can feel good about generating energy and doing their part to help serve the planet.
SportsArt continues to listen to universities to develop innovative solutions that help support their student engagement and success. That's why SportsArt has even more SA WELL+TM features in development, giving campus rec directors even more opportunities to engage students in fresh and meaningful ways. As sustainability continues to grow in importance, SportsArt makes sure that every workout inspires performance for our shared world.